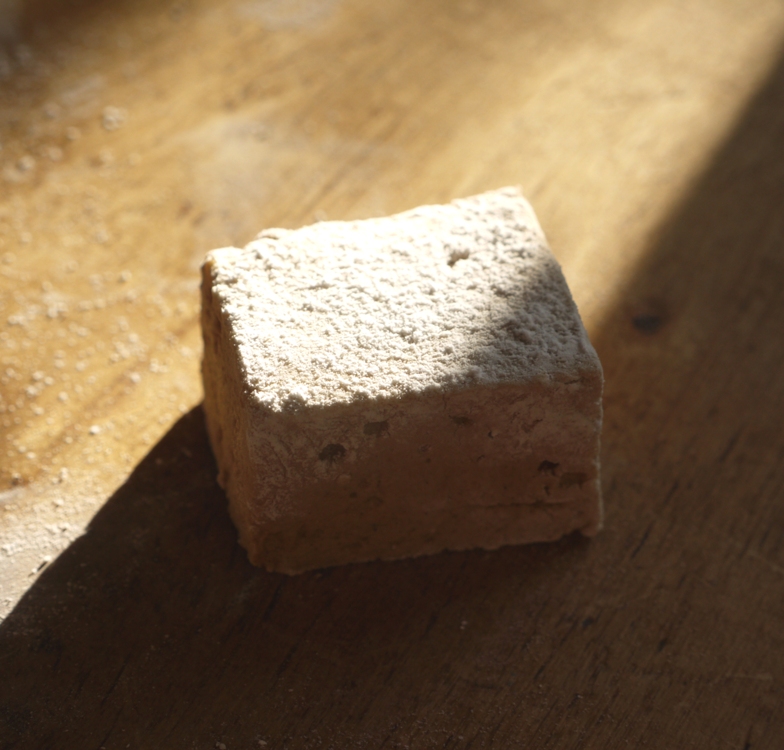 Until pretty recently, I thought my marshmallow eating days were long gone.
As a child, I thought they were awesome. Soft on the outside with a sweet, slightly chewy middle, marshmallows came big or small, pink or white (purely aesthetic with no nod to flavour as far as I can recall). My friends and I would buy penny twists with our pocket money, melt larger ones down to make the gooiest rice krispie treats or thread them on sticks before scorching over an open fire.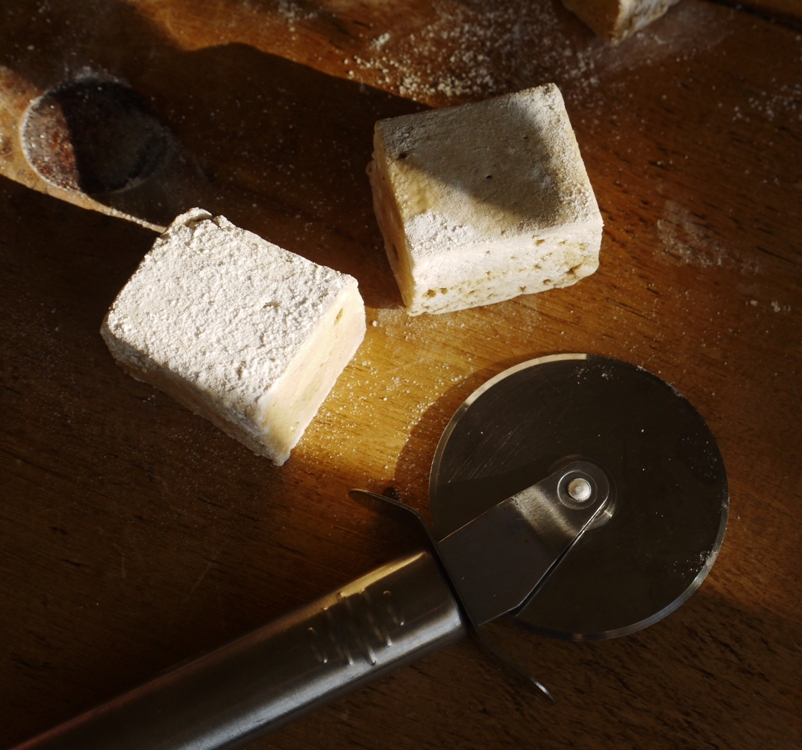 As an adult, marshmallows fell off my radar. Pocket money was a thing of the past, people seem to expect something more sophisticated than a rice krispie cake if I'm bringing dessert and any outdoor adventures are fairly few and far between. Plus, if I'm honest, shop bought marshmallows don't really cut the mustard any more: too bland, too uniform, too lacking in flavour compared to other sweet treats.
Until, that is, I made my own. At the risk of sounding like a stuck record, I'm going to sing the praises of homemade treats over their shop bought counterparts (again). This is why I make my own bread and granola, pasta, ice cream, cakes . . . ok, I'm veering into pretentious food blogger territory here but I'm hoping you get what I mean. Good, honest ingredients and a little love can create results a world away from what you can buy in the shops: marshmallows being a perfect case in point.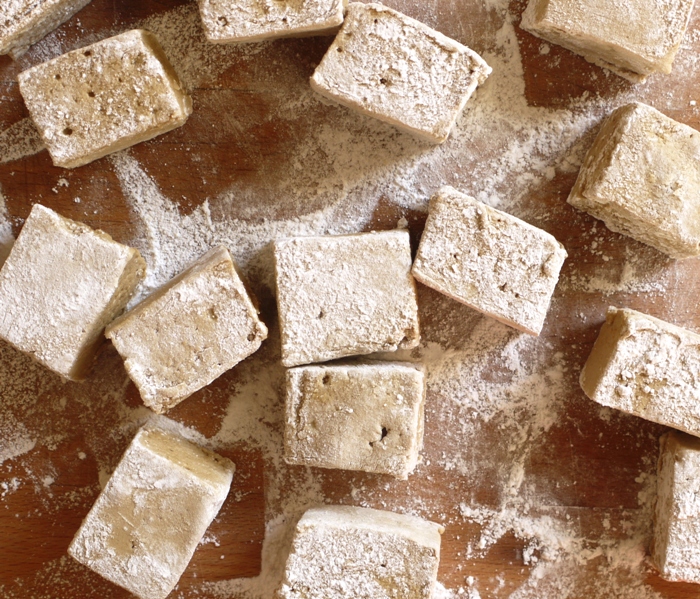 Made at home, what is essentially a square of sugar, egg white and air can be flavoured with all sorts of exotic ingredients, from fruit puree to alcohol, real vanilla or, as I've used here, spice. These marshmallows are festively close to Christmas territory with ginger, cinnamon and nutmeg plus two sticky spoonfuls of black treacle for colour and flavour.
Marshmallows are easy to make if you start prepared. Have all the ingredients weighed out, read through the recipe before you get going, use leaf gelatin for a clean, flavourless set (rather than powdered) and invest in a sugar thermometer (inexpensive and not as scary a piece of equipment as I used to think, see below).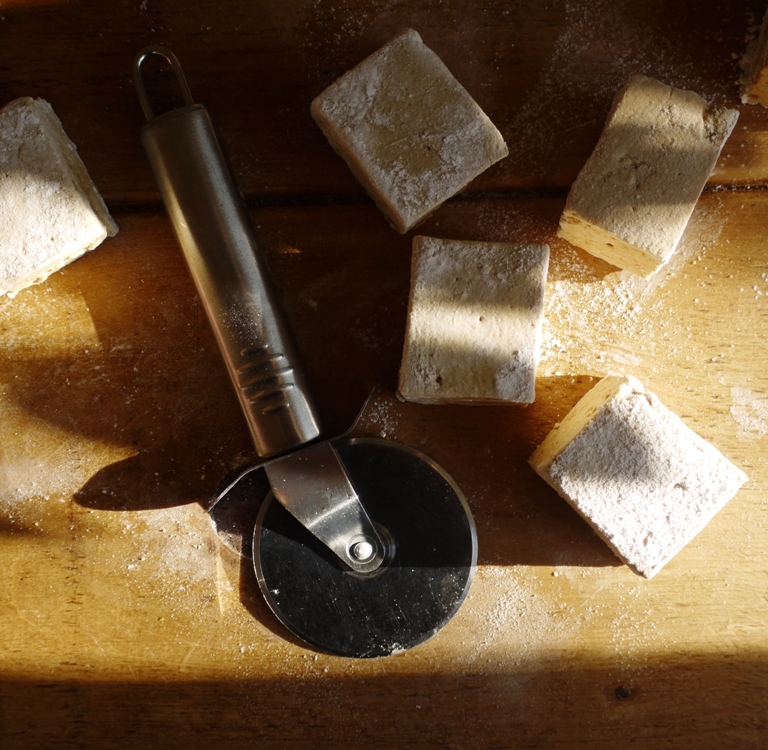 We ate most of these marshmallows straight up before toasting and churning the rest through a pumpkin ice cream. They're also awesome on top of hot chocolate, squidged between cookies with chocolate for an autumnal s'more or melted down to make the most incredible krispie treats.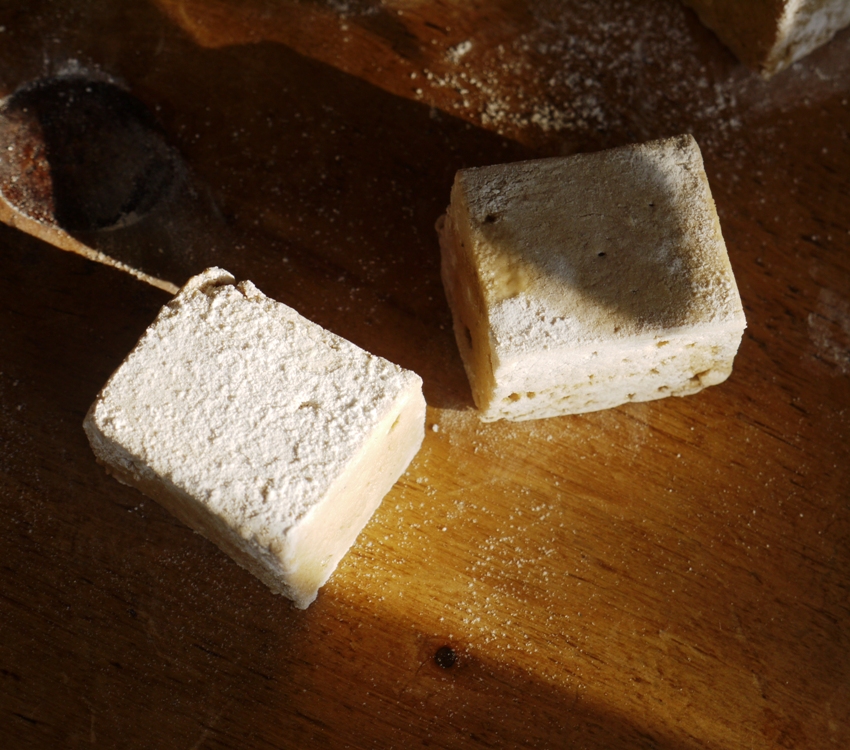 Gingerbread Marshmallows (barely adapted from Annie Rigg's Sweet Things)
(makes about 30)
For some reason I used to think sugar thermometers were far too fancy for my kitchen and was slightly scared of the techniques they involved. Please don't be. Since buying one I've realised it's just another piece of equipment and very easy to use. And for making perfect fudge, sweets, marshmallows etc, it's pretty much essential.
Ingredients:
1 tbsp icing sugar
1 tbsp cornflour
6 leaves gelatine
2 large free range egg whites
185g golden caster sugar
2 tsp ground ginger
1/2 tsp ground cinnamon
pinch allspice
grating nutmeg
100g soft light brown muscovado sugar
2 tbsp treacle
2 tbsp golden syrup (or honey)
Method:
Lightly grease a 20cm square tin with ground nut (or another vegetable) oil. Line with parchment paper and lightly grease again. In a small bowl, sift together the icing sugar and cornflour. Use a couple of teaspoons of this mixture to dust the inside of your greased tin.
Place the gelatine leaves in a bowl of cold water and set aside to soak while you prepare the rest of the ingredients.
Place the egg whites in the bowl of a stand mixer fitted with the whisk attachment. Add 1 tbsp of the caster sugar and salt, but don't whisk yet. In a separate, small bowl, mix together the spices.
Combine the remaining caster sugar, light brown sugar, treacle and golde syrup in a medium saucepan with 150ml water. Bring to the boil then cook steadily until the syrup reaches 115 degrees C on a sugar thermometer (see headnote).
Remove the pan from the heat. Working quickly, whisk the egg whites until stiff peaks form. Drain the softened gelatine and stir into the warm syrup mixture until combined, then carefully pour the syrup into the whipped egg whites, continuing to whisk on low speed. Don't worry when the mixture foams up, this is supposed to happen. Increase the speed to medium and whisk for a further 3 – 4 minutes until thick and glossy.
Finally whisk in the spices then scrape the mixture into your prepared tin. Shake gently to level of the marshmallow then allow to cool completely before covering with cling film and leaving to set until firm, about 4 hours.
Tip the remaining icing sugar/cornflour mixture onto the work surface. Turn your marshmallow out of the tin onto the work surface, peel off the lining paper and use a sharp, lightly oiled knife to cut into squares. Dust each square with icing sugar and serve.
Because these marshmallows contain egg whites they are best stored in an airtight container and eaten within a week.