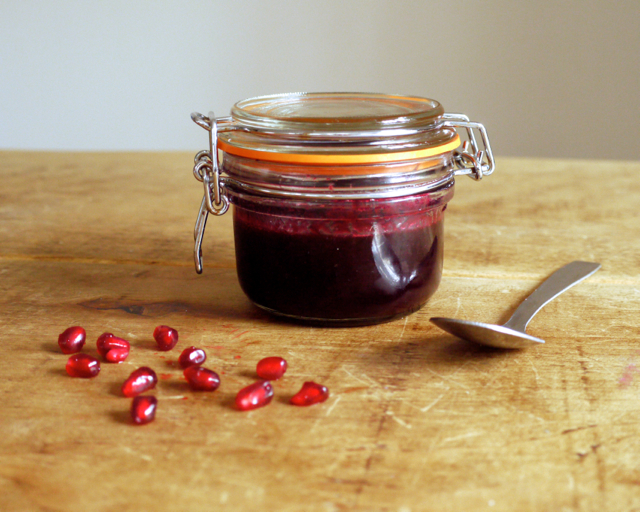 Happy New Year! Six days into January is perhaps a little late off the mark to be saying it, but this is my first post of 2014 and I'm excited to be back, so here's to spreading well wishes all round.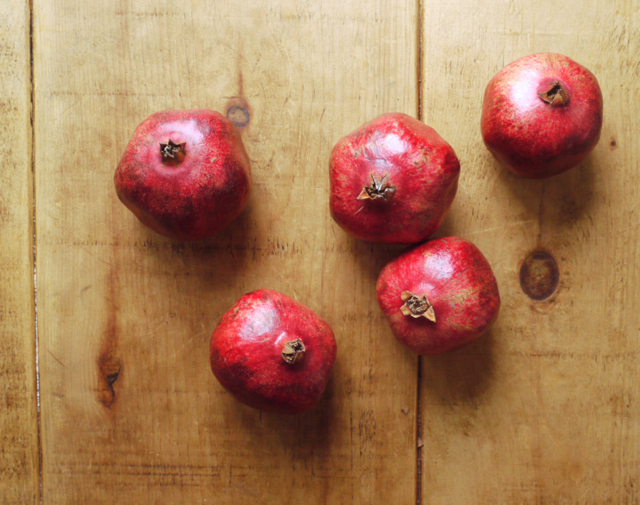 After a week of overindulgence – both in terms of family time and food – we decided to extend the suspended reality of the Christmas season with a little trip to Barcelona. The weather was beautiful, the food incredible and the happiness of our first trip for two as a proper married couple – rather than honeymoon newlyweds – unlimited.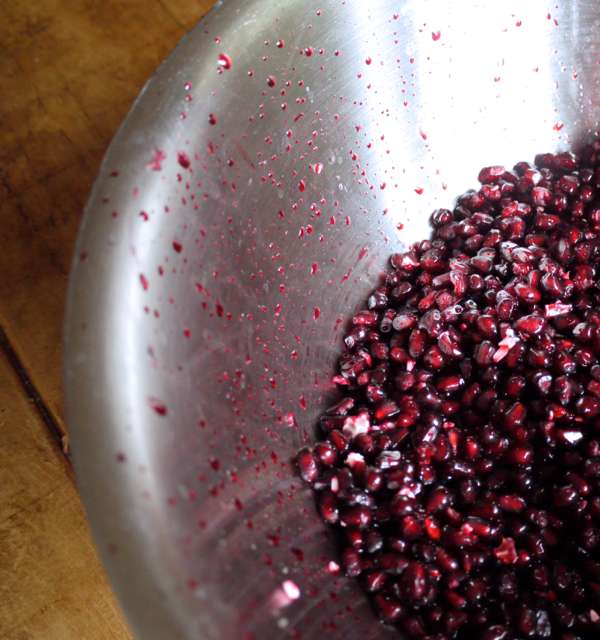 On New Year's Day, we headed to the hills outside Barcelona, sat in the sunshine looking out over the city and talked resolutions. Big picture, exciting stuff like career opportunities, upgrading where we live and whether it might be time to think about extending our family of two.
Alongside these big resolutions, there will be little things: smaller projects, plans and intentions that can be incorporated into our everyday lives. Carnivorous Husband wants to be able to walk on his hands (yes, really), there are yoga moves I'd like to master, household tasks and, of course, more food-based ideas than there will be days in the year.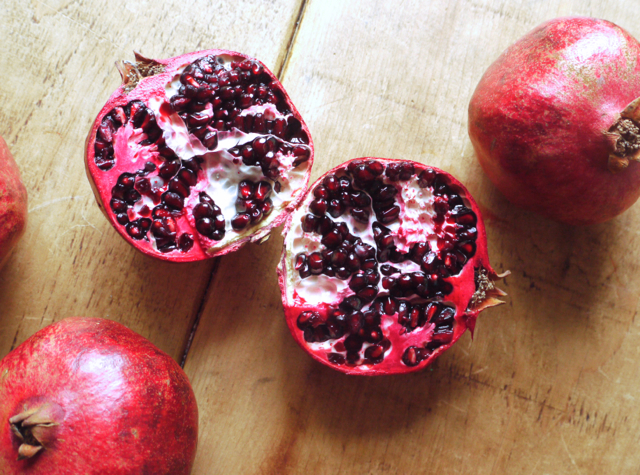 One intention is to try to post a few more savoury recipes. Sweet stuff is always popular with readers, often easier to photograph and less likely to go cold. It puts smiles on peoples' faces, has a sense of occasion and is something I absolutely love to make. But of the 21 meals we eat each week, desserts and treats make up the minority, so it's high time I shared a few more of my favourite savoury recipes too.
Because old habits die hard, I'm easing into this resolution with a savoury-sweet recipe this week. Rich, sharp, pomegranate molasses works wonderfully in anything from breakfast through salads to main courses and desserts. Making it yourself might seem like a faff, but the result is so fresh and full of flavor and the ruby red juice so beautiful as it reduces, this recipe is absolutely worth it.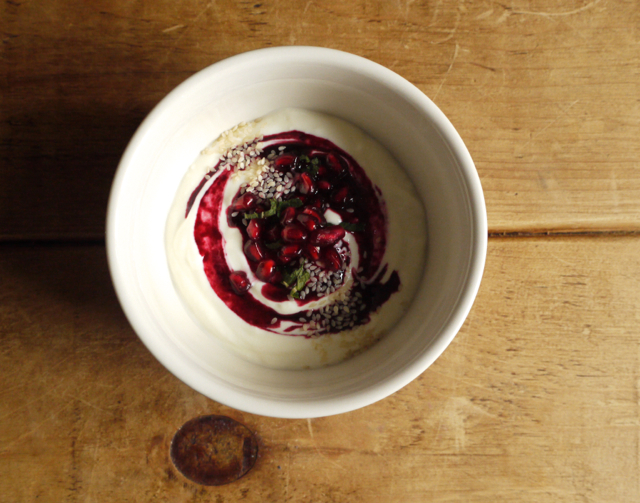 Here's hoping 2014 brings you everything you work for, everything you wish for and more. If you'd like to raise a toast, this molasses also tastes delicious in a champagne cocktail . . .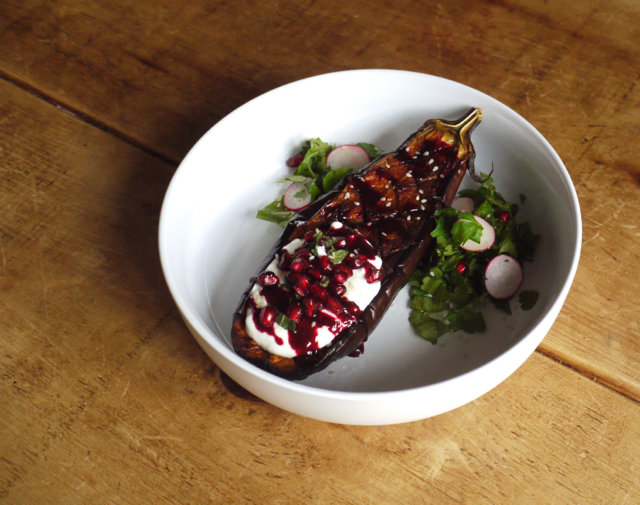 Pomegranate Molasses + Breakfast Two Ways
(makes about 175ml)
There are numerous tips for de-seeding pomegranates around the internet, the best of which I've found being to break the fruit open, give each half a gentle squeeze then tap out the seeds using a wooden spoon. In this recipe, it doesn't matter if a few seeds get squashed as they're ending up as juice anyway, but try not to mix them up with the white pith which can make the molasses a little bitter. The honey is entirely optional: if your poms are heavy and ripe, you may well find them sweet enough already.
Ingredients:
5 large pomegranates
Juice 1/2 small lemon
2 tsp honey (optional)
Method:
Preheat the oven to 180 degrees C. De-seed the pomegranates (see headnote) into a large bowl. Pick out any excess pith then give the seeds a really good squeeze to get as much juice out as possible. Press through a mesh sieve into another bowl, extracting as much juice as possible, then whisk  in the lemon juice and honey (if using).
Pour the liquid into a medium sized baking pan and bake in the centre of the oven until the liquid is reduced to a thick syrup, stirring occasionally, about 75 minutes. The consistency you're looking for is a little looser than runny honey as the molasses will firm up slightly in the fridge.
Remove pan from the oven and scrape the molasses into a sterilized container. Will keep in the fridge for at least one month.
Breakfast Bowls

A little bit sweet
Toast sesame seeds with a little honey and sea salt. Swirl pomegranate molasses into a yoghurt (I like thick Greek or sheep's milk). Mix pomegranate seeds with chopped mint then scatter over yoghurt along with the toasted sesame seeds.
A little bit savoury
Roast aubergine halves with olive oil, paprika and salt. Mix cooked quinoa with chopped parsley, red onion, radishes, garlic and olive oil. Spoon into a bowl, add the roasted aubergine and top with a dollop of yoghurt. Sprinkle with pomegranate seeds and chopped mint then drizzle with pomegranate molasses. (Aubergine for breakfast? Why not? It works wonderfully with these flavours and makes a change from the usual oatmeal or eggs).