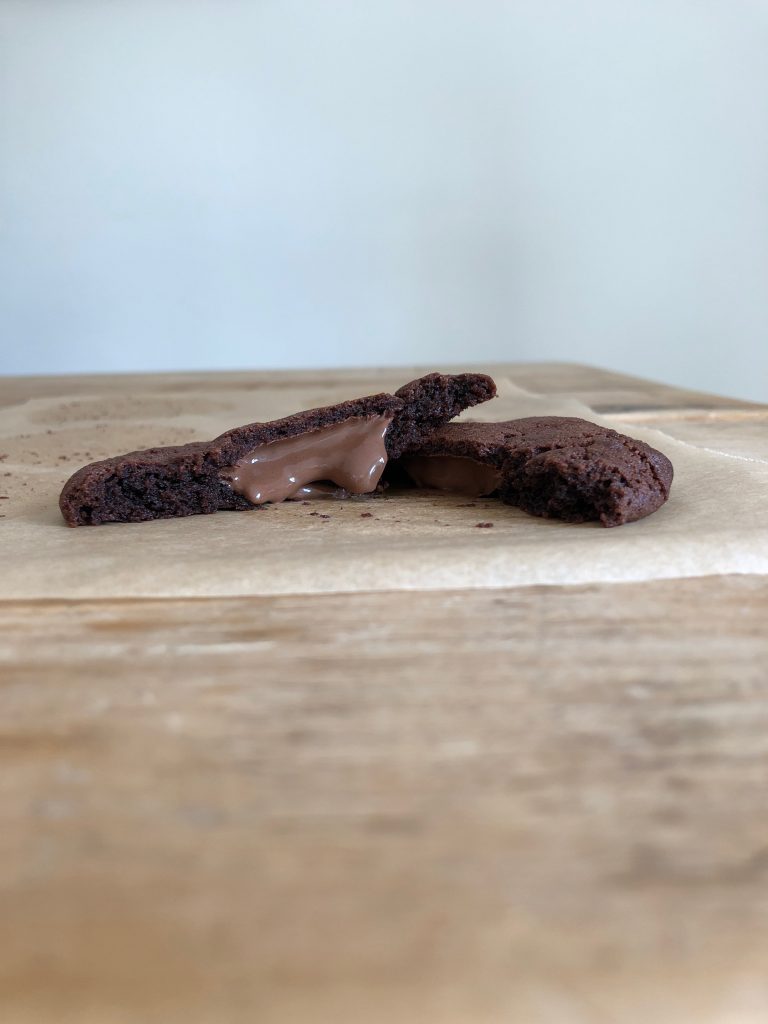 I have a close friend whose key life events have aligned rather nicely with mine. We got married within a month of each other and our little boy and girl arrived around six weeks apart. We've been able to share tips and maternity leaves and the kind of conversations that might leave friends at different stages of life gasping with boredom (table planning, nappy contents, lack of sleep . . . the usual). We're both now pregnant with baby number two (we've swapped, this time round she's having a boy, we've got the girl) and I wanted to bake a little something special for her baby shower. This is a lady who loves Nutella, so when I spotted these Nutella stuffed beauties on Jess's blog, I knew they needed to be made.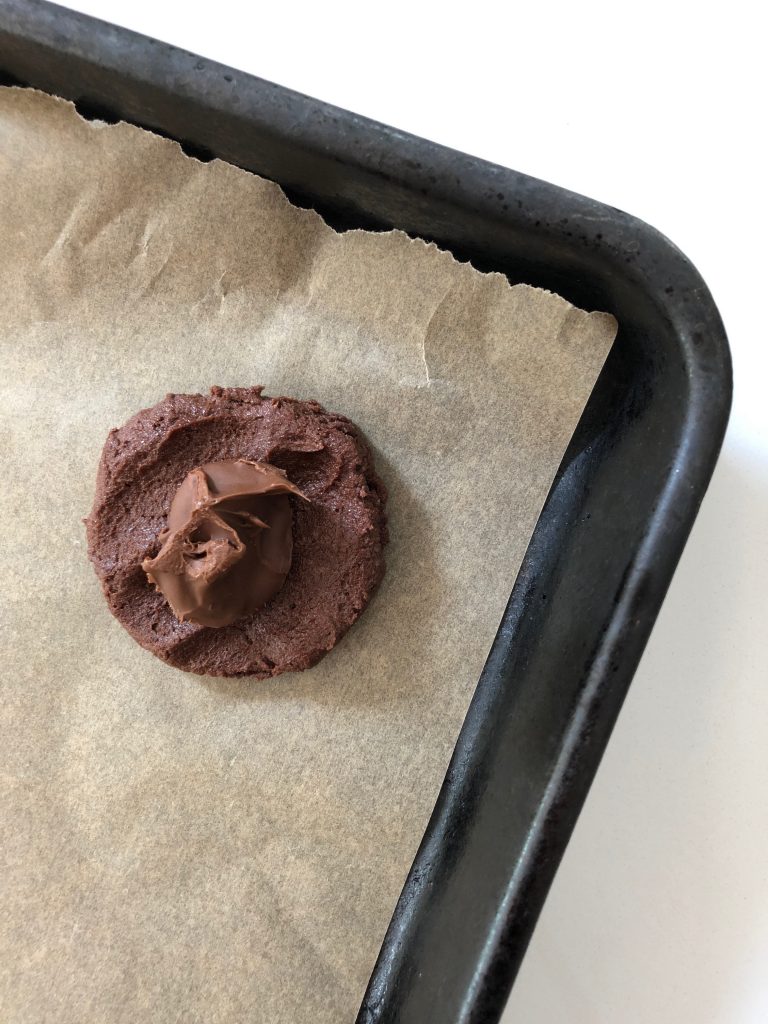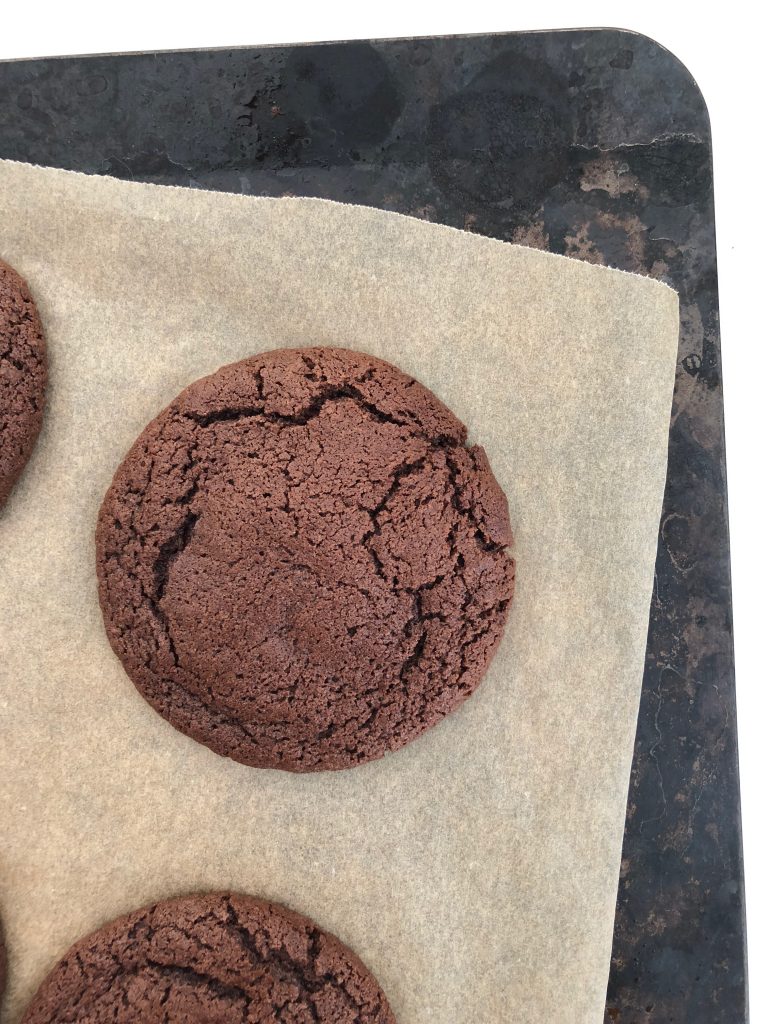 Baby showers the second time round require a whole new approach. The mother-to-be didn't even feel she warranted one and I can sort of see why – everything is so chaotic with a toddler in tow, it's tricky to remember the indulgence you afford in your first pregnancy. But she's bringing a brand new life into the world and that's certainly worth celebrating, even if we're not going to sit around playing contrived games about who's going to change the most nappies or how much the baby is going to weigh. Things that seem foreign and exciting the first time round come laden with baggage if you've suffered the almost inevitable (occasional) relationship discord that comes with a newborn or laboured an enormous baby, so this time we focused on simply getting together and spending some (child free) time as a group of friends.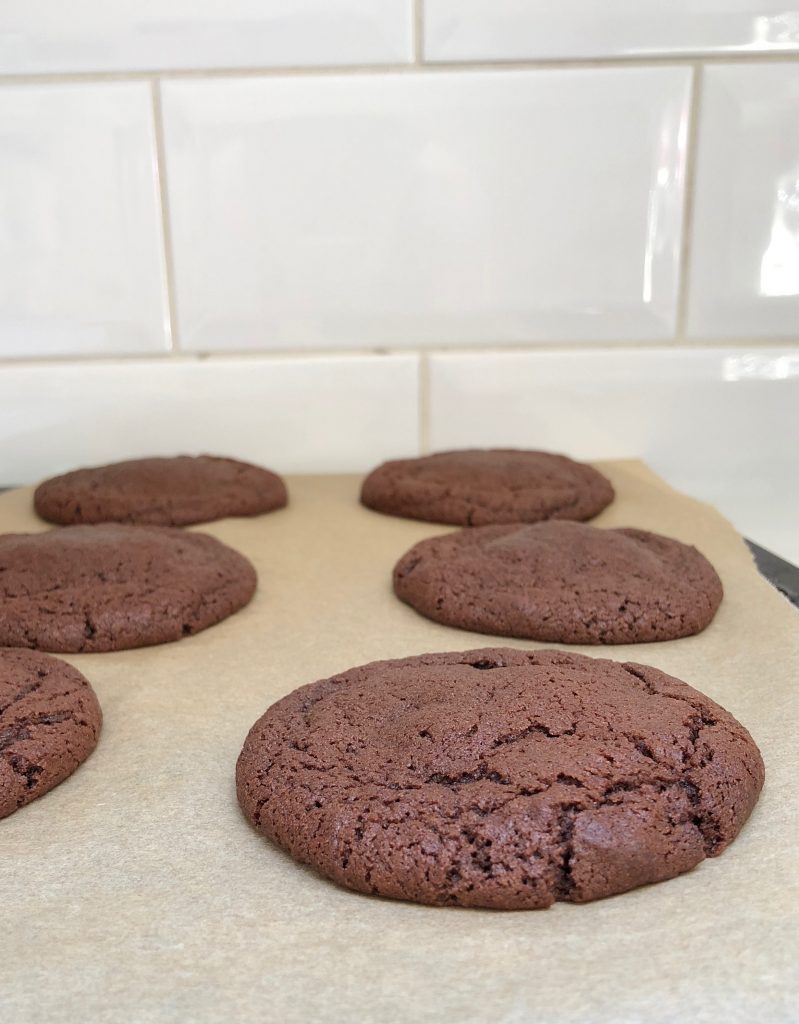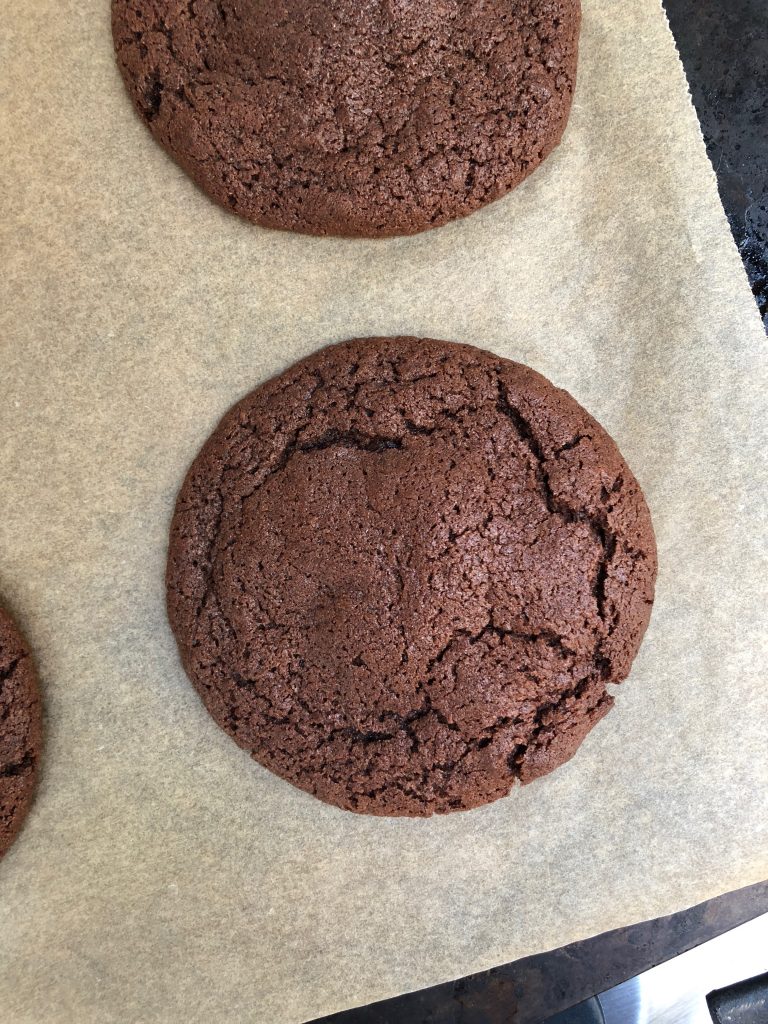 So onto these cookies. The base is a rich chocolate dough, each one stuffed with a whole teaspoon of Nutella (or your favourite chocolate hazelnut spread). They bake up big and soft with crispy edges and chewy middles, the slick of Nutella spreading out as you break or bite them in half. The recipe below makes twelve – enough for a moderate-sized baby shower but more than one household can eat in one sitting (unless, perhaps, pregnant ladies are involved) – and they keep well in an airtight container for a few days or can be frozen for midnight feasts once babies arrive and breastfeeding hunger has you in its ravenous jaws. I reckon you could try these with peanut butter instead, the cookie dough is plenty sweet enough to balance it out although the middles wouldn't be quite as oozy, or you could stuff a regular chocolate chip cookie with Nutella instead. But try the original first – delicious if you're pregnant, breastfeeding or simply love Nutella.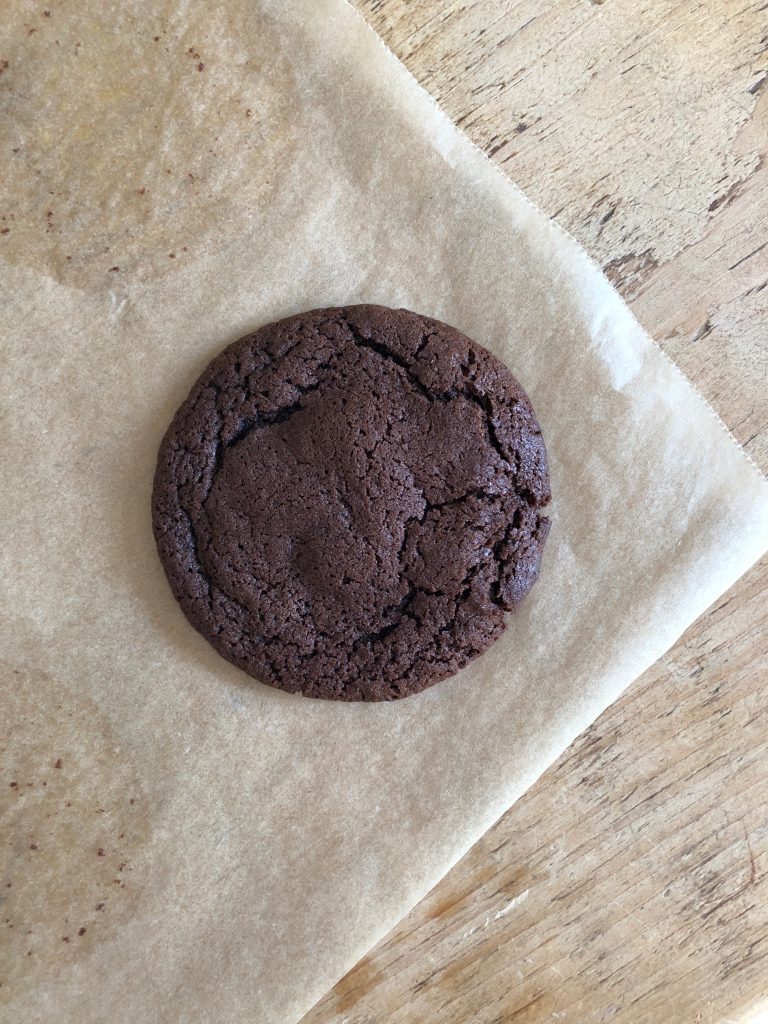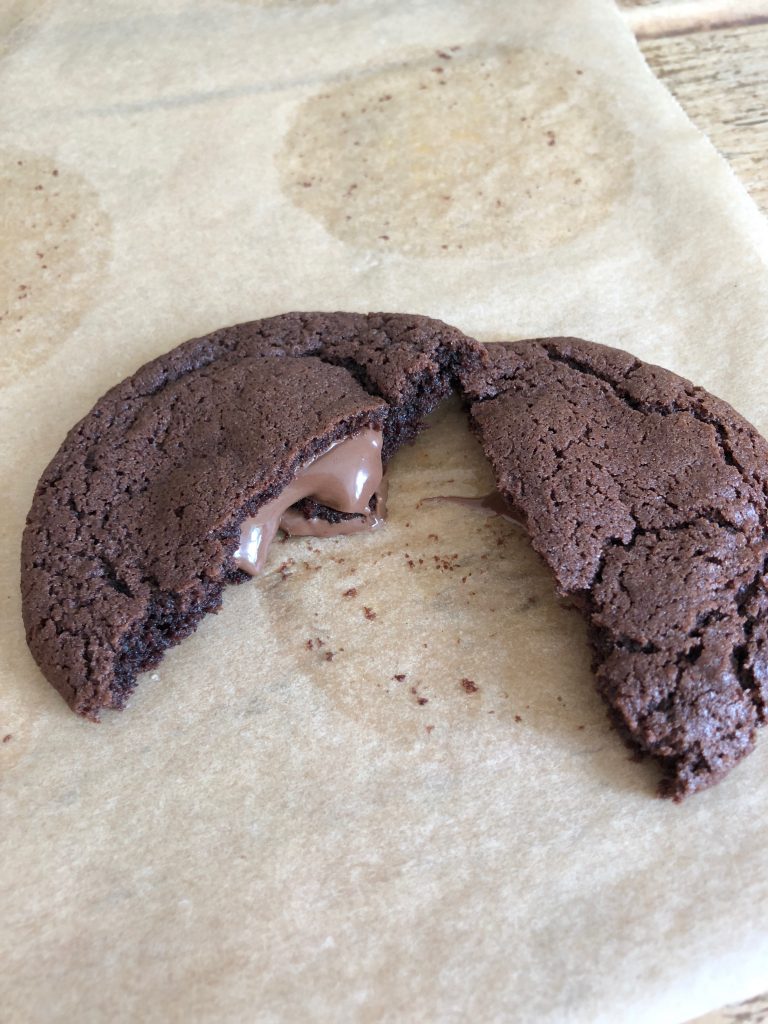 Nutella Stuffed Chocolate Cookies
Tender chocolate cookies packed with molten Nutella middles that stay soft even after the cookies have cooled.
Author:
Jess, Sweetest Menu
Ingredients
12 tsp Nutella
115g unsalted butter, room temperature
90g light brown muscovado sugar
50g golden caster sugar
1 tsp vanilla extract
1 large egg
140g plain white flour
½ tsp bicarbonate of soda
1 tsp cornflour
40g cocoa powder
1 tbsp milk, if necessary
Instructions
Line a small baking tray with baking parchment. Scoop 12 teaspoons of Nutella onto the tray, ensuring they are an inch or two apart. Pop them in the freezer for at least 30 minutes.
Line two large baking trays with baking parchment.
In a stand mixer or using an electric mixer, beat the butter and sugar until combined. Add the vanilla and egg and beat for a minute or so until smooth. Sift in the flour, bicarbonate of soda, cornflour and cocoa into the mixture, and stir until just combined to form a chocolately dough. If it looks a little dry, add the tablespoon of milk.
Remove the Nutella nuggets from the freezer. Take a tablespoon of cookie dough, flatten then place a frozen ball of Nutella in the middle, rolling the cooking dough around the Nutella until it is concealed. Flatten slightly and place on your prepared tray. Repeat until you've used all the cookie dough, then refrigerate for a minimum of one hour, preferably overnight.
When ready to bake, preheat the oven to 180 C/160 C fan.
Place the cookies in the oven and bake for 10 - 12 minutes before transferring to a wire rack to cool.
Will keep in an airtight container for 2 - 3 days.
Notes
Barely adapted from Jess' recipe for Nutella Stuffed Chocolate Cookies
here
.