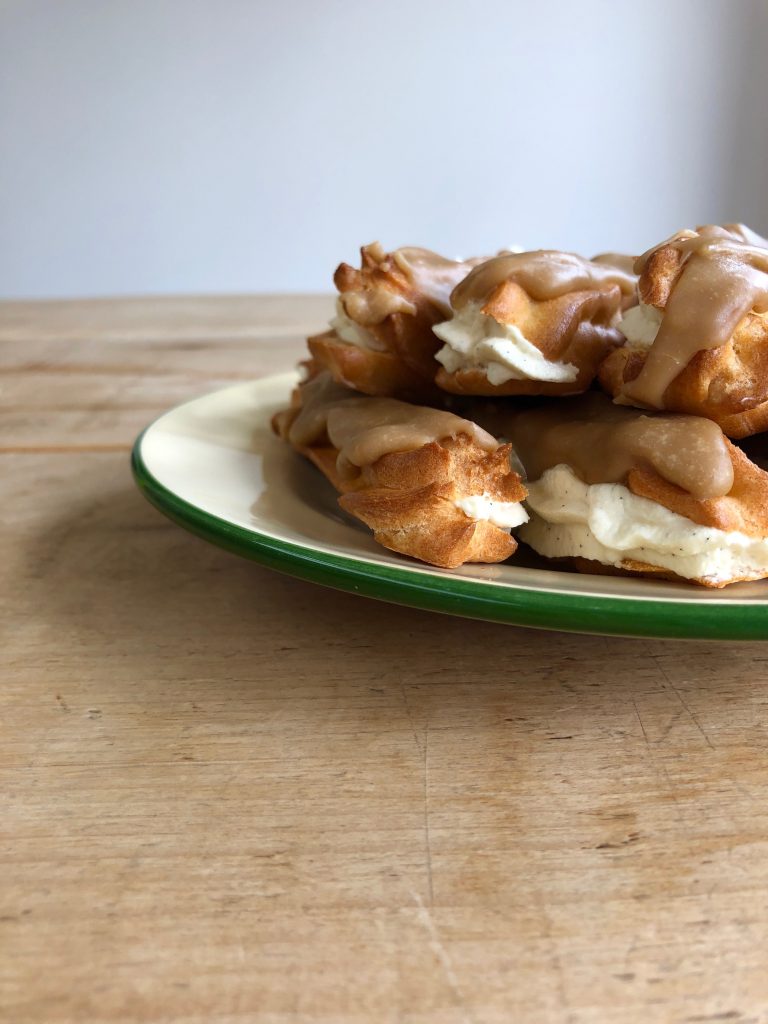 Just over two weeks with our littlest loaf and we're slowly starting to find our feet as a family of four. In some ways, not much has changed – it's funny how life with a toddler simply goes on with mealtimes and outings, stories to tell and bottoms to wipe – and in others, nothing will ever be the same again. We have a whole new person to care for and play with, get to know and fall in love with.
When I have a spare moment to think (mostly nursing in the middle of the night, there's currently not a lot of daytime peace), I've been thinking a lot about these two humans who grew inside me. I've marvelled before at the capacity of the human heart to expand and continue to do so: this love I feel for my family is infinite and ever-growing. But my time? My ability to devote undivided attention to each child? It's compromised. I don't mean that to sound depressing or defeatist but the other night I had a little weep. On days when Luke isn't around, my little shadow and I have grown into a gang of three which is wonderful and perfect and something I wouldn't change for the world, but definitely different. Nino has been so incredibly brilliant with his little sister – and I know it's all part of life, and good for him to learn to share – but on occasion I'll catch his eye when I'm changing yet another nappy or latched into another cluster feed and I know there's a part of me he misses. Nobody said this parenting gig was easy.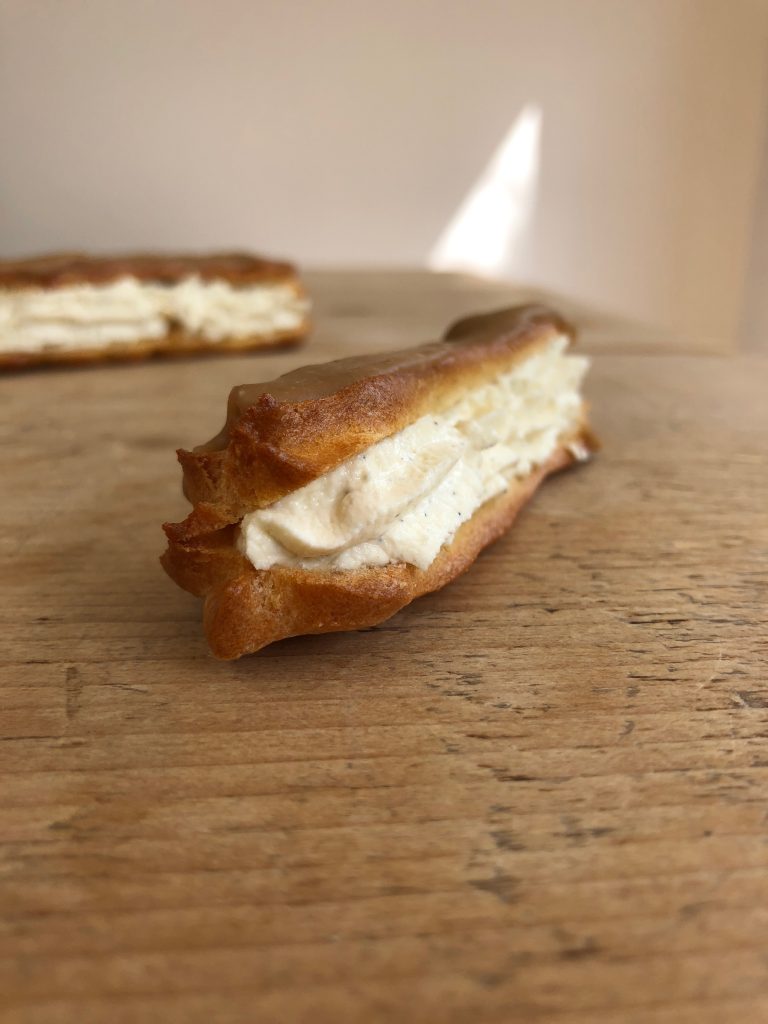 But beyond the ever-present mum-guilt and occasional irrational tear, these last two weeks have been bliss. Seeing my children – my children! – get to know each other is simply something else and our sweet little Joy is already establishing herself as a proper personality. After her dramatic arrival into the world I can see she's going to be a determined little lady. She loves watching her big brother with the beadiest blue eyes and is infinitely patient as he bounces next to her on the bed or attempts to 'stroke' her with a pick up truck. Like most newborns, she loves contact and cuddles, has little regard for any routine or her parents' need to rest and melts my heart with the sweetest little pussy cat purrs when she's snuggled on my chest. Darling Joy, you are already living up to your name in spades.
I made these eclairs for visitors on Joy's one week birthday. It also happened to be our five year wedding anniversary, and anything butterscotch is Luke's all-time favourite. They're light, moreish and incredibly sweet in the best possible way: we can't get enough of them. A bit like the latest addition to our crew.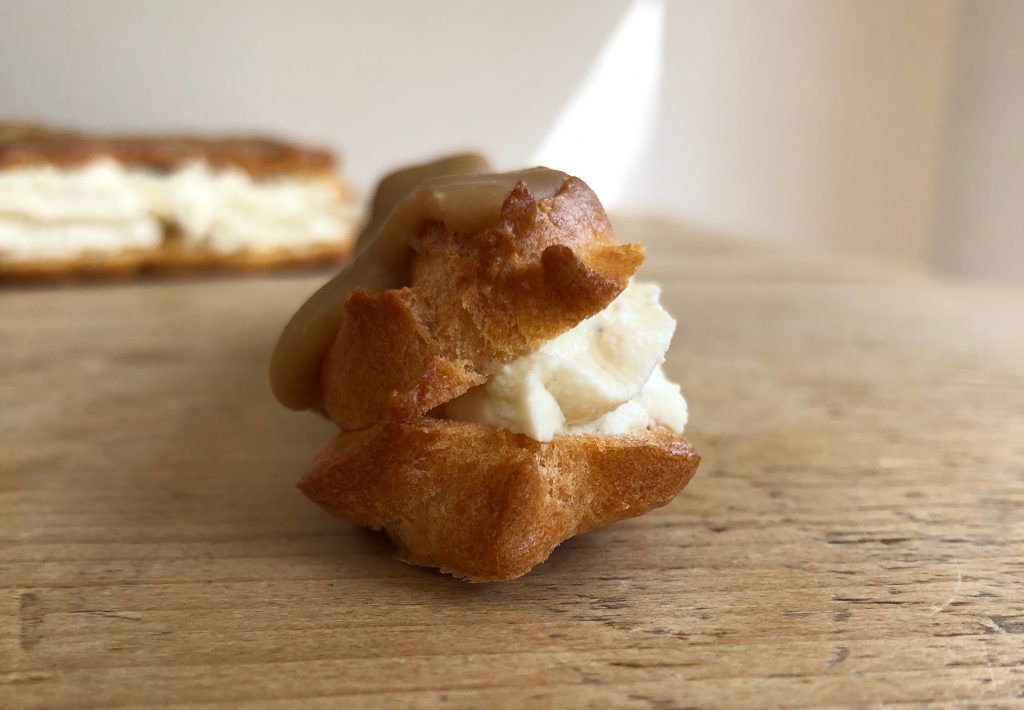 Butterscotch Eclairs
Crisp choux pastry filled with vanilla rich cream and topped with a sweetly delicious butterscotch icing.
Ingredients
For the choux pastry
50g unsalted butter, cubed
50ml full fat milk
75ml water
½ tsp fine salt
1 tbsp golden caster sugar
125g plain white flour, sifted
3 medium free range eggs, beaten
For the filling
300ml double cream
1 tbsp vanilla bean paste
For the butterscotch icing
100g soft brown sugar
50g unsalted butter
2 tbsp milk
1 tbspgolden syrup
pinch sea salt
65g icing sugar, sifted
Instructions
Preheat the oven to 200 degrees C. Line a baking tray with parchment paper.
Place the butter, milk, water, salt and sugar in a large, heavy bottomed saucepan and bring quickly to the boil. As soon as it reaches boiling point and the butter is melted, add the flour, beating with a wooden spoon until a ball of dough forms that leaves the sides of the saucepan clean.
Lower the heat and beat the mixture for 30 seconds to dry it out slightly then remove from the heat and set aside to cool for 3 minutes. Beat in the eggs, one at a time, mixing each thoroughly into the dough before adding the next. It may look a little lumpy at first – continue to beat and you'll get a lovely smooth mixture.
Transfer the choux paste into a piping bag fitted with a large plain nozzle and pipe strips direct onto your baking parchment. To stop the paper moving around, dot a little choux paste under each corner and make sure you leave a little space between each line as they will puff up in the oven.
Bake for 20 minutes then without opening the oven door (you want to keep all the heat in), reduce the oven temperature to 180 degrees C and bake for a further 15 – 20 minutes until completely dry and crisp.
Remove from the oven, pierce a hole in the bottom of each one with a skewer to let any steam out and set aside while you make the filling and icing (below).
To make the filling, whip cream and vanilla to soft peaks then pipe inside eclairs.
To make the icing, bring all the ingredients except the icing sugar to a simmer in a medium saucepan. Cook, stirring regularly, until slightly thickened, about 3 mins. Stir in the icing sugar.
Working quickly, spoon icing over each eclair - it will start to set quite quickly. Refrigerate for one hour then serve. Will keep in an airtight container in the fridge for a couple of days.