Another Easter Bank holiday has flown by in a haze of sunshine, family and food. I've eaten homemade hot cross buns (toasted on my Granny's AGA with wedges of salty butter), yellow-yolked Burford Browns, new season British asparagus drizzled with fruity olive oil, my Mum's incredible homemade quiche, a beautiful free range roast cockerel from Seldom Seen Farm with knobbly pink fir apple potatoes, rich truffle torte . . . and of course the obligatory half ton of chocolate in its various egg-shaped disguises.
Combined with the sudden heatwave, this Easter feasting has left me craving something light and bright to eat. I need fresh flavours that deliver a punch of chilli, a kick of garlic and a palate cleansing wake-up call that will rouse my tastebuds from their chocolate-induced stupor.
Crab is one of my all-time favourite ingredients. I like the intensely fishy hit of brown meat in small doses, but it's the white meat that brings a real smile to my face. Sweet, delicately flavoured and packed with protein, these melt-in-the-mouth flaky nuggets are best left to speak for themselves, paired with a select few delicate additions. This crab linguine is just that – light, bright and bursting with flavour; the perfect combination of sweetness and spice to take you into Spring.
And, if you find yourself reaching for the stash of chocolate eggs afterwards, you're only human.
Crab linguine
Serves 2
175g linguine (I tend to use dried, although this dish is also delicious with fresh egg-rich pasta)
A good fruity olive oil
2 small red chillis, chopped (I use the seeds, but if you're sensitive to spice you can scrape these out)
2 small garlic cloves, crushed
100g white crab meat (if I can't get a fresh crab, I like the Seafood & Eat It range, see note below)
Salt & pepper
A handful of parsely, coarsely chopped
Half a lemon
Method:
Bring a large pan of water to the boil. Add the pasta with a pinch of salt and cook according to packet instructions. In the meantime, pour a generous lug of olive oil into a frying pan and add your crushed garlic and chilli. Fry for a minute or so to release the flavours, then add the white crab meat and remove from the heat. Drain the pasta and add to the crab mixture. Return to the heat and toss quickly to distribute the sauce. Season to taste with salt and pepper then add the chopped parsely at the last minute and divide between two plates. Squeeze lemon over the pasta and serve.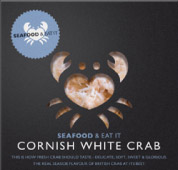 Seafood & Eat It is a family company based in Cornwall, set up by brothers Richard and Neville. Their mission is to bring the fresh taste of Great British crab to food lovers across the UK. Endorsed by the likes of Angela Hartnett, it's a great local company to support, and if beautiful fresh crabs aren't available to you locally, this is a seriously good alternative.