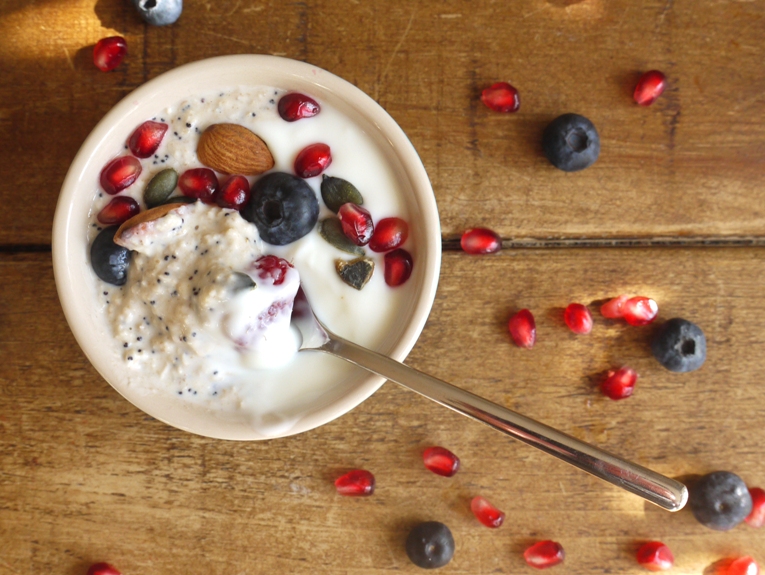 Amongst her many talents in life, my Mum is an excellent Easter bunny.
Discovering colourful, foil-wrapped eggs in unexpected places is an annual occurrence in the little loaf household. Despite the fact that my brother and I are adults (with our own flats and jobs and lives outside of our family home), my Mum still manages to sneak us a bounty of chocolate treats when we least expect it. In fact, the bigger the challenge, the more I think she relishes it.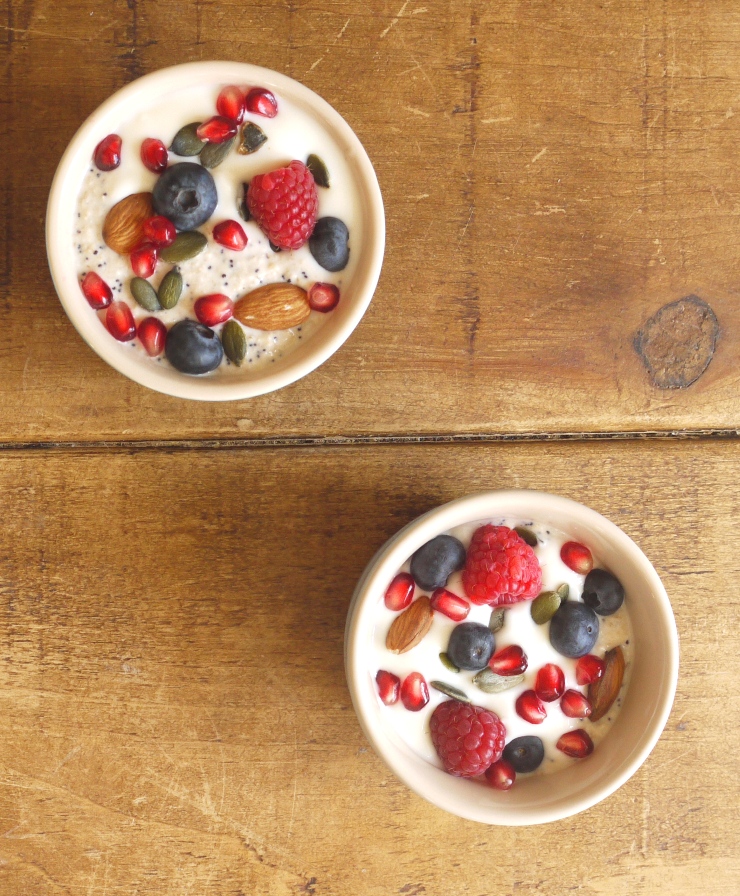 Easter eggs have appeared in bathroom cabinets, unopened suitcases and, on one memorably sticky occasion, in my beach bag on holiday in Antigua. This Friday just gone, my parents came round for dinner. After they'd left I headed into the bedroom only for my eye to be caught by the shiny glint of foil from the bedside table, the bookcase and – when I shook out the covers – even tucked underneath our pillows. The Easter bunny Mummy strikes again.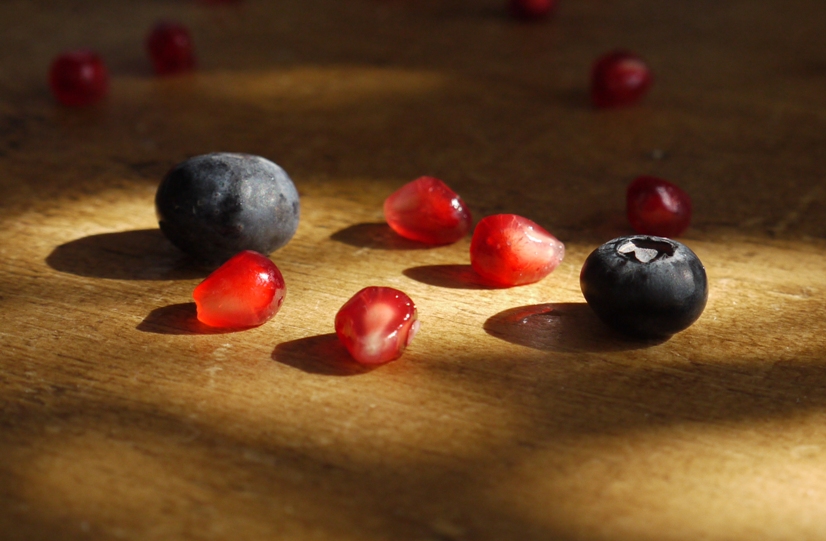 Whether or not your parents and family are quite as devious when it comes the giving of eggs at Easter, I imagine the majority of you may have consumed your fair share of chocolate this weekend. Not to mention the family roasts, chocolate nests, slabs of Simnel cake and obligatory hot cross buns smothered in butter. Easter is all about indulgence, but the morning after, you might just be craving something a little lighter.
This bircher muesli is one of my favourite breakfasts at the moment. Prepared the night before, I can pop it in my bag to eat after the gym in the mornings, or enjoy it at leisure on the days when I'm at home. It can be thinned down with milk (or a dairy free alternative), thickened with yoghurt then stirred through and sprinkled with any combination of berries, nuts and seeds for juiciness and crunch.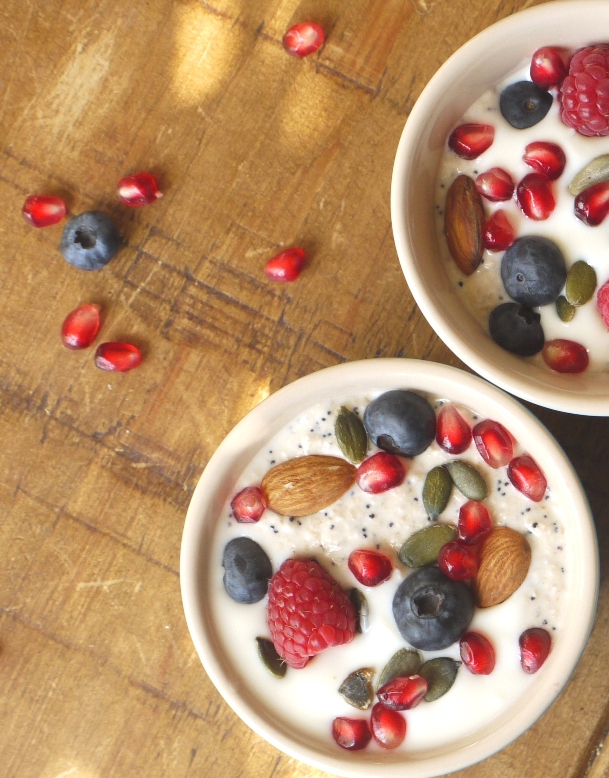 In the winter I grate a little apple or pear into the mixture, at the moment I'm enjoying beautiful beads of ruby red pomegranate and as cold of winter fades, I'll be introducing strawberries, peaches and more to make a colourful bowl of breakfast goodness. Greek yoghurt is my staple addition, but if you're feeling incredibly indulgent you could stir through a spoonful of cream which will make it taste a little more like the Bircher muesli you may have eaten in restaurants.
Muesli can get a bad name for being boring, but this Bircher version is anything but. Creamy, sweet and utterly delicious, it's the perfect way to start a wholesome, healthy week after Easter. Until you discover that hidden chocolate egg down the back of the sofa, that is.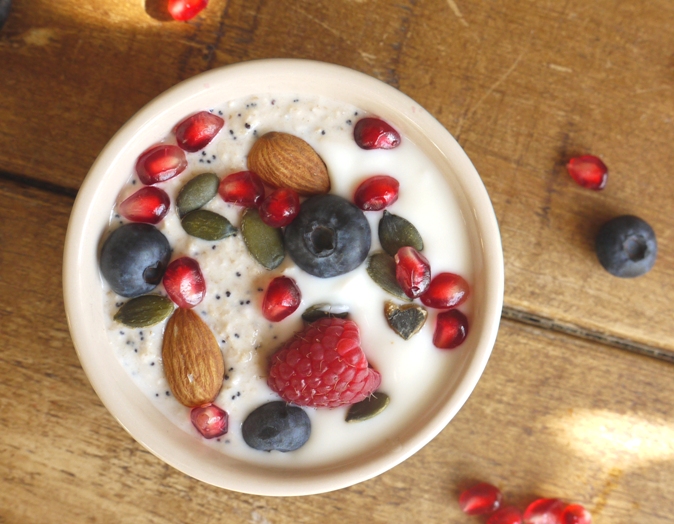 Bircher Muesli Bowls with Nuts, Seeds & Berries
Makes 6 small bowls
If you like your bircher muesli soft and pulpy, mix the wet ingredients together the night before you want to eat it. If you prefer a little more bite, it's fine to make it 30 minutes or so before serving. I sometimes substitute the oats with quinoa flakes or throw in a handful of rye flakes – as long as you stick with the basic ratios, this recipe really is extremely adaptable.
Ingredients:
For the muesli
240g rolled oats
425ml cloudy apple juice
100ml almond milk
1 tbsp poppy seeds
To assemble
3 tbsp natural yoghurt, plus extra for serving
Handful pumpkin seeds
Handful lightly toasted nuts (I used almonds & walnuts)
2 large handfuls fresh berries (I used blueberries & raspberries here)
Seeds from half a pomegranate
Drizzle maple syrup (optional)
Method:
In a medium sized bowl, mix together the oats, juice, milk and poppy seeds. Stir to combine then set aside.
When ready to serve, stir through 3 tbsp of yoghurt or until you achieve a consistency you like. Mix through most of the seeds and nuts, reserving a few to sprinkle on top.
Divide the mixture between 6 small bowls. Add an extra dollop of yoghurt if you like, then scatter with berries, pomegranate and the remaining nuts and seeds. Add a little drizzle of maple syrup, although if the fruit is perfectly ripe, you probably won't need it.
Serve immediately with juice, coffee and any other favourite breakfast accompaniments.