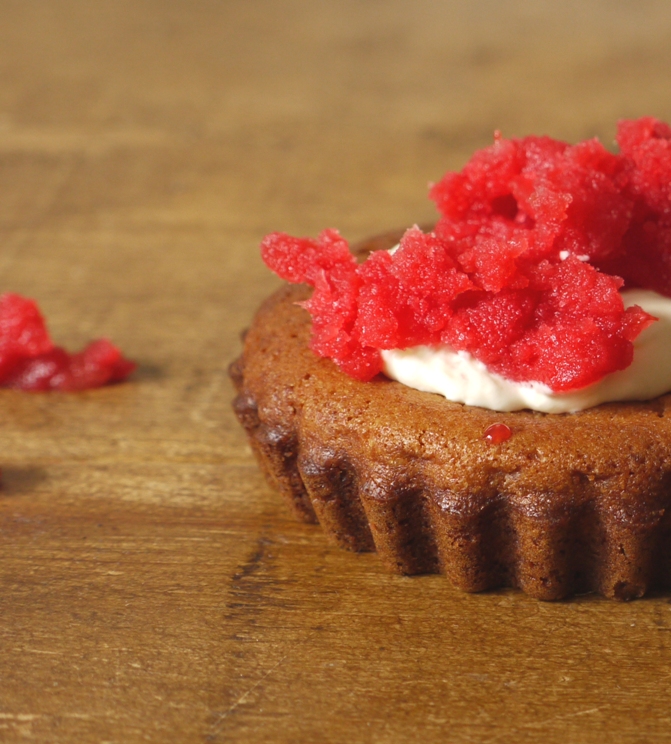 When was the last time you tried to recreate a restaurant dessert at home?
One of the joys of eating out is the complexity of the dishes on offer. I love to cook and bake but it's not often I'll take the time to make the numerous reductions, drizzles and sprinkles that often adorn a single plate.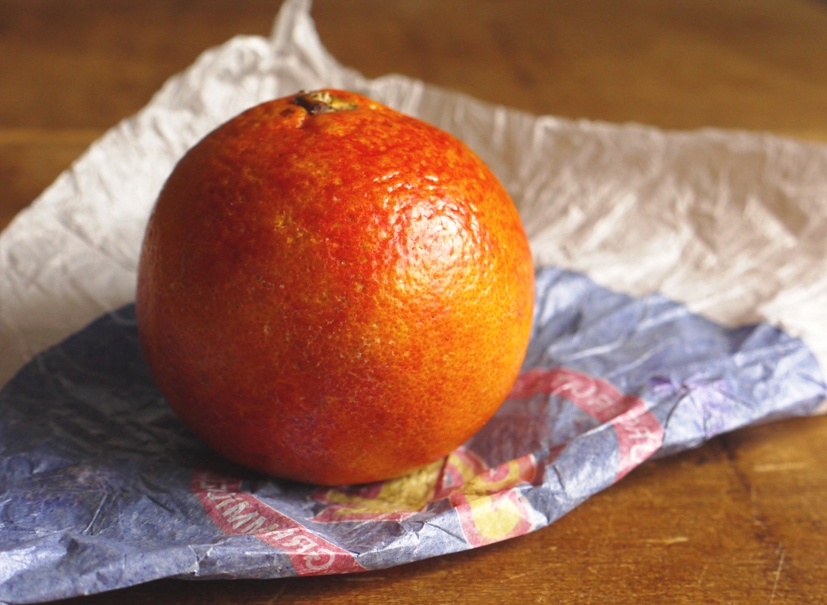 In a small seaside town in Le Marche there's a restaurant (one of my favourites in the world) where they deconstruct tiramisu into something almost unidentifiable and utterly delicious. Each element of this dessert is so intricately perfect, I've often wondered about the work that goes into it but never attempted to make it myself. The recipe remains elusive, placed on a pedestal and perhaps all the more enjoyable because of it.
Other restaurant desserts are a little less complex, offering inspiration in the form of unusual flavour combinations, ingredients or textures. A couple of weeks ago we visited the Michelin starred Harwood Arms to belatedly celebrate my Mum's birthday. My dessert was delicious, but made up of surprisingly simple elements, so with blood oranges still in season (just), I decided to have a go at making it myself.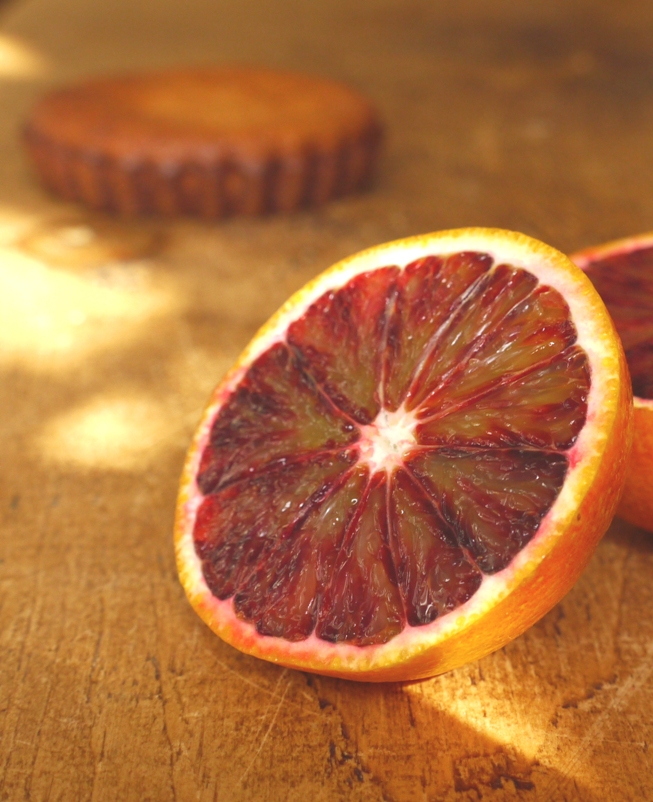 I've been on a bit of a coconut oil kick lately, using it successfully in this hot cross loaf and various savoury recipes. While I love the rich, buttery flavour of, well, butter, I was intrigued to see how coconut oil would work as a substitute when dairy is a dominant flavour, as is usually the case with financiers.
The original Harwood Arms dessert featured a moist, buttery almond cake, yoghurt cream, blood orange ice cream, segments and toasted flaked almonds. My version substitutes coconut oil for butter, resulting in a cake that is soft on the inside and crisp round the edges when warm, turning into something more dense and slightly chewier when cooled. The blood orange ice cream is substituted with granita (which felt like a better fit with the coconut), the sweetness balanced by a sharp yoghurt cream and the crunch of toasted nuts.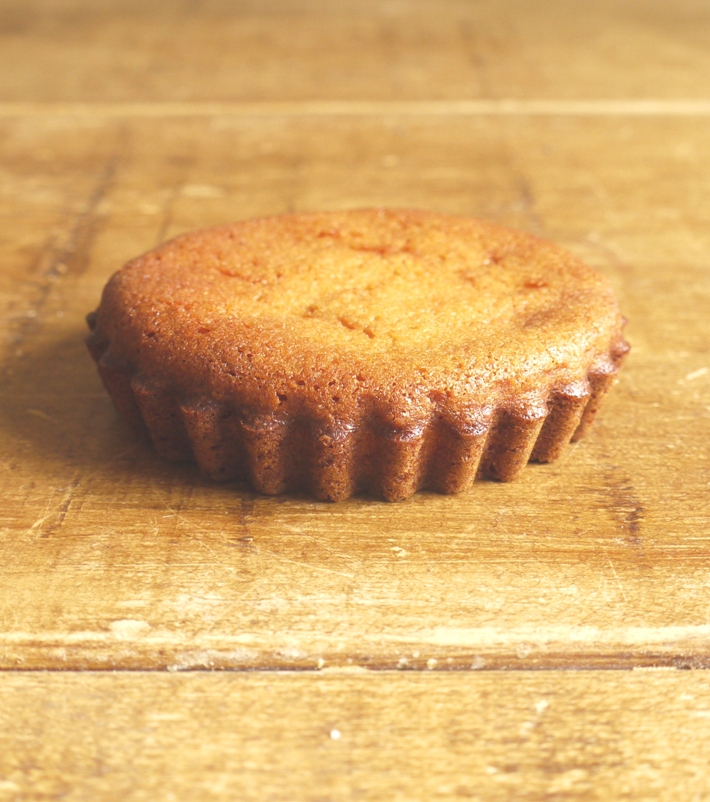 This isn't an exact replica of that Harwood Arms dessert, but it's a perfect example of why I love eating out and trying new things. The combination of ingredients is one I'd not necessarily have thought to try (generally opting for a simple scoop of ice cream or cream on the side of a cake) and the result is both delicious, and different enough to call it my own.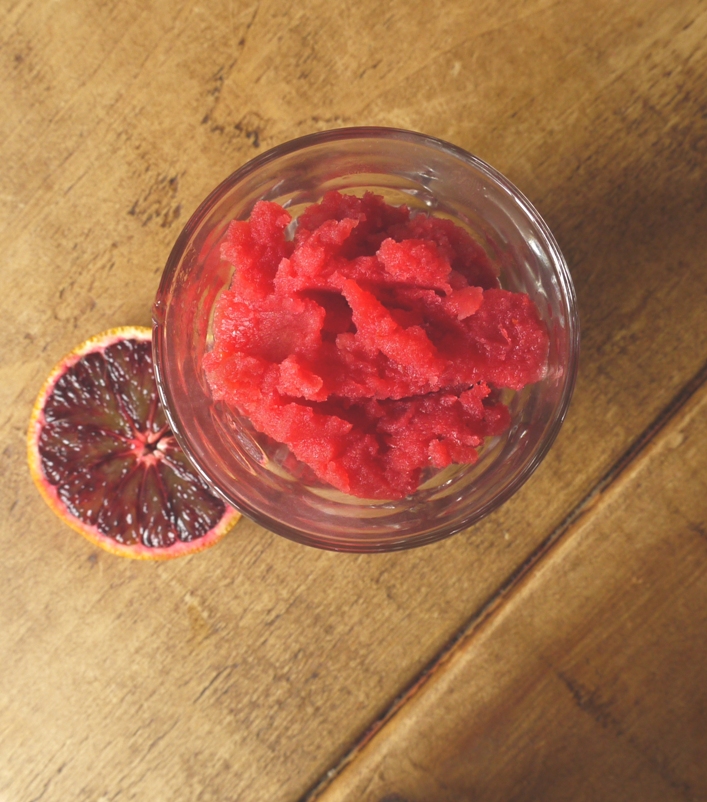 Coconut Financiers with Blood Orange Granita & Yoghurt Cream
(makes 8 large cakes – as pictured – or 12 smaller ones)
I think these little cakes are best when still slightly warm – soft in the middle and crisp round the edges. If you leave them to cool, they still taste good but take on a slightly strange – but not unpleasant – chewy texture.
Ingredients:
For the blood orange granita
300ml freshly squeezed blood orange juice
30ml brown rice syrup
For the yoghurt cream
200ml double cream
300ml natural yoghurt
1/2 tsp vanilla extract
For the coconut financiers
110g coconut oil
1 tbsp good quality honey
120g free range egg whites (about 4 eggs)
Pinch salt
100g golden caster sugar
30g flour
125g ground almonds
To serve
Flaked, toasted almonds
Method:
For the blood orange granita
In a medium saucepan, combine 25ml of the blood orange juice with the brown rice syrup and warm gently until the syrup is completely dissolved. Stir in the rest of the juice then chill in the fridge for several hours (or overnight).
Pour the mixture into a container and freeze until icy around the edges. Use a fork to break up the ice crystals then return to the freezer. Fork up the crystals every 30 minutes or so for 2 hours then your granita should be ready.
For the yoghurt cream
Whip the cream until soft peaks form, being careful not to overwhip or it will become too stiff. Fold in the yoghurt and vanilla extract then refrigerate until ready to serve.
For the coconut financiers
Preheat the oven to 220 degrees C. I used individual non-stick tart tins but if you don't have any, grease a twelve hole muffin tin or line with silicone/paper cases.
Melt the coconut oil and honey together then set aside to cool slightly.
In a separate bowl, whisk the egg whites with a pinch of salt until slightly frothy (but nowhere near meringue stage). Sift in the sugar and flour, gently folding to combine. Add the ground almonds and fold again. Pour in the melted coconut oil mixture and stir to combine.
Divide the batter between your eight tart tins (or twelve muffin cases), tapping gently on the worksurface to flatten the tops. Bake for 5-6 minutes before turning the oven down to 200 degrees C and bake for a further 6 – 8 minutes. Turn off the oven and leave the financiers in for a further 5 minutes or so to firm up then remove and allow to cool in their tins a further 5 minutes.
To serve
Place cakes on individual plates. Top with a spoonful of yoghurt cream, some icy crystals of granita and a few flaked almonds. Serve.