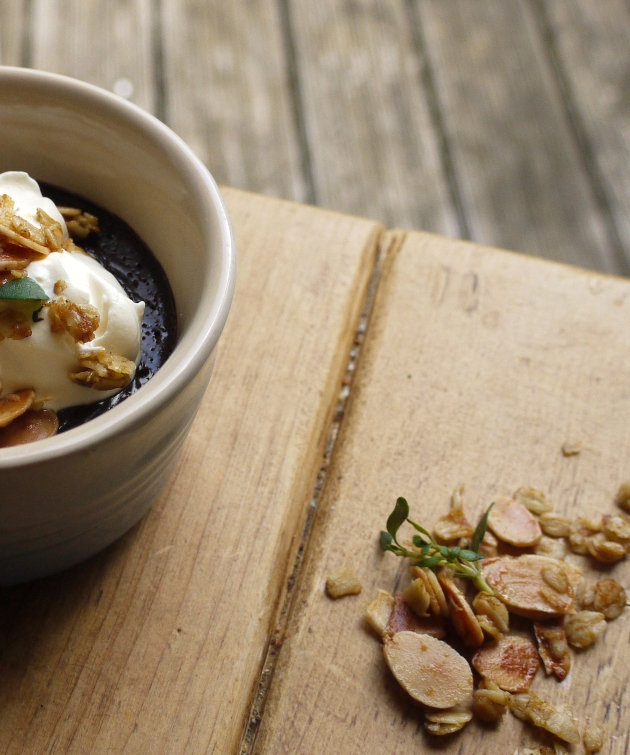 Hands up if you're the person who always orders the chocolate option for dessert in a restaurant?
Until recently, that was me. In fact I'd be lying if I said that I wouldn't seriously consider something chocolate based if you took me out for dinner tomorrow. But as I've got older, I've started to appreciate other flavours on my plate, subtle sweetness, spice and seasonal ingredients like this simple honey almond cake with strawberries.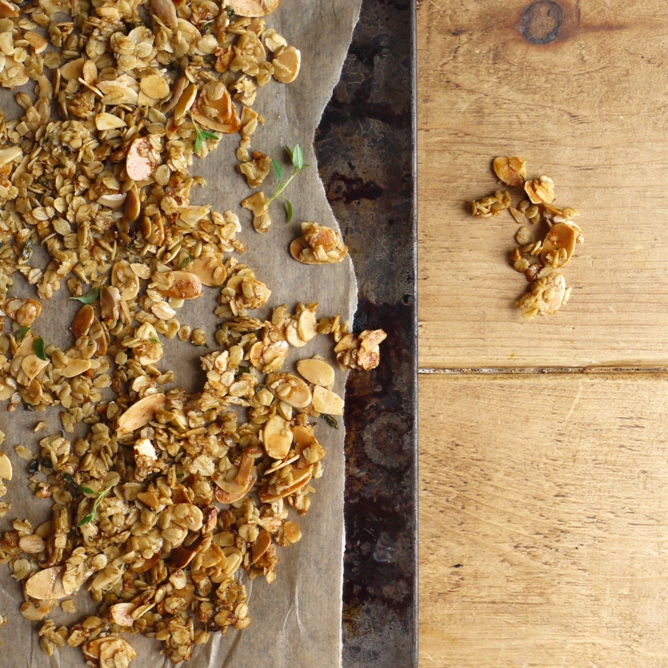 I appreciate that this is a slightly odd opening given that today's post is a chocolate dessert. But my argument is that if you're going to eat chocolate, make it count. Ditch the dry cake or mousse made with too much cream (that leaves your mouth tasting more of fat than chocolate) and indulge in something deeply, deliciously chocolaty.
These little pots can be dressed up or down depending on the occasion. Make them with milk chocolate for a party of children, add a little alcohol for grown ups, replace the maple syrup with sugar or leave it out altogether for a truly truffly dark dessert.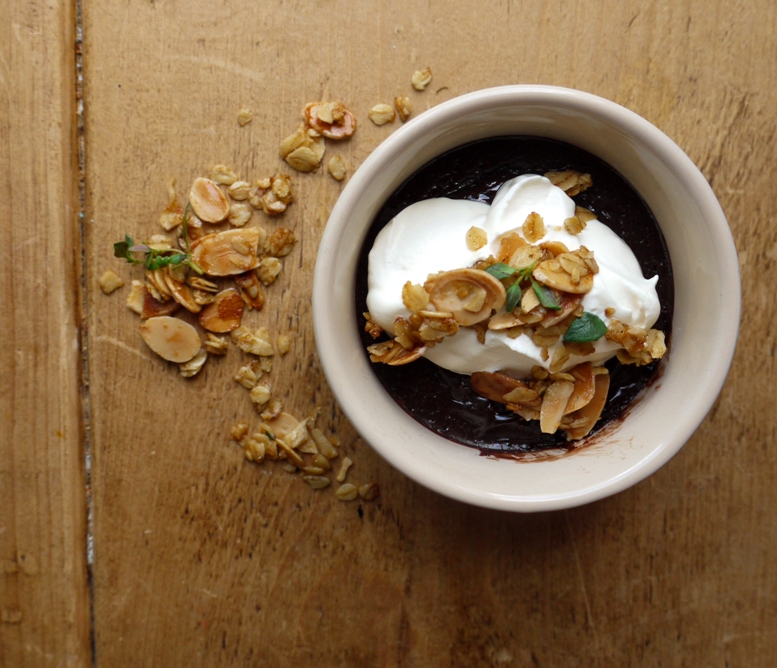 What's also exciting about this dessert is the crunchy crumble topping. The original recipe comes from my well thumbed copy of Sara Forte's Sprouted Kitchen Cookbook where it sits atop a silken tofu lemon cream. I'm not yet convinced about tofu for dessert but loved the idea of sweet crisp oats and a hint of herb. Thyme and chocolate are perfect partners and replacing Sara's coconut with olive oil creates a marriage of flavours that I'll definitely make again.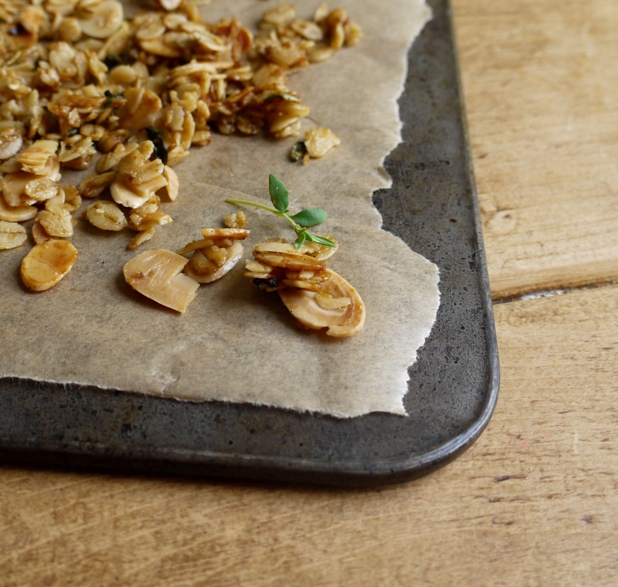 In terms of ratio, I like to add a generous dollop of cream and sprinkling of crumble on top of each pot. The custards are rich and the cream and crumble cut through, allowing you to eat just a little more than you probably should.
Next time you eat out in a restaurant, consider options other than the chocolaty dessert. After all, if you can make something like this at home, can anywhere else compete?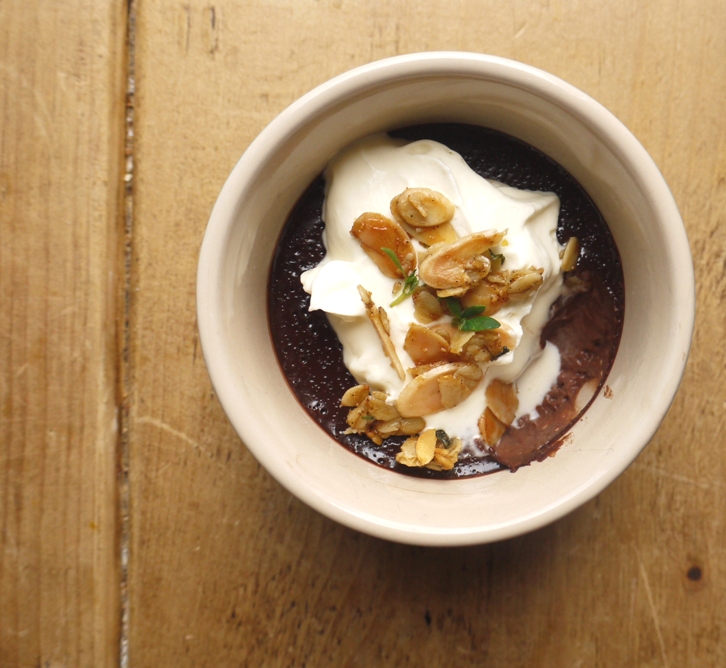 Maple Chocolate Pots with Olive Oil Thyme Crumble
(makes 6)
*The crumble can go in the oven at the same time as your chocolate pots so prepare it first, make the pots then pop them both in together, keeping a good eye on your timings*
Ingredients:
For the olive oil thyme crumble (adapted from The Sprouted Kitchen Cookbook)
3 tbsp olive oil
15ml maple syrup
1/2 tsp vanilla paste
Large pinch salt
Heaped tbsp fresh thyme leaves, picked
65g large rolled oats
40g flaked almonds
For the chocolate pots (adapted from Ready for Dessert)
200g good quality dark chocolate, chopped
500ml single cream
40ml maple syrup
Pinch salt
6 large free range egg yolks
1 tsp vanilla paste or extract
To assemble
200ml double cream
Seeds from half a vanilla pod
Thyme flowers to decorate, optional
Method:
For the olive oil thyme crumble
Preheat the oven to 180 degrees C. Line a baking sheet with parchment paper.
In a medium bowl, combine the olive oil, maple syrup, vanilla paste and salt. Rub the thyme leaves between your fingers to release the scent then combine with the wet mixture, oats and almonds. Spread on the baking sheet and set aside while you make your chocolate pots. 
When it comes to baking the crumble, it will take about 20 minutes but keep an eye on it as the ingredients can catch and go from golden to burnt pretty quickly.
For the chocolate pots
Place six ramekins in a roasting tin or deep baking dish (mine were on the large side, around 125ml capacity would be ideal so they look generously full).
Put the chocolate in a large heatproof bowl. In a medium saucepan, heat the cream, maple syrup and salt until hot to the touch (but not boiling) and the maple syrup has dissolved. Pour the hot cream mixture over your chopped chocolate and whisk until smooth. Set aside to cool slightly.
When the chocolate mixture is tepid, whisk in the eggs and vanilla. If it looks at all grainy, blitz the mixture in a blender or whisk well until completely smooth. Divide the mixture between the six ramekins.
Fill the baking dish with warm water so that it reaches about half way up the sides of the ramekins. Cover the whole thing with tin foil and bake for 30 – 35 minutes until the outside of each custard is set but there's still a little wobble in the middle.
Remove the custards carefully from the water bath and allow to cool on a wire rack.
To assemble
Whip the cream until soft peaks form then fold in the vanilla seeds. Place a dollop of cream on each chocolate pot and scatter with the crumble. Decorate with a few thyme leaves, if you like.
The pots are best served at room temperature. If you're not going to eat them straight away, refrigerate then take them out about 15 minutes before you want to eat, adding the cream and crumble at the last minute.