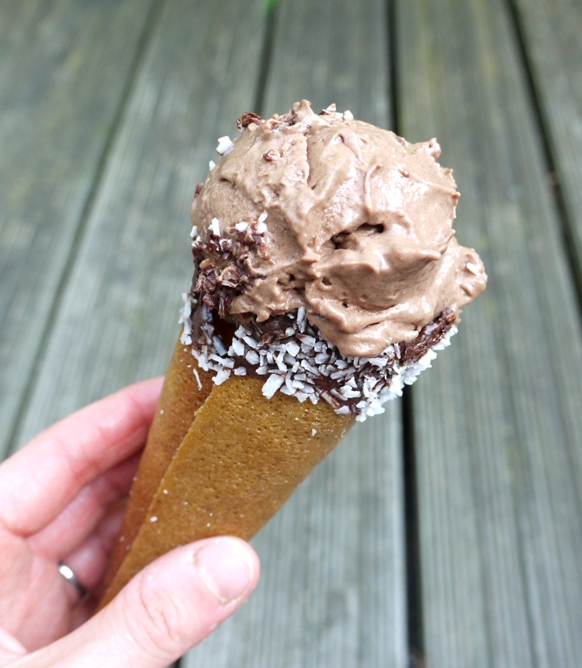 July has arrived and with it hot, flat beams of sunshine, the smell of sunscreen and the promise of good things to come. With my birthday just a few weeks away, this is a favourite month of mine, forever associated with presents and laughter, long light evenings and time spent with family and friends. Celebration is the order of the day and ice cream is almost always on the agenda.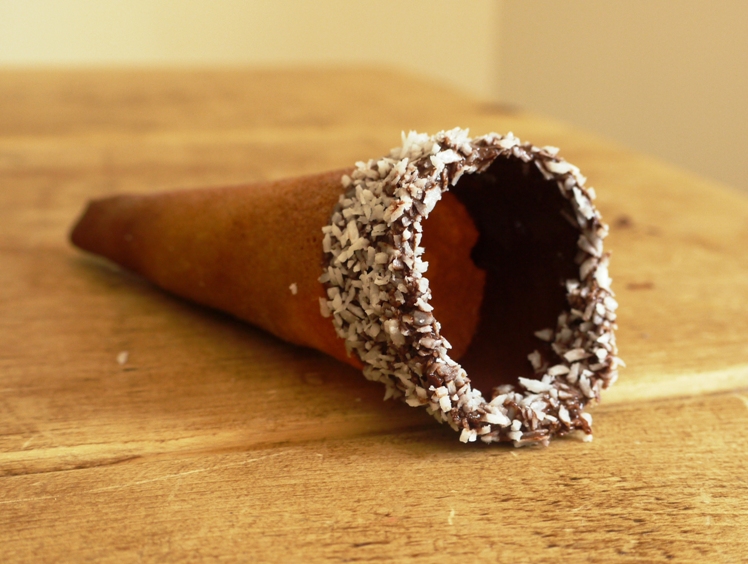 Since getting an ice cream machine for my birthday a couple of years ago, I've experimented with a number of different techniques. Each has its own merit but, for my money, the custard based ices always come out on top with their silky smooth texture and rich, rounded flavour. However sometimes life is too short and the weather too hot to spend precious moments at the stove: this is where a one bowl recipe comes in handy.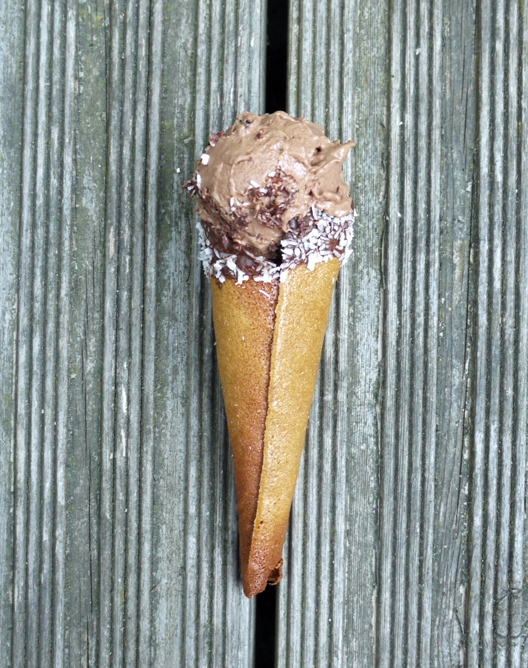 I read a lot of virtuous (read vegetarian, vegan and whole food-focused) blogs – more for their savoury recipes which I enjoy experimenting with than the sweets – but a recipe that kept cropping up (in my reader, on Pinterest, in my dreams) was one involving just three key ingredients of coconut milk, dates and cocoa powder. No heating or stirring or anything complicated needed, just a couple of minutes, a powerful blender and the faith that this would produce a simple, delicious dessert full of flavour and devoid of ice crystals.
The result? A ridiculously rich, almost mousse-like ice that is sweet and smooth and chocolaty with just the faintest hint of coconut. It's not necessarily the delicate recipe I was looking for to counteract the heat outside – if you're after refreshment I'd go with some sort of sorbet (or a big glass of water) – but it's definitely something I'll be adding to my ice cream repertoire.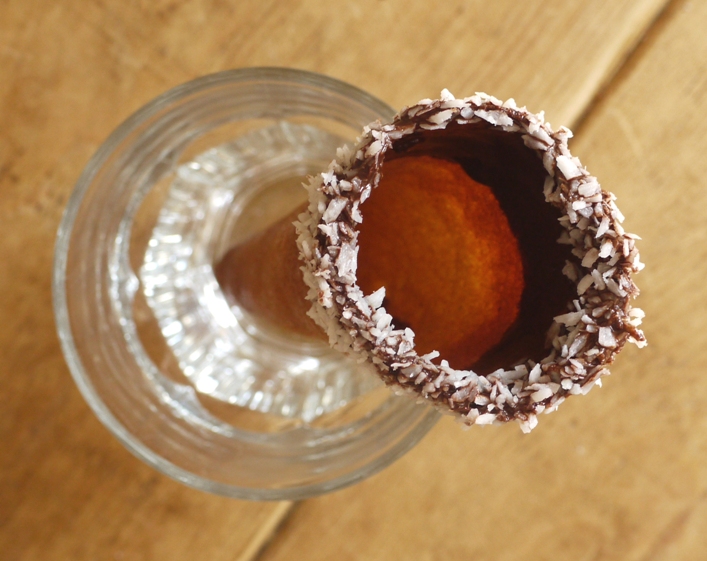 I served small scoops in homemade coconut cones which, in contrast to the ease of making this ice cream are a bit more effort to make. This was my first attempt and the technique is definitely something I want to work on, but in the meantime Carnivorous Fiance and I were pretty happy catching drops of ice cream as they dripped from the ends of each misshapen cone (he even ate one for breakfast).
Coconut sugar and spelt flour give the ice cream cones a whole food feel and glorious golden brown colour while dipping the ends in chocolate and then dessicated coconut adds an extra element of flavour and texture. Eaten in conjunction with this velvety ice cream they make for an indulgent, chocolaty dessert worthy of any summer or celebration or birthday. Bring it on.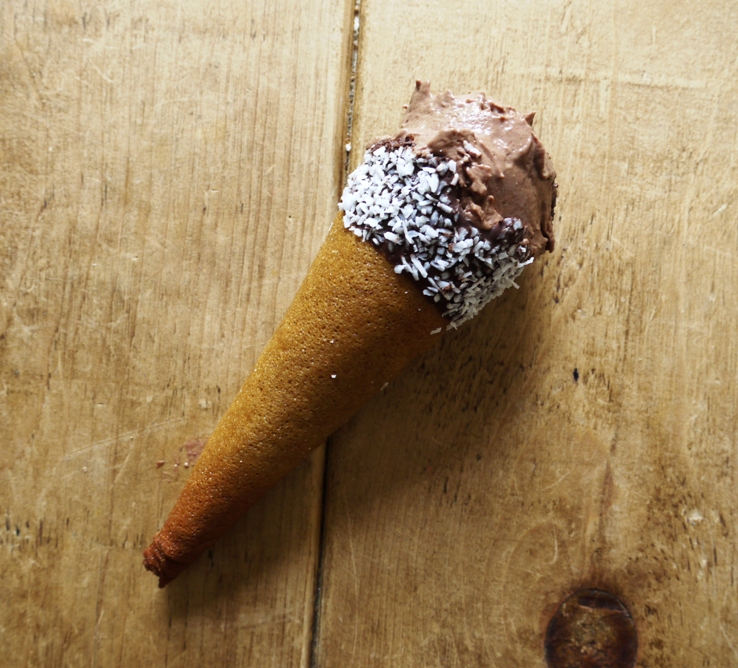 Double Chocolate Coconut Ice Cream Cones
(makes approximately six cones with some ice cream left over)
You will need some sort of cone mold to make the cones this recipe but don't let that put you off – you can pick them up pretty cheap online, or make your own. This 'how to' explains it all much better than I could, with some handy photos too.
Ingredients:
For the ice cream (inspired by The First Mess and Oh Ladycakes)
2 x 400ml cans full fat coconut milk, chilled
220g Medjool dates, pitted and roughly chopped
55g raw cacao powder (or cocoa powder would be fine)
1/2 tsp xanthum gum (optional)
Pinch fine sea salt
For the cones (adapted from The Perfect Scoop)
60ml free range egg whites (about 2 large white eggs)
85g organic coconut palm sugar
1/2 tsp vanilla extract
Pinch fine sea salt
90g wholemeal spelt flour, sifted
30g unsalted butter, melted and cooled
100g dark chocolate, chopped
1/2 tsp coconut oil
Handful dessicated coconut
Method:
For the ice cream
Pour the coconut milk into a blender and add the dates. Leave to soak for 15 minutes then blend until completely smooth. Add the cacao powder, xanthum gum and salt and blend again. You could pass the mixture through a sieve to remove any tiny bits of date, but if your blender is powerful enough you should be fine.
Churn the ice cream according to your manufacturer's instructions. If you didn't use chilled coconut milk to start with, you will need to chill the mixture in the fridge for a couple of hours first. Transfer into a container and freeze until ready to use.
For the cones
Preheat the oven to 175 degrees C. Line a baking tray with parchment paper, then prepare two additional pieces of parchment paper for later use.
In a small bowl, stir together the egg whites, sugar and vanilla. Add the salt, sift in half the flour then stir in the butter until combined. Stir in the remaining sifted flour and beat until you have a smooth batter.
Dollop two level tablespoons of batter onto one side of the lined tray and smooth out to a circle approximately 15cm in diameter using a spatula. Repeat with a second circle on the other side of the tray then bake for 10 minutes or until golden brown.
Remove the tray from the oven and, working quickly, loosen the first disc, flip it over and wrap around your cone maker, pressing the seal and point firmly to ensure there are no gaps (you don't want to lose any of your precious ice cream later!). Let the cone cool around the mold then transfer to a tall glass to cool completely and crisp up. Repeat the process with the second disc then bake additional trays of discs until all the batter is used up.
Melt your chocolate and coconut oil together in the microwave or in a small heatproof bowl suspended over a pan of water. Remove from the heat, allow to cool slightly then dip the end of one ice cream cone in the chocolate. Allow the excess chocolate to drip off then sprinkle with dessicated coconut and repeat with the remaining ice cream cones.
To assemble, remove the ice cream from the freezer and allow to soften for 15 – 20 minutes (it sets pretty solid). Scoop one ball into each ice cream cone (this ice cream is rich, you don't need a lot) and serve.
Other posts you might like:
Chocolate Sorbet
Chocolate Peanut Butter 'Magnums'
Gianduja Ice Cream