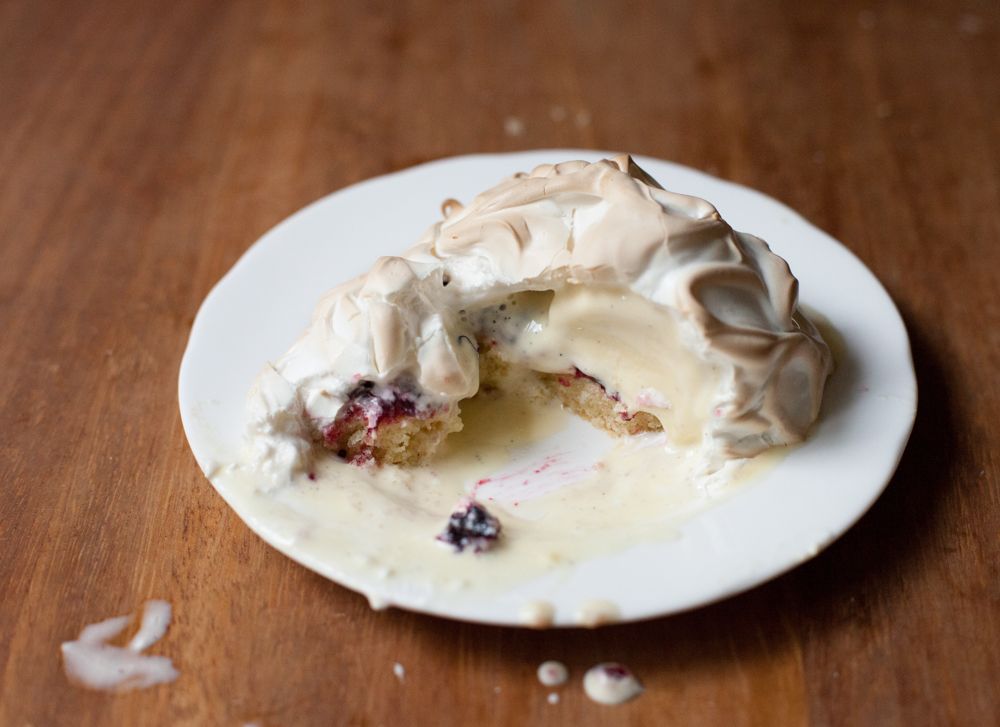 As mentioned in last week's post, I'm currently in Bali on honeymoon with my brand new Carnivorous Husband (!). This second guest post is written by the lovely Emma of Poires au Chocolat. Emma's blog was one of the first food blogs I ever read and her recipes and talent are incredible. This baked alaska is no exception and I can't wait to try out the recipe once I'm back in England and autumn has arrived.
Back when I first met Kate we bonded over ice cream. Ice cream and a love for David Lebovitz's recipes for ice cream. From that (excellent) starting point, our friendship blossomed into other forms of dessert and real life.
As a result, I knew that this guest post had to involve ice cream. I've made a few baked alaskas over the years but I've never nailed down a recipe I loved. This post seemed like a good time to finally sort it out.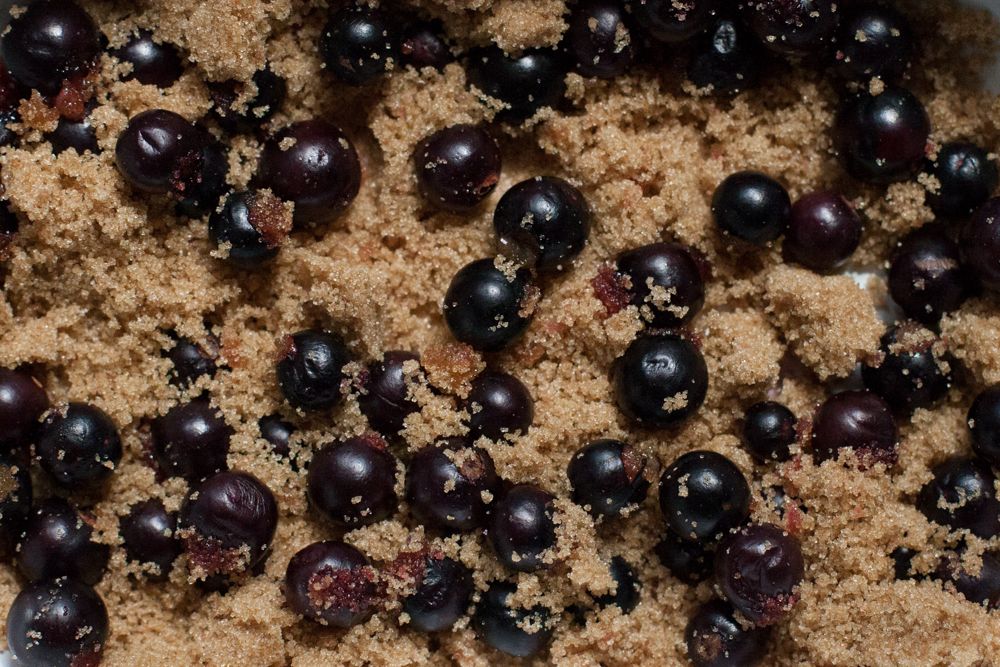 So, to make my idea of a perfect baked alaska, you start (funnily enough) with ice cream. I love David's rich vanilla from The Perfect Scoop. Instead of including it in the recipe and making it seem insanely long, it's probably easiest if you have a look at the recipe here. You can, of course, buy some high-quality ice cream and use that instead.
The next thing I think you need is a layer that's fairly tart or sharp. The ice cream, cake and meringue are all fairly sweet, so it needs something to act as a contrast. My current favourite is roasted blackcurrants. I toss them with plently of brown sugar (they're very, very tart) then roast them until they turn into a jammy compote that's beginning to caramelise around the edges. You could also use another fruit and significantly reduce the amount of sugar – blackberries would be a good autumnal choice, maybe combined with a bit of cooking apple.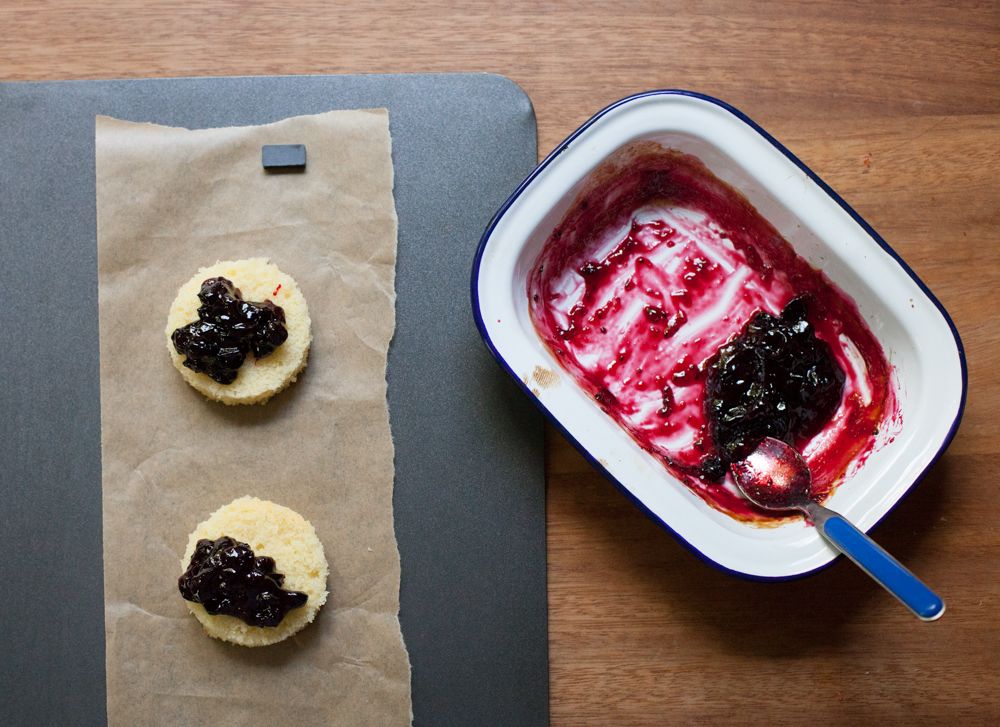 After that, cake. I use a simple all-in-one sponge that's lovely and fluffy. It can then be cut up and shaped. Though it means you have to be quick with the meringue, I think it's important that the cake and fruity filling are room temperature, not frozen, when they go into the oven. Semi-frozen sponge isn't nice.
Finally, you need the meringue. I use a simple French meringue, but I think Swiss meringue – perhaps with some brown sugar – would also be great. I've just written two guides on meringue – one on the basics and French, the other on Swiss and Italian – so if you're nervous about making it, do check them out.
By combining these four elements, you get an addictive range of textures, temperatures and flavours.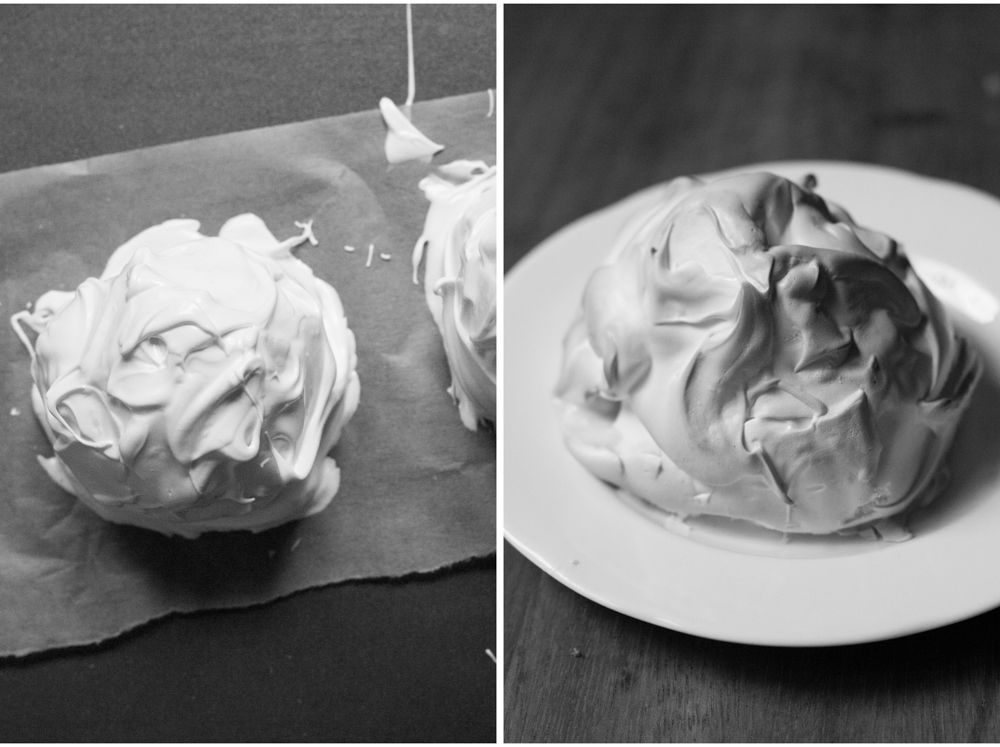 Though I usually make one big baked alaska, I decided to try making individual portions for this post. I used a tiny circle of cake, a single scoop of ice cream and a spoon of blackcurrant. When assembled, however, they looked enormous… (it's worth noting that the plate I was using is only 16cm across, so this concept is reinforced by a bit of an optical illusion). I didn't bake up all four at once because I didn't have enough people to eat them.
You could make one big one (use a small bowl or teacup lined with cling film to mould the ice cream then cut the cake to match, this is also easier when it comes to quickly applying the meringue). Or you could make ones this size. Then share… or not.
Blackcurrant Baked Alaska
Ingredients:
To assemble
4 scoops quality vanilla ice cream
For the blackcurrants:
60g fresh blackcurrants
60g brown sugar
For the cake:
65g unsalted butter, at room temperature
65g caster sugar
65g plain flour
1 large egg
1/2 tsp baking powder
1/4 tsp vanilla extract
For the meringue:
2 egg whites (around 75-80g)
110g caster sugar
1/4 tsp vanilla extract
Method:
Preheat the oven to 170C/340F. Tear four big squares of cling film. Scoop a ball of ice cream, making sure it is compact. Flatten the sphere a bit on one side (so it will sit on top of the cake) then wrap in cling film and place in the freezer to harden up (it's important that they're nice and solid to give you time to get the meringue on top).
Take the stalks and brown ends off the blackcurrants. Toss them with the sugar in a small ovenproof dish. Bake for 20 minutes, giving them a stir once if the sugar hasn't incorporated into the juices. Leave to cool – it should thicken up to a jam-like consistency.
Butter and line a 7″/18cm sandwich tin. Make sure the butter is nice and soft, then place all of the cake ingredients into the bowl of a stand mixer (or a mixing bowl if making with an electric hand whisk) and whisk until fully combined. Check that the mixture drops off a spoon/spatula after a slight moment of hesitation. If not, add a dash of milk. Transfer to the tin and level out – there isn't much mix, don't worry. Bake for 15-20 minutes until golden brown and a toothpick can be removed cleanly from the middle. Leave for a few minutes then turn out of the tin onto a wire rack.
When you're nearly ready to serve, turn the oven up to 220C/430F. Trim the cake if it has risen a lot – you don't want it too thick – and cut into four circles of about 2.5″/6cm. Spread 1/4 of the blackcurrant mixture on each of the cake circles and place on a lined baking tray. Pour the egg whites into a very clean bowl and have the sugar to hand. Whisk until the bubbles have become tiny and you have soft peaks, then slowly add the sugar. Whisk until you have peaks that are relatively stiff but still curl over. Add the vanilla and briefly whisk through.
Remove one of the ice cream balls from the fridge and place it on the cake. Quickly spoon meringue on top and spread it all over – there must not be any gaps and it needs to be relatively thick (at least 1 cm). Quickly repeat for the others. Place in the oven and bake for 3-4 minutes until the meringue has turned golden then serve immediately (you can also blast them with a blow torch if you have one).
(Makes 4 large single servings, or 8 small if you halve each one)