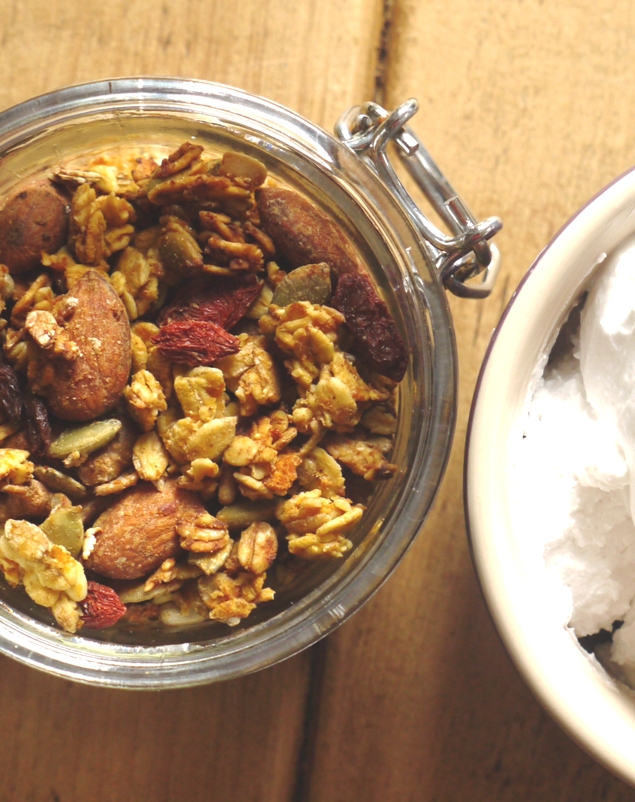 Towards the end of last week, autumn arrived in earnest. Until then, it felt a little like we were living on borrowed time: sunny days and warmth that extended into the evenings even after darkness had fallen (and did so increasingly earlier every day). In my inbox, however, autumn arrived about a month earlier: it's easy to define the seasons by what fellow food bloggers are raving about and on arrival back from honeymoon my virtual world was a veritable celebration of all things pumpkin.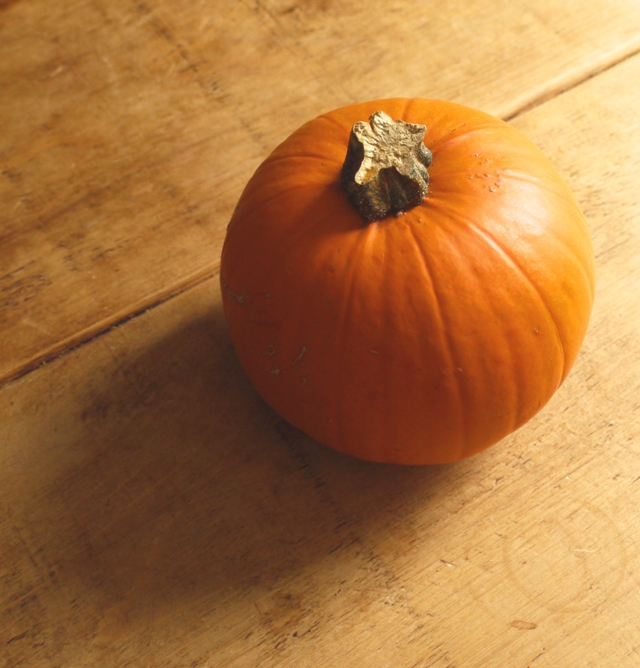 We don't eat a lot of pumpkin in the little loaf house. I think I associate it with the oversized, often tasteless giants we used to hollow out as children on Halloween, but after seeing so many beautiful recipes involving its sweet, orange flesh, I finally felt the need to add pumpkin to my repertoire. The recipe I kept seeing and couldn't get out of my head was granola made with pumpkin purée, and after roasting some up for a quinoa salad, I had just enough left over for this breakfast experiment.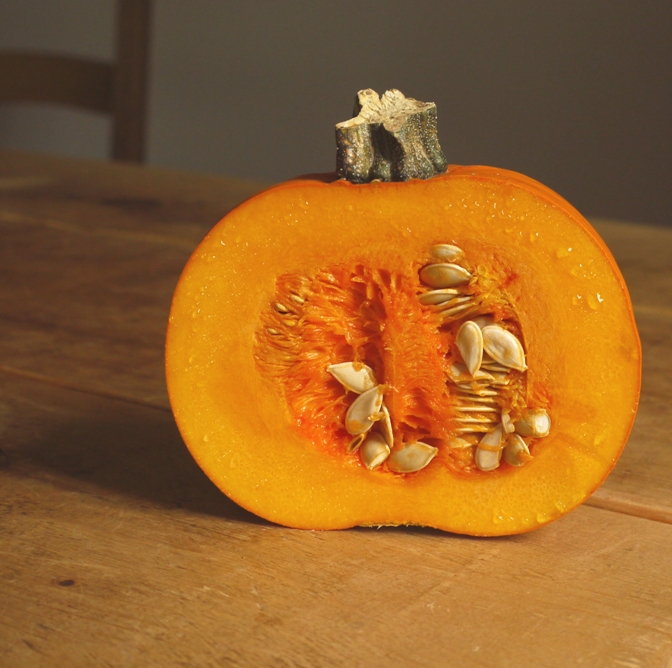 Apples are a perennial autumn favourite and the perfect partner for the flavours of cinnamon and spice I was planning to add to my pumpkin. Recently I saw the lovely chef Tom Kerridge make an amazing 'apple caramel' on TV by simply reducing the juice in a pan – Luise and David over at the gorgeous Green Kitchen Stories do something similar but call it syrup (which sounds a little more breakfasty in my book) –  so with both these recipes in mind, I decided to sweeten my granola with apples rather than the traditional sugar or maple syrup.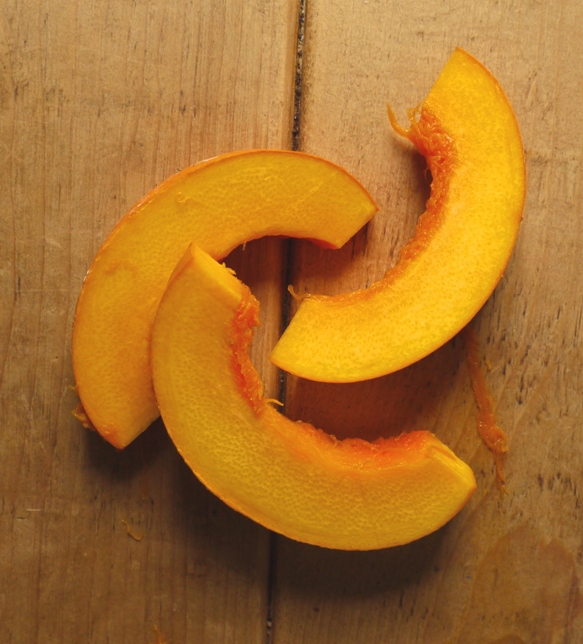 Apple juice is reduced into a sticky syrup with a stick of cinnamon and some star anise. Added to this are rolled oats and rye, olive oil, sweet roasted pumpkin and its dried and toasted seeds. What I love about this recipe is that it feels close to nature: the apples and pumpkin almost in original form, the seeds getting a new lease of life as bursts of toasty crunch alongside creamy roasted nuts.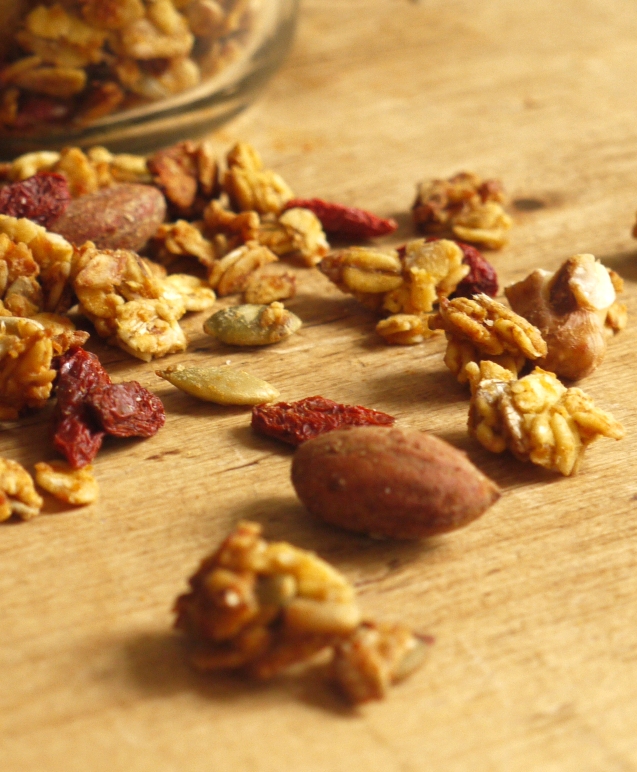 I've been packing this granola into pots for my post-gym workout, mixing in yoghurt and grated pear before scattering with jewel-like pomegranate seeds. It's also delicious on top of a smoothie bowl, sprinkled over ice cream or eaten by the handful straight out of the jar (as evidenced by the trail of crumbs round the kitchen that appear every time Carnivorous Husband gets home from work before me).
Apple Syrup Sweetened Pumpkin Granola
(makes about one 1.5 litre kilner jar full)
Ingredients:
For the apple syrup
750ml cloudy apple juice
1 stick cinnamon
1 star anise
For the pumpkin purée and seeds
1 small pumpkin
For the granola
80ml apple syrup
80g pumpkin purée
80ml olive oil
Pinch sea salt
200g rolled oats
150g rolled rye (you could substitute spelt or more oats)
100g pumpkin seeds
150g nuts (I used whole almonds and coarsley chopped walnuts)
80g cranberries or goji berries (look for fruit dried without vegetable oils or sugar)
Method:
For the apple syrup
Place all the ingredients in a heavy bottomed saucepan over a high heat and bring to the boil. Reduce the heat and simmer, stirring occasionally, for 45 – 60 minutes or until the apple juice has reduced to about 250ml syrup. This is more than you will need for the granola, but the syrup will keep in the fridge for up to four weeks.
For the pumpkin purée and seeds
Preheat the oven to 200 degrees C. Line two baking trays with parchment paper. Cut your pumpkin in half and scoop out the seeds. Discard any stringy fibre round the seeds, wash well then dry thoroughly using a clean dish cloth.
Place the pumpkin halves on one tray and bake for 40 – 50 minutes or until tender. When you have about 20 minutes of baking time left, spread the dried pumpkin seeds on the second tray and roast alongside the pumpkin, stirring occasionally to avoid burning.
Remove the seeds from the oven and set aside. Remove the pumpkin from the oven, scoop out the flesh and blitz in a blender until smooth. Depending on the size of your pumpkin, you'll have some purée left over – delicious baked into cookies or added to falafel.
For the granola
Preheat the oven to 160 degrees C. Line two large baking trays with parchment paper.
In a large bowl, whisk together the apple syrup, pumpkin purée, olive oil and salt. Add the oats, rye, pumpkin seeds and nuts and stir until combined.
Spread the mixture onto your prepared baking trays, spreading out to form a thin, even layer. If your granola is too crowded it will steam and not go crisp. Bake for 35 – 40 minutes, stirring every 10 minutes or so by bringing the crispy outer edge pieces into the middle of the tray.
Once golden and slightly crisp (the granola will continue to firm up as it cools), remove from the oven. Allow to cool slightly then stir in your dried fruit of choice. Allow to cool completely then transfer to an airtight container. Will keep for a couple of weeks, if you can make it last that long.