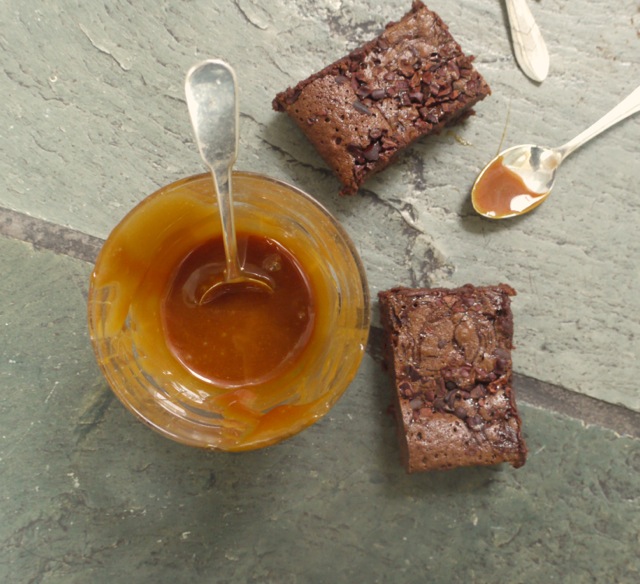 I first tried one of Milli Taylor's brownies around this time last year. We'd been chatting online about various food-related things and realised that we live pretty close to one another. Milli had some goodies going spare from a catering job so promised to drop a few samples round the flat while we were out. Several bemused messages later, it dawned on us that she'd left them in the wrong street and I ended up having to tiptoe my way down a stranger's garden path to retrieve the box from behind the bush by their front door. Not the easiest brownies to get hold of, but some of the best I've ever eaten,  so when I received a copy of Milli's debut cookbook, I knew this recipe was the one I'd have to make first.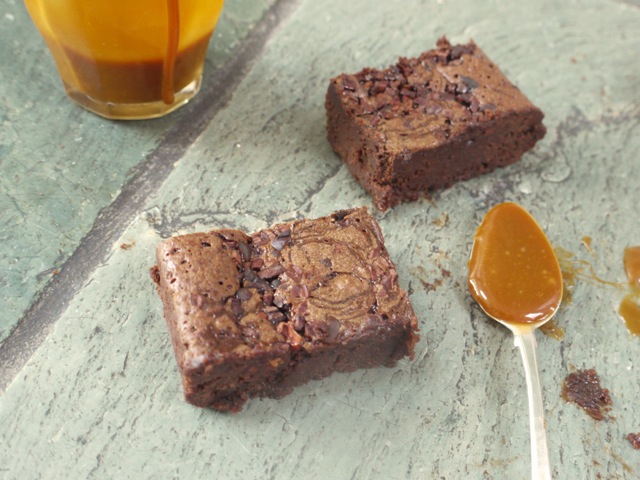 Milli's brownies come dressed up to party – as befits a book called Party Perfect Bites – with a swirl of salted caramel and a sprinkling of cocoa nibs. The slight bitterness of the crunchy nibs offsets the smooth, sweet caramel puddled through the fudgy brownie batter. You can use all the caramel in your brownies or, as Milli suggested over email when she knew I was making this recipe, keep about a third back. That way, whether you serve them in cubes as sweet canapés or for dessert with a scoop of ice cream, you've got extra warm caramel for dipping and drizzling.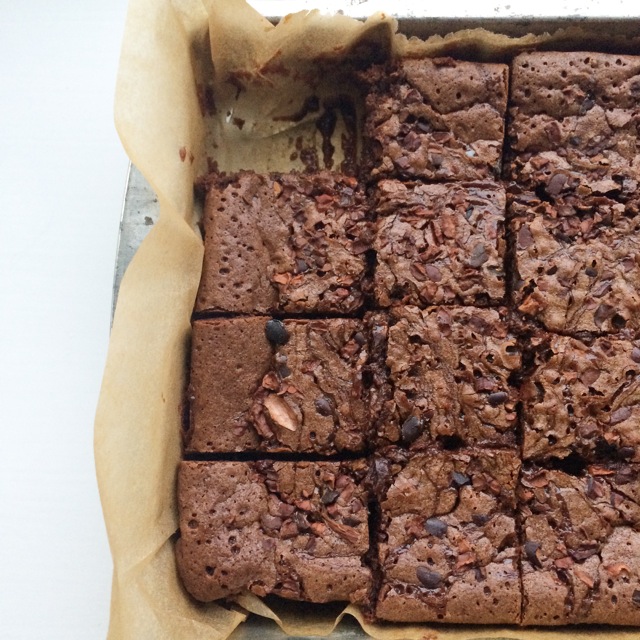 A few words on Party Perfect Bites. Posting this recipe for brownies does a slight disservice to the book in that it's so much more than dessert. The majority of the recipes are savoury, exploring different parts of the world from paella arancini with aioli to mini okonomikyaki and miso-glazed aubergine skewers. The crispy coconut calamari looks out of this world as do dozens of other recipes, not least because they're photographed by the incredibly talented Helen Cathcart (who also photographed my book!). I've wondered several times in the last week if, perhaps, I could survive for the rest of my life eating canapés alone. With a book like this, I probably could. Huge congratulations Milli, you really are the party catering queen!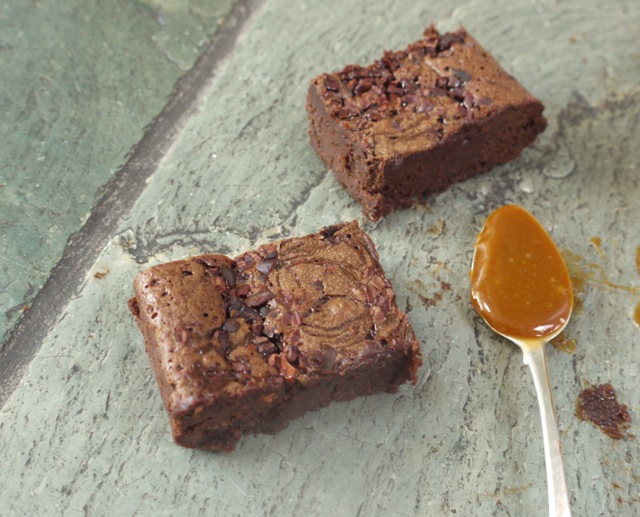 On another note, you may have noticed a different background to my usual wooden table. As mentioned in my previous post, we're firmly ensconced at my parents' house while our kitchen is being renovated. My Mum said she'd always thought the slate tiles in her kitchen would make a lovely background for my photos, and I think she might just be right. I'm not sure she was quite so keen on me spooning caramel all over the floor, but needs must. And I cleaned it carefully both before and afterwards in case the word 'floor' had you worried – no food goes to waste for the sake of a photo in this household.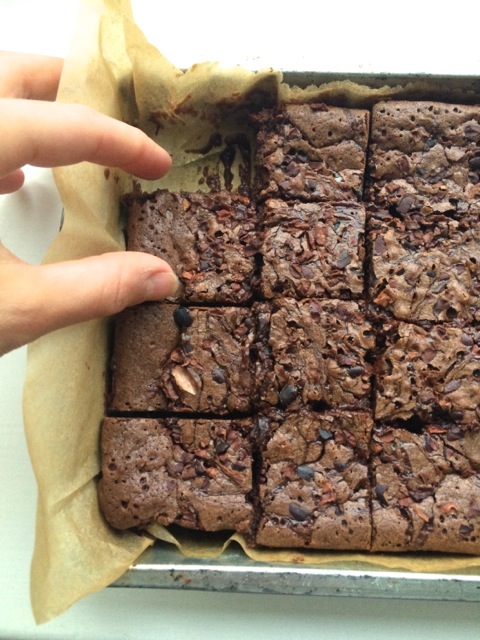 Salted Caramel + Cocoa Nib Brownies
A squidgy, fudgy brownie with a salty caramel swirl and crunchy cocoa nibs.
Recipe type:
Baking & desserts
Ingredients
For the caramel
100g caster sugar
3 tbsp golden syrup
4 tbsp double cream
30g unsalted butter
generous pinch flaky sea salt
For the brownies
150g unsalted butter
200g dark chocolate, chopped
4 large eggs, beaten
200g light brown sugar
100g caster sugar
pinch salt
1 tsp vanilla extract
80g flour, sifted
1 tbsp cocoa nibs
Instructions
Start by making the caramel. Put the sugar and syrup in a small saucepan over a medium heat. Swirl the pan but do not stir. When the mixture is a copper colour, take off the heat and slowly whisk in the cream. Add the butter and salt, whisk to combine, then set aside.
Preheat the oven to 170 C/Gas mark 3. Grease and line a 23 x 23cm brownie pan with baking parchment.
To make the brownies, melt the butter and chocolate in a heatproof bowl set over a pan of barely simmering water Transfer to a large bowl and allow to cool for a couple of minutes. Add the eggs, along with the sugars, salt and vanilla. Fold in the flour.
Pour into the prepared pan and smooth the top. Drizzle half to two thirds of the caramel over the top and use a skewer to swirl it around. Sprinkle with cocoa nibs. Bake for 20 - 25 minutes until set on top but slightly wobby in the middle still. Leave to cool completely in the tin then cut into squares.