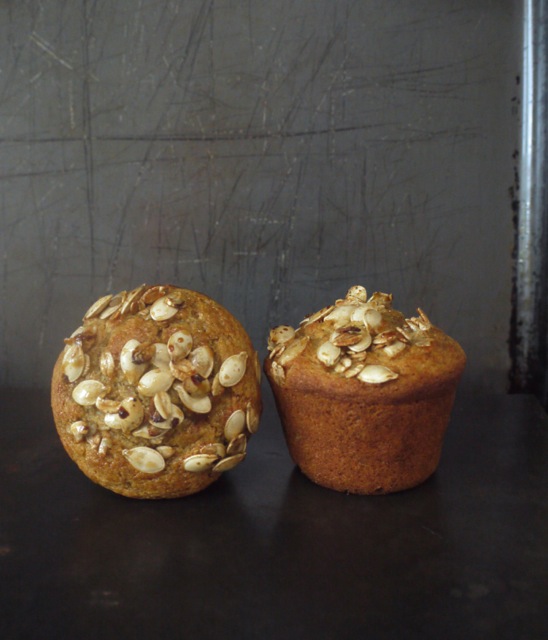 I always know autumn is on its way from the number of pumpkin recipes that start appearing in in my inbox. This year the reminder has been more necessary than most as you couldn't tell the season from the weather we've been having. On Saturday night some friends and I ate after-dinner ice creams outside in the street as if it was summer and yesterday we went for a walk in short-sleeved tops and sunglasses. While I'm secretly hoping that this warmer weather will last a little longer, I'm also aware that colder climes around the corner are an inevitable part of living in England. And when that moment comes, there will be warming autumnal muffins.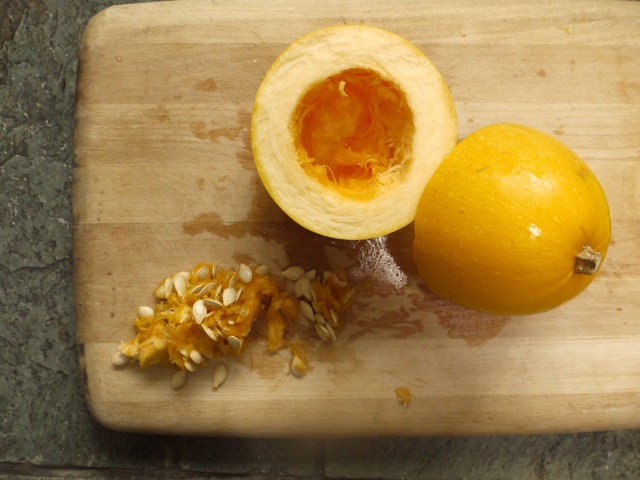 I baked these at my parents's house where we're living for the next few weeks while our flat gets refurbished. It's always strange cooking in someone else's space, getting to know their equipment and the lay of their kitchen cupboards but I'm happy to report that these muffins got a thumbs up from everyone. The batter is a simple, one bowl job with lots of good-for you ingredients – yoghurt, olive oil, maple syrup and spices plus the all -important purée. Mine was made with a sweet little squash that we picked up from the farmer's market, but any kind of pumpkin or butternut will do. For instructions on how to make your own pumpkin purée, I love this video Yossy made on Steller (a beautiful new rival to Instagram which has stolen a lot of my spare time since I joined last week).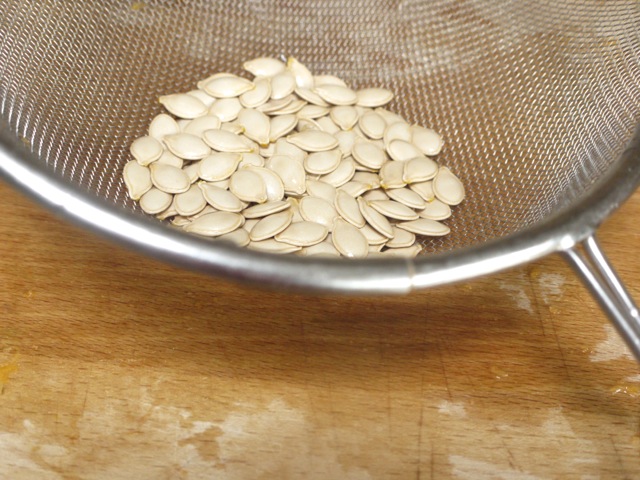 I'm not much of a baked goods breakfast-eater – I'd normally opt for oats, eggs or avocado toast – but if I was, these not-too-sweet muffins would be high on my list. The olive oil, squash and yoghurt keep them beautifully tender without being dense and the maple pumpkin seeds on top add a lovely crunch. For me they make the perfect mid-morning or afternoon snack, delicious on their own or spread with a bit of salty plain or peanut butter.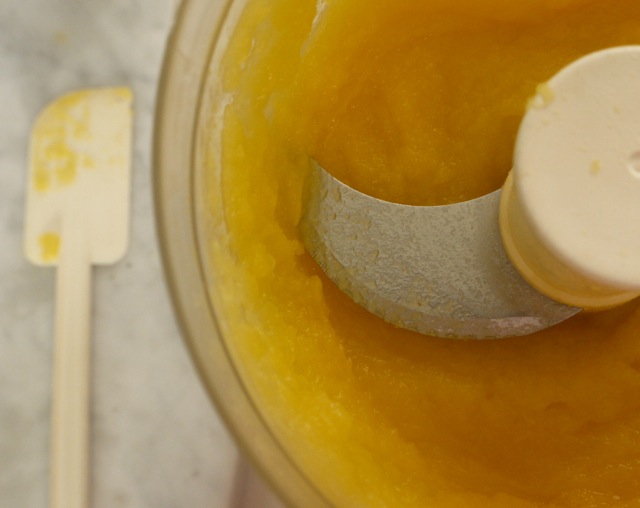 I always recycle the seeds I scoop from inside a pumpkin, washing off any bits of flesh before patting them dry and toasting in the oven with a little bit of oil. If the seeds are enormous you can peel off the outer layer to reveal something that looks more like the ones you can buy in the shops, but if they're little and crisped the whole seed is delicious with a lot less hassle. There's something very satisfying about using the whole vegetable and if you have any leftover the toasted seeds make a lovely, crunchy snack.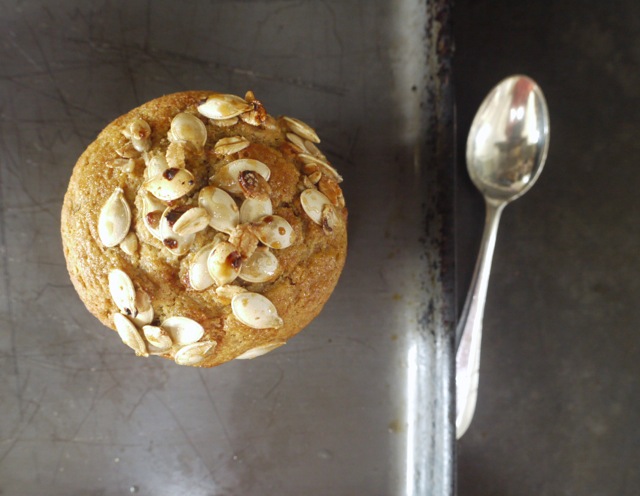 Pumpkin Muffins with Maple Crunch
A not-too-sweet muffin with warming winter spice and a crunchy pumpkin seed topping, perfect for breakfast or a tea time treat. Makes 6.
Ingredients
Dry ingredients:
150g self-raising wholemeal flour
1 tsp bicarbonate of soda
½ tsp ground cinnamon
a scraping of nutmeg
pinch salt

Wet ingredients:
150g pumpkin or squash puree (from about ½ a small squash)
50g olive oil
4 tbsp maple syrup
3 tbsp natural yoghurt
1 large egg
1 tsp vanilla extract

Topping:
2 - 3 tbsp pumpkin seeds
3 tsp maple syrup (plus more to glaze)
2 tsp olive oil
Instructions
Preheat the oven to 200 degrees C/Gas Mark 6. Line a 6-hole muffin tin with paper cases (or leave as is if using a silicone tray)
In a small bowl, whisk together the flour, bicarbonate of soda, spices and salt.
In a separate bowl, whisk together the pumpkin puree, oil, syrup, yoghurt, egg and vanilla extract.
Fold the dry ingredients into the wet until just combined, then divide between the muffin tin holes. Stir together all the topping ingredients, then sprinkle over the batter.
Bake 20 - 23 minutes until risen and firm on the top and a skewer inserted in the middle comes out clean. Brush the tops with a little extra maple syrup, then leave to cool in the tin for 5 minutes then transfer to a wire rack to cool completely.
Looking for more pumpkin recipes? Try these
Maple Pumpkin Pies with Salty Sweet Pumpkin Seeds
.