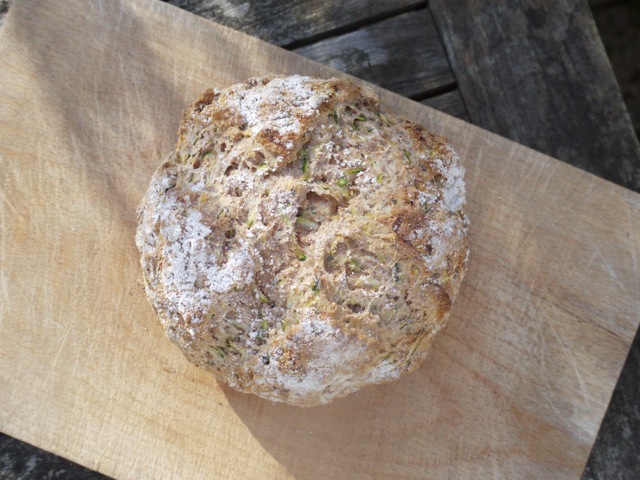 'The smell of good bread baking, like the sound of lightly flowing water, is indescribable in its evocation of innocence and delight…
[Breadmaking is] one of those almost hypnotic businesses, like a dance from some ancient ceremony. It leaves you filled with one of the world's sweetest smells… there is no chiropractic treatment, no Yoga exercise, no hour of meditation in a music-throbbing chapel. that will leave you emptier of bad thoughts than this homely ceremony of making bread.'
M.F.K. Fisher, The Art of Eating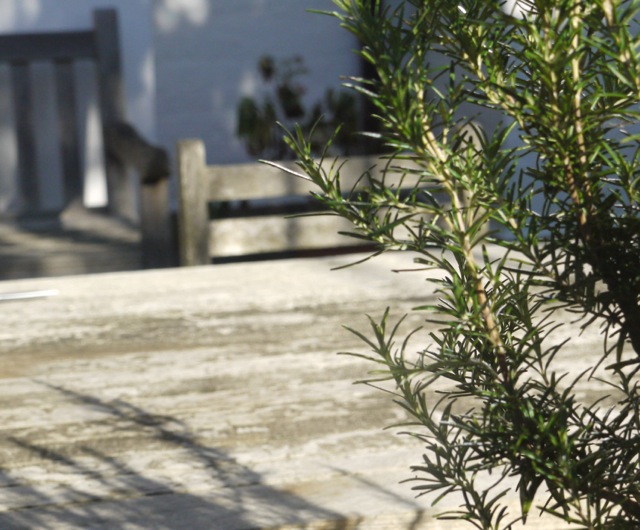 I entirely agree with what Mary Frances was saying, but sometimes, more than the therapeutic process of mixing, kneading and knocking back bread, what you really want is  the instant gratification of a loaf on the table in less than an hour. This little loaf is just that, a variation on my feta and thyme soda bread made with grated courgette and a few spikes of rosemary picked fresh from the garden. I actually meant to include feta this time too, but the speediness of the process meant my dough was mixed, shaped and baking before I remembered the cubes of salty cheese sitting idly on the side.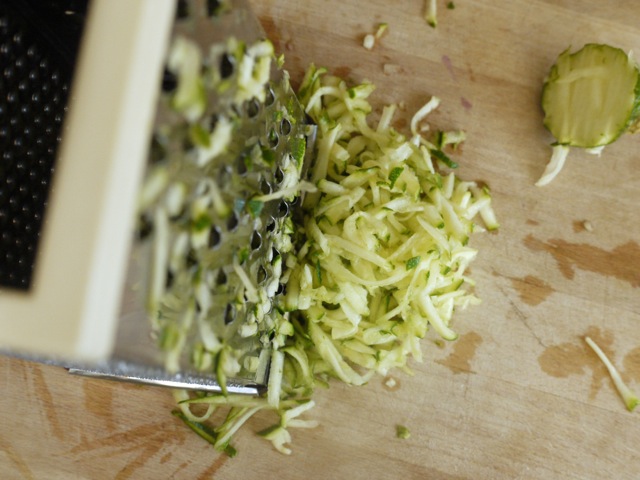 Fresh from the oven it's impossible to resist several slices of this bread spread thick with salty butter or dipped in oil with a sprinkle of sea salt. A single loaf doesn't last long in a four person household – as I'm learning fast – so if you're a family of bread-eaters, my strong advice is to double this recipe and bake two loaves at once. In the unlikely event you don't eat them all at once, the moisture from the courgette will keep them soft and fresh for several days.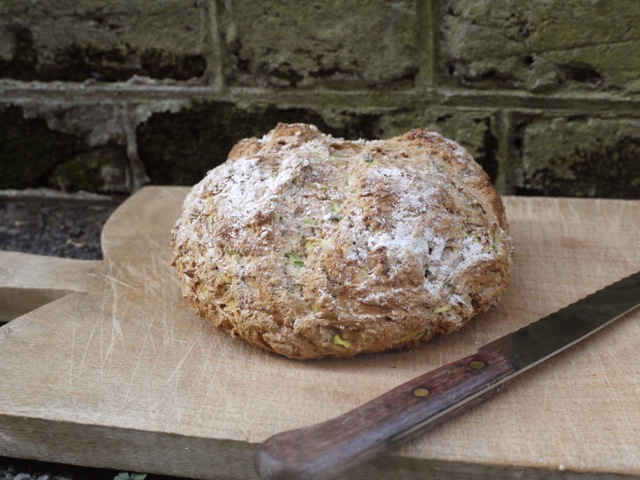 Quick Courgette + Rosemary Bread
This simple courgette and rosemary bread takes minutes to mix together and gives you a freshly baked loaf on the table in less than one hour without the need for yeast or proving time. Delicious toasted and spread with salty butter.
Ingredients
200g courgette (about 1 large courgette)
1½ tsp sea salt
350g wholemeal spelt flour
2 heaped tsp baking powder
250g natural yoghurt
1 sprig rosemary, leaves picked and coarsely chopped
Instructions
Place a baking stone or tray in the oven and preheat to 230 degrees C/Gas mark 8.
Coarsely grate the courgette and transfer to a fine mesh sieve. Sprinkle with half a teaspoon of sea salt, mix to combine, then leave for 15 minutes - the salt will draw out excess moisture. After 15 minutes, squeeze the courgette between your hands to wring out as much moisture as you can.
In a large bowl combine the remaining salt, flour and baking powder. Add the courgette, yoghurt and rosemary and mix together to form a moist dough. Gently knead a couple of times then transfer to your heated baking stone/tray.
Cut a deep cross in the top using a dough scraper or sharp knife, dust with a little extra flour then bake for 25 - 35 minutes until the crust is golden and the loaf sounds hollow when you tap the bottom.
Transfer to a wire rack to cool completely before slicing and serving.