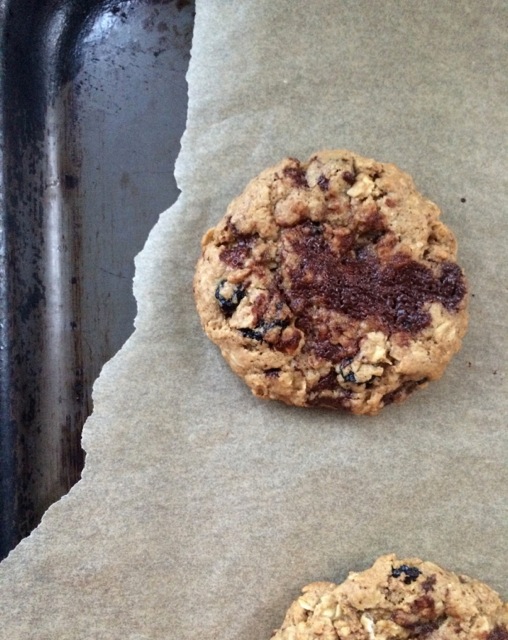 'Any soft drink plus popcorn only £7'. That was the sign we passed as we ascended the escalator to the cinema on Saturday night. Everywhere I looked, people were filling up on sweets from the pick and mix, tiny tubs of ice cream and those slightly scary looking nachos with their lurid toppings and takeaway odour. If you're in the market for making money, cinema food is a serious business.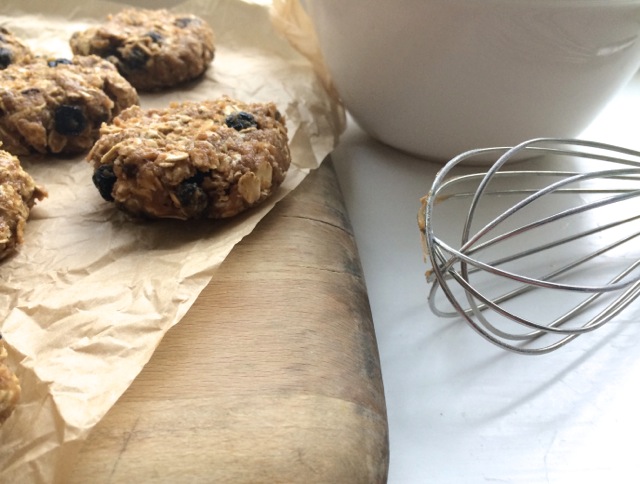 If you're in the market for quality food, the cinema, sadly, is not it. It's not that I object entirely to people mindlessly munching their way through a film – everyone needs an excuse to eat popcorn once in a while – but for £7 I'd prefer to see a little more homemade love and attention, pretty packaging, a lot more flavour and a little less grease. It's the reason why, for as long as I can remember, I've smuggled my own popcorn into the cinema, or other sweets and treats including, on one memorably messy occasion, a contraband ice cream cone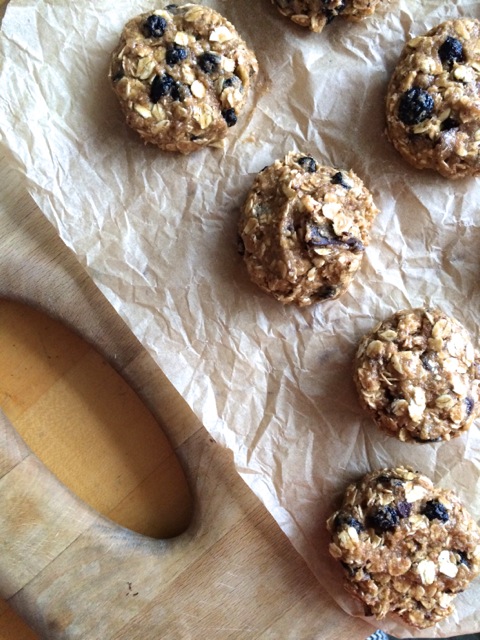 On Saturday afternoon, the heavens opened and I hunkered down in my parents' kitchen with the oven turned on and the radio turned up. The grizzly autumn weather had me a craving the comforting flavours of peanut butter, brown sugar and oats. These cookies are the result of that craving, packed with all that wholesome deliciousness plus chewy dried blueberries and melting pockets of chocolate.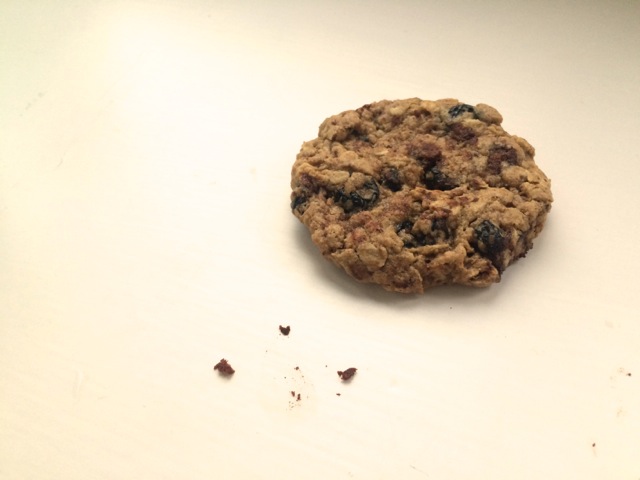 I'd intended to package these up to take to the cinema – my smug food blogger alternative to an expensive bucket of popcorn – but ten minutes before we left the house, Luke and I decided to taste test 'just one' for quality control purposes. Eight cookies later (he had five, I had three – just saying), we bundled into the car to watch the film. I guess I could have brought the rest to the cinema and sold them off to the general public so happy to part with their cash, but some things are just too delicious to put a price on.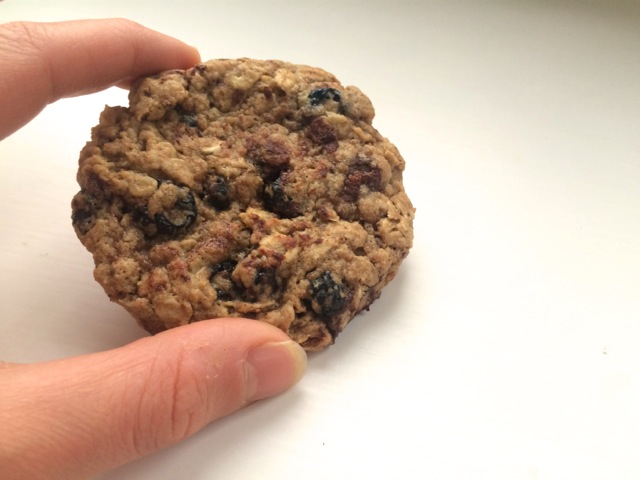 Chocolate, Peanut Butter + Blueberry Oatmeal Cookies
Soft, slightly chewy oatmeal cookies made with peanut butter, dried blueberries and chunks of chocolate
Recipe type:
Chocolate, Peanut Butter + Blueberry Oatmeal Cookies
Ingredients
60g unsalted butter, room temperature
60g smooth natural peanut butter
125g soft light brown sugar
1 large free range egg, lightly beaten
½ tsp vanilla extract
95g wholemeal or wholemeal spelt flour
½ tsp baking powder
½ tsp bicarbonate of soda
pinch salt
125g rolled oats
100g dried blueberries
100g dark chocolate, chopped
Instructions
Preheat the oven to 180 degrees C/Gas mark 4. Line two baking trays with baking parchment.
In a large bowl, cream together the butter, peanut butter and sugar. And the beaten egg, a little at a time, until well incorporated. In a separate bowl, stir together the flour, baking power, bicarbonate of soda and salt.
Fold the flour mixture into the butter mixture until combined, then fold in the oats, blueberries and chocolate. Roll the dough into about 15 equal sized balls, then place each one on the prepared trays, pressing down gently to flatten. Refrigerate for 15 minutes.
Bake the cookies for 10 - 14 minutes until golden at the edges but still a little soft on top. You may need to swap the trays round half way through baking. Remove from the oven and allow to cool on the trays for 5 minutes before transferring to a wire rack to cool completely.
Store in an airtight container for 2 - 3 days.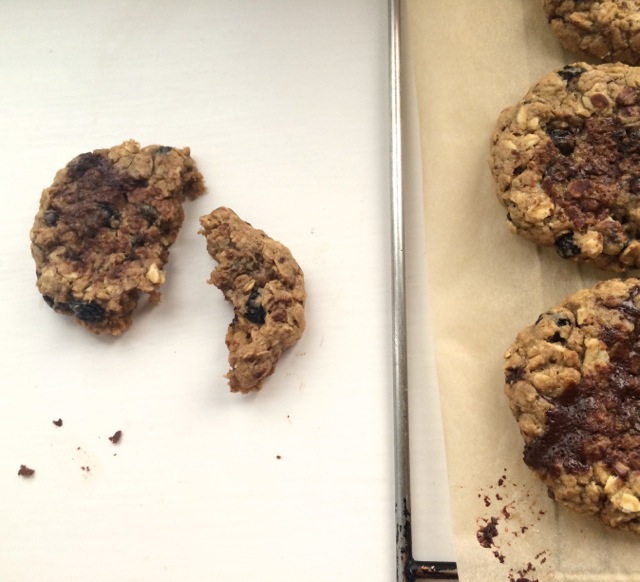 Other cookie recipes you might enjoy:
Marbled Triple Chocolate Chunk Cookies
Crispy Oatmeal Raisin Cookies
Chocolate & Pistachio Cookies