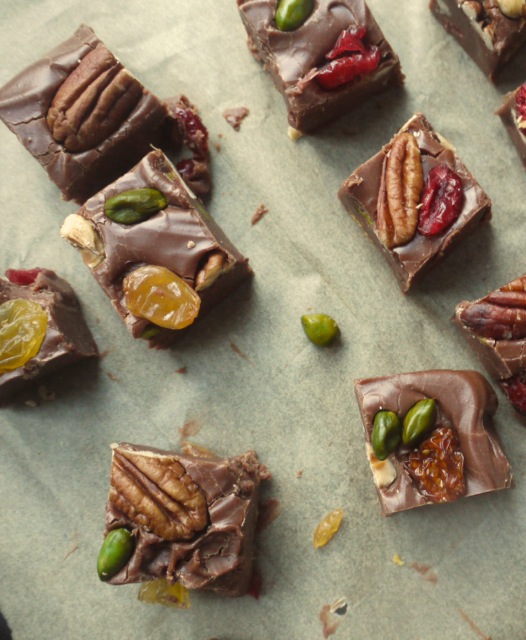 Aside from a family sized tub of Celebrations (which disappeared with alarming speed), this fudge is the first sweet treat to pass through our brand new kitchen. We moved in last Thursday and while I'm eager to share some photos with you all, there hasn't been a moment to take them in between long dark evenings and party-packed weekends. Suffice to say I'm thrilled with the vast new expanses of work surface and storage, our beautiful ceramic sink and a fridge big enough to fit all sorts of little loaf delights. Now, let's talk fudge.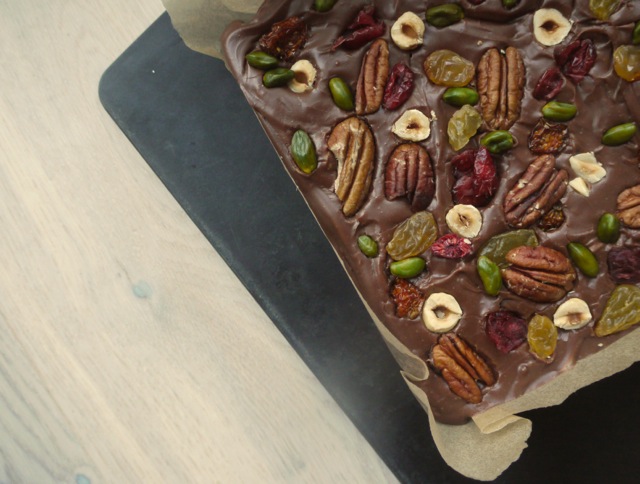 This recipe is barely adapted from a recipe in Annie Rigg's Sweet Things, a gorgeous book that would, as this is front of everyone's mind in December, make the perfect Christmas gift. As would the recipes which fill its pages, the kind of sweet shops treats reserved for gifts and special occasions. I wanted to make something simple for my publisher as a present to thank them for all their hard work this year, and cubes of fudge felt like they'd fit the bill. Jazzed up with handfuls of dried figs and hazelnuts, pecans, golden sultanas, cranberries and pistachios for pops of colour, this is the kind of sweet festive treat I'm as happy giving as receiving.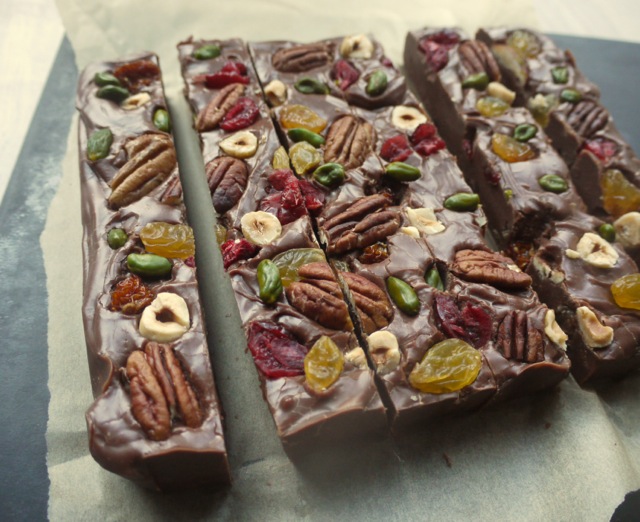 If you don't have a sugar thermometer, please invest in one now. For some reason people think they're complicated or find them scary, but it's no less vital than a digital scale if you're keen to try making your own sweets. Granted all that bubbling sugar is a little bit alarming, but add a deep-sided saucepan to your shopping list and you're pretty much set. This fudge is rich and chocolaty, smooth and creamy (rather than the grainy sort) and infinitely adaptable. Try adding chopped stem ginger as Annie does in the original recipe, fold in crushed up ginger nuts or bits of Oreo or keep it simple without any add-ins at all.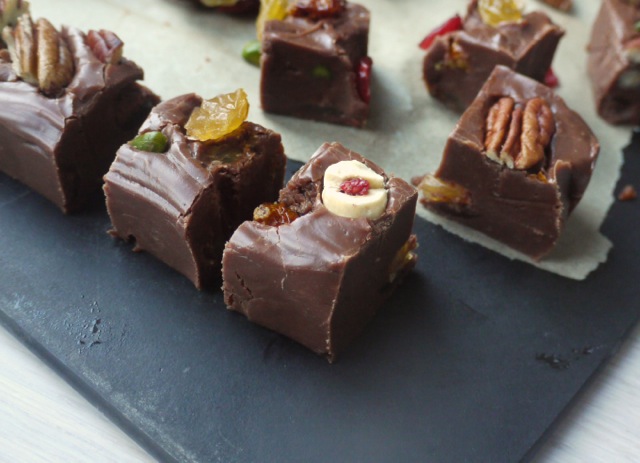 Chocolate Christmas Fudge
Deeply chocolaty fudge packed with Christmas flavours.
Ingredients
sunflower oil, for greasing
500g caster sugar
170ml evaporated milk
125ml whole milk
75ml double cream
pinch sea salt
1 tsp vanilla extract
100g dark chocolate, chopped
150g mixed dried fruit and nuts (I used golden sultanas, cranberries, pistachios, hazelnuts, pecans and dried figs), roughly chopped
50g unsalted butter, diced
2 tsp cocoa powder, sifted
Instructions
Grease an 18cm square loose bottomed tin with sunflower oil and line with baking parchment.
In a large, heavy bottomed saucepan, combine the evaporated milk, milk, double cream and salt and place over a medium-low heat to dissolve the sugar. Once dissolved, bring to the boil then cook, stirring regularly, until the mixture reaches 112 degrees C/233 degrees F on a sugar thermometer.
Once the mixture comes to temperature, remove from the heat and add the vanilla, chocolate, 85g mixed dried fruit and nuts, butter and cocoa. Stir gently to combine. Spoon the fudge into a bowl and leave to cool for 3 minutes, then beat with a rubber spatula until it thickens and starts to lose its shine, 1 - 2 minutes. Spoon the fudge into your prepared tin, level flat and press in the remaining fruit and nuts.
Leave to cool completely at room temperature, until firm, then cut into cubes. Will keep in an airtight container for up to 2 weeks.
Notes
Adapted from 'Chocolate and Stem Ginger Fudge' in Annie Rigg's Sweet Things.