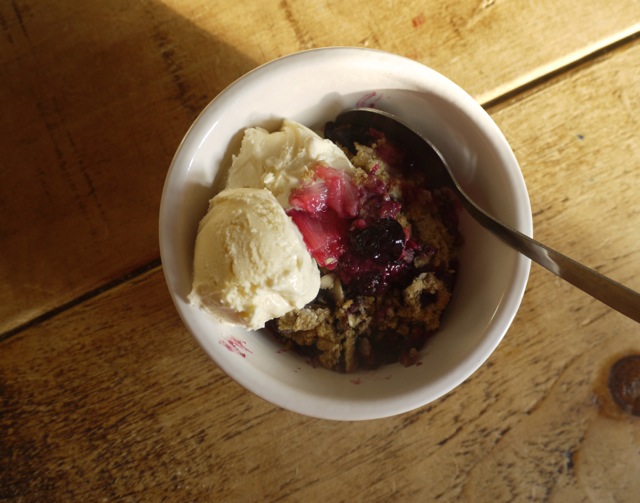 Just as it feels like winter has been dragging on too long, fluorescent sticks of shocking pink rhubarb begin to appear in the greengrocer. Their arrival always feels like a turning point, some brightness in amongst the still short days and a promise of spring to come. That said, spring is still a fair way off so today we're roasting that rhubarb – plus a handful of frozen blueberries – beneath a crunchy, buttery crumble for the ultimate in winter comfort puddings.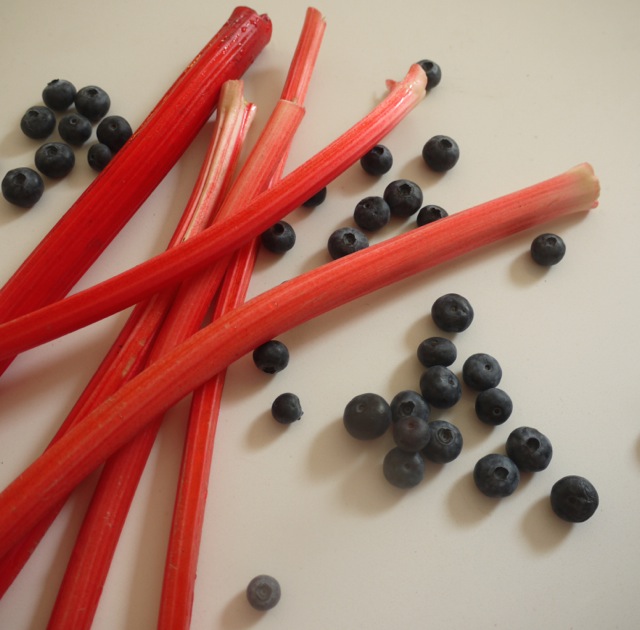 After a whirlwind of 30th birthday celebrations for Carnivorous Husband, an incredible (and incredibly greedy) trip to Paris and a brief stint in hospital (the three unrelated: don't worry – I'm fine), it feels good to be back in the kitchen. Crumbles are the ultimate comfort food and so simple to make – just tumble in your favourite fruit, a squeeze of citrus and some sweetness then top with flour, butter, sugar and crunch in the form of oats or nuts (or both) as takes your fancy. An all-butter crumble will always be my first choice but I've also made this with coconut oil for a vegan friend and it's (almost) as delicious.
It's definitely the season for rhubarb crumble: both my Mum and Kathryn have made them in the last week. Kathryn's comes with a millet topping which looks beautifully crumbly while my mum went for something a little heartier, rich with molasses and chunks of crunchy almond. Here I've added blueberries – 'tis not the season but I always have several punnets snuggled in my freezer – because I like to counteract the sharpness of the rhubarb with something other than buckets of sugar. Blueberries also add a juiciness to the fruit layer which I simply can't resist: bubbling pockets of purple goodness which stain the obligatory scoop of ice cream to the prettiest shade of pink.
This dish in this picture looks large but actually makes the perfect amount of crumble for two (perhaps three, but it's winter and we're greedy and in need of an extra layer of protection against the cold round here). If you're feeding a family it could easily be scaled up – I tend to judge the whole thing by eye but a recipe is also written below. If you don't have wholemeal or spelt flour, regular is fine or even substitute ground almonds for something softer (and, incidentally, gluten free). Replace the butter with coconut oil, add more almonds or hazelnuts and replace the oats with other flakes of your choice (barley, buckwheat, brown rice). Just don't omit the blueberries because they're really what makes this dish.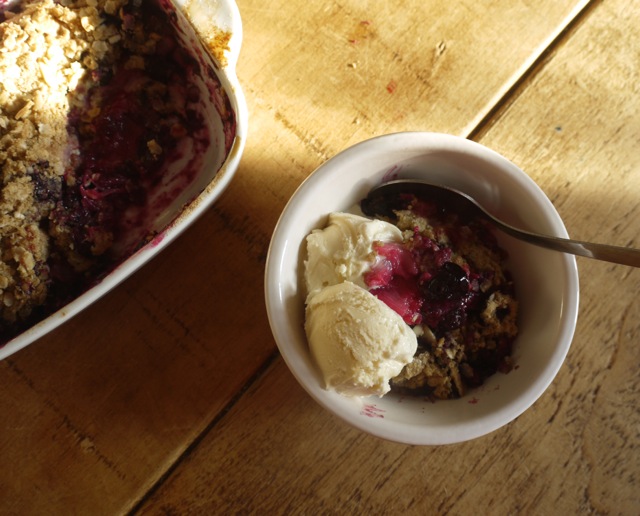 Rhubarb & Blueberry Crumble for Two
A generous serving for two made with juicy roasted rhubarb and blueberries, topped with a crunchy, buttery crumble. Later in the season you can use regular rhubarb but may need to up the sugar quantity to match it's slightly more tart flavour.
Ingredients
For the fruit
175g forced pink rhubarb, sliced into 1cm cubes
100g blueberries, fresh or frozen
juice of ½ small lemon
1 tbsp light brown muscovado sugar
¼ tsp grated fresh ginger
For the crumble
45g wholemeal or wholemeal spelt flour
35g unsalted butter
40g rolled oats
1 tbsp light brown muscovado sugar (or more if you like a sweeter crumble)
1 heaped tbsp flaked almonds
pinch ground ginger
pinch salt
Instructions
Preheat the oven to 180 degrees C/160 degrees C fan.
In a small baking dish, toss together the rhubarb, blueberries, lemon juice, sugar and ginger until the fruit is evenly coated. Spread in an even layer.
In a medium bowl, combine the flour and butter, rubbing lightly with your fingertips until you have a breadcrumb-like consistency. Mix in the oats, sugar, almonds, ginger and salt until combined.
Scatter the crumble mixture over the fruit (there's no need to pack it down) then bake for about 35 minutes until the fruit is bubbling and the crumble crisp and golden.
Allow to stand for 5 - 10 minutes then divide between two bowls or share straight from the dish. I like mine with a scoop of vanilla ice cream but serve with custard or cream if that's your preference.