This year January has taken its cue from Christmas with gluttonous ease. Rather than observing an abstemious month of little or no alcohol, fewer desserts, low-fat-this and diet-that, we've eaten and drunk our way round London, Paris and Yorkshire. A birthday was celebrated several times over with rounds of cake and cocktails, an anniversary with an epic ice cream pie (more on that next week, just you wait) and Paris passed by in a blur of macarons, garlic butter and a Paris Brest the size of a tyre (albeit an elegant, pastry cream-filled one). Today we're not going completely cold turkey, but these Apple, Maple & Walnut Cookies are at least a step in the right direction.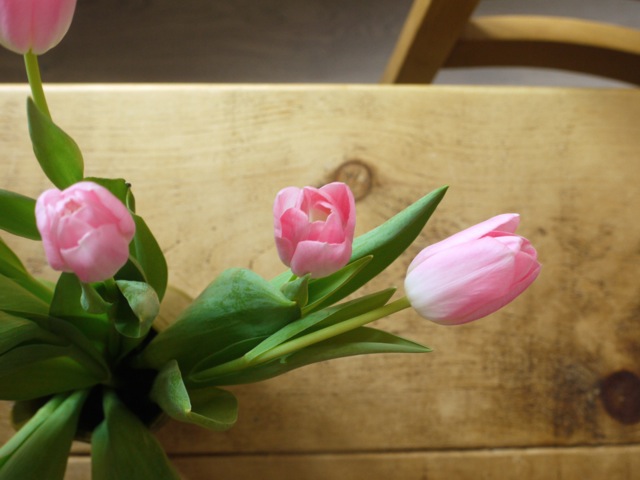 A meal for me never feels quite complete until I've had some sort of dessert, so I'm always looking for what I think of as 'school night treats' – something to satisfy my sweet tooth without being laden with too much butter, sugar or cream. These little cookies fit the bill perfectly, inspired by a breakfast I've been enjoying lately – porridge with grated apple, walnuts, wheatgerm and a drizzle of maple syrup. Combined in cookie form, the flavours work beautifully, creating something crisp at the edges, tender in the middle and not too sweet.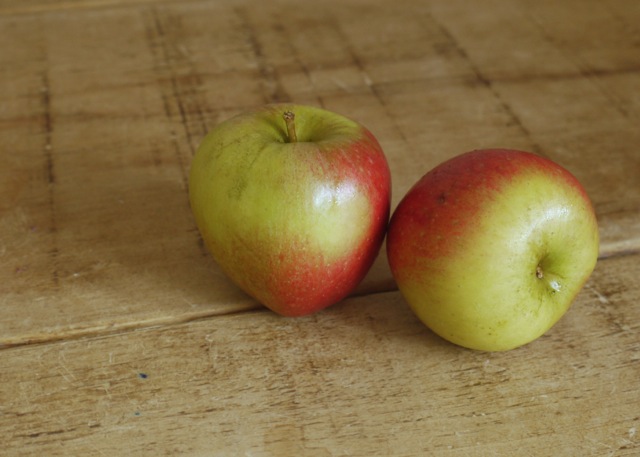 Another criterion of school night treats is that they don't involve too much fuss and these cookies couldn't be simpler to make. I use two bowls to separate the wet and dry ingredients but you could easily combine everything in one to save on washing up. Five minutes mixing, ten minutes baking and you've got a batch of freshly baked cookies that contain enough good-for-you ingredients you could even eat them for breakfast. Cookies for breakfast: that's about as close as we're going to get to a diet round here.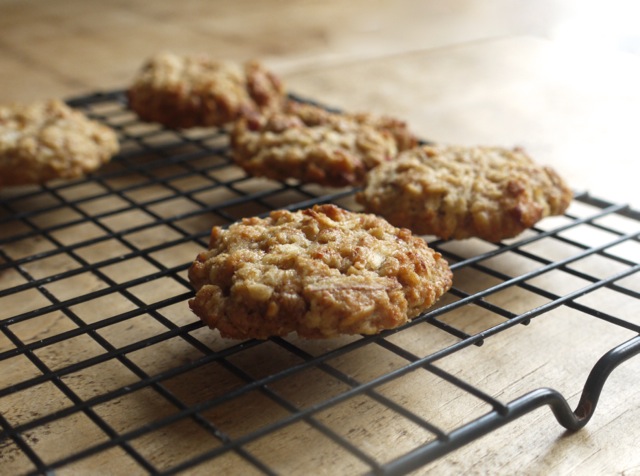 Apple, Maple & Walnut Cookies
A tender cookie with crispy edges, crunchy with walnuts and sweetened with maple syrup. Despite the apple and maple syrup they're only slightly sweet, so if you're a sugar monster, you might like to try adding a tablespoon of dark brown sugar to the mix (I have and it's delicious).
Ingredients
75g rolled oats
50g spelt flour
25g wheatgerm
½ tsp baking powder
½ tsp ground cinnamon
scraping nutmeg
pinch salt
60g walnuts, roughly chopped
1 small eating apple
75g maple syrup
60ml groundnut oil
Instructions
Preheat the oven to 180 degrees C and line two baking trays with baking parchment.
In a medium bowl, whisk together the oats, flour, wheatgerm, baking powder, cinnamon, nutmeg and salt. Stir in the walnuts.
In a separate bowl, grate the apple (I don't bother peeling) then add the maple syrup and oil.
Stir the flour mixture into the wet ingredients until just combined.
Scoop heaped tablespoons of the mixture onto your prepared trays, leaving space between each one as they will expand slightly as they bake.
Bake 10 - 12 minutes until golden at the edges and still slightly soft in the middle. Remove from the oven and allow to cool on the trays before storing in an airtight container.
Notes
Fresh from the oven these cookies are soft and tender. As they cool they will become crunchy, but eat within 24 hours as the moisture in the apple will make them start to soften again.