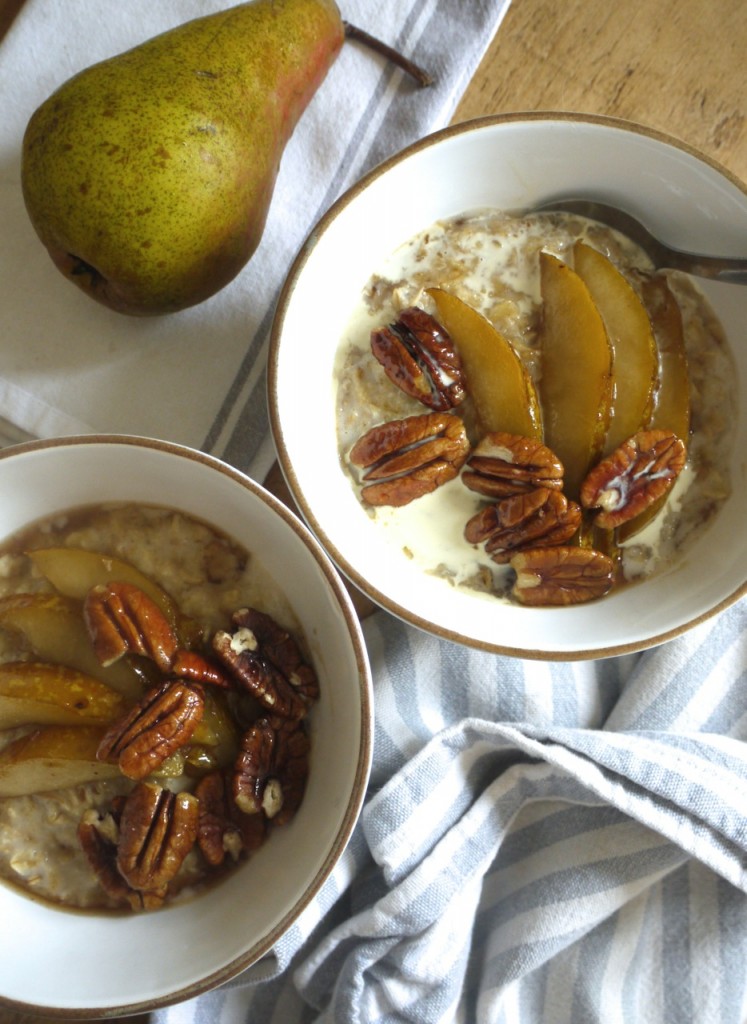 Today we're doing something a little different. I've got a recipe for you – this creamy, comforting bowl of porridge jazzed up with mapled pears, spice and pecans to warm your autumn mornings – but there's a little something extra on offer, too. I don't own much in the way of ceramics. so the eagle-eyed amongst you might have noticed that these rather charming breakfast bowls are new. New to me and potentially to you to as I'm offering one reader the chance to win a set, plus a copy of my book. It's not often you see a sponsored or branded post in this space, but these gorgeous bowls come from a company called Loaf and with a name like that I simply couldn't resist.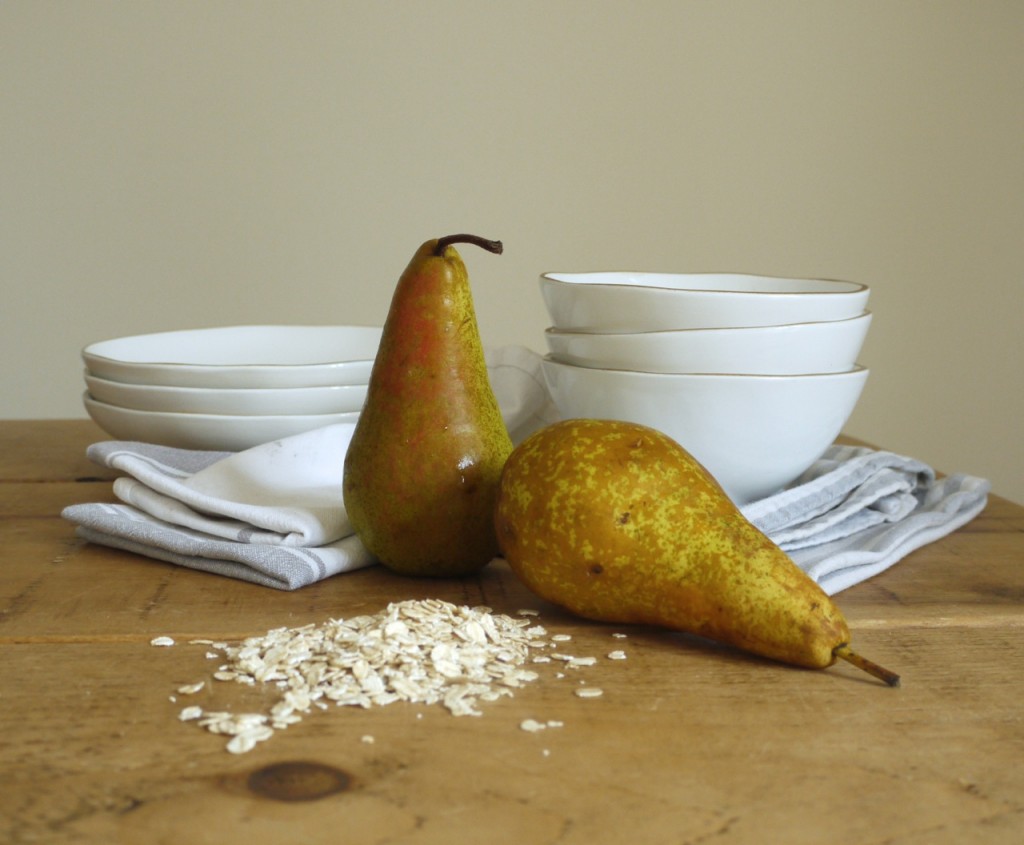 I first discovered Loaf.com when we were hunting for a new bed. I'm a sucker for beautiful catalogues and their rustic, whitewashed countryside aesthetic is something I aspire to from the sofa of our little London flat. Beyond furniture, they also do a lovely line of mugs, bowls, plates and other kitchen accessories and were kind enough to gift this little loaf a set of Wobbler ceramic bowls and plates. The Wobbler range is hand made in Portugal meaning no two bowls are exactly the same. There's a lovely natural feel to them which fits in comfortably with my homemade tendencies, but from a practical point of view you can still stack or stick them in the dishwasher. They're a little on the small side for soup, but perfect for porridge and other breakfast bowls (or a greedy serve of ice cream at any time of day).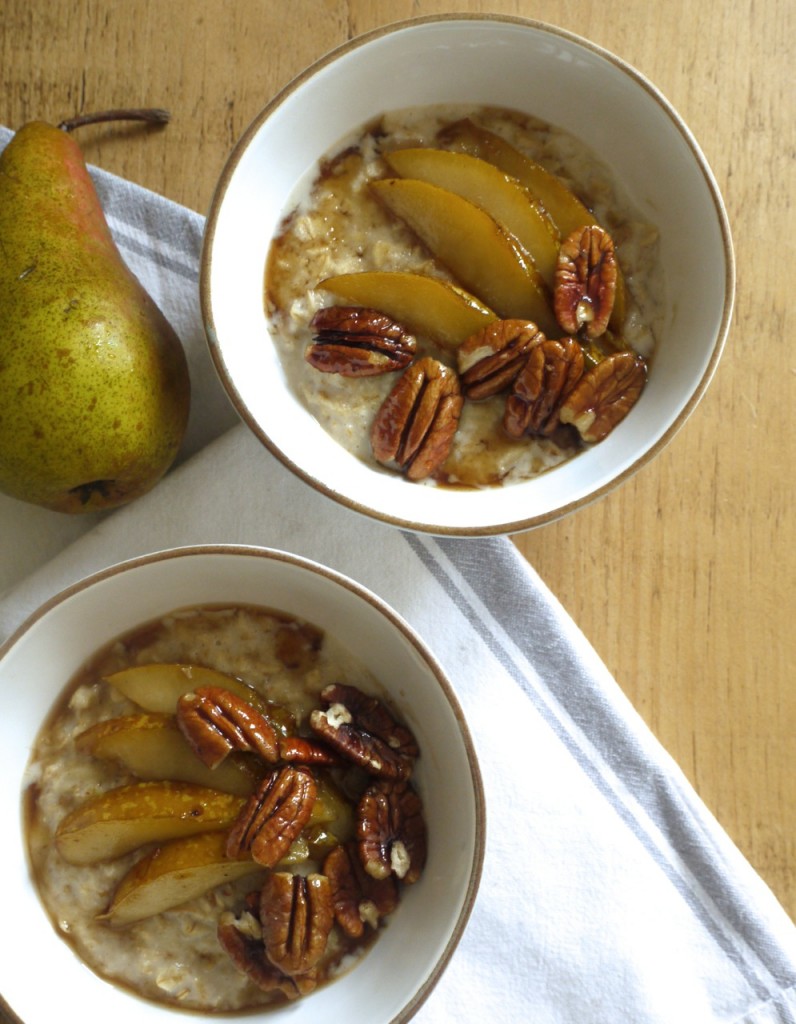 With Christmas just around the corner, Loaf are offering one lucky reader the chance to win a set of these ceramic cereal bowls in white (as pictured here) or jade. The winner will also receive a signed copy of my cookbook, Homemade Memories, which is filled with all sorts of delicious things you can serve in a bowl – Blueberry, Almond and Plum Crumble, Coconut Brown Rice Pudding, Fig & Hazelnut Bread & Butter Pudding plus a whole chapter on ice cream . . .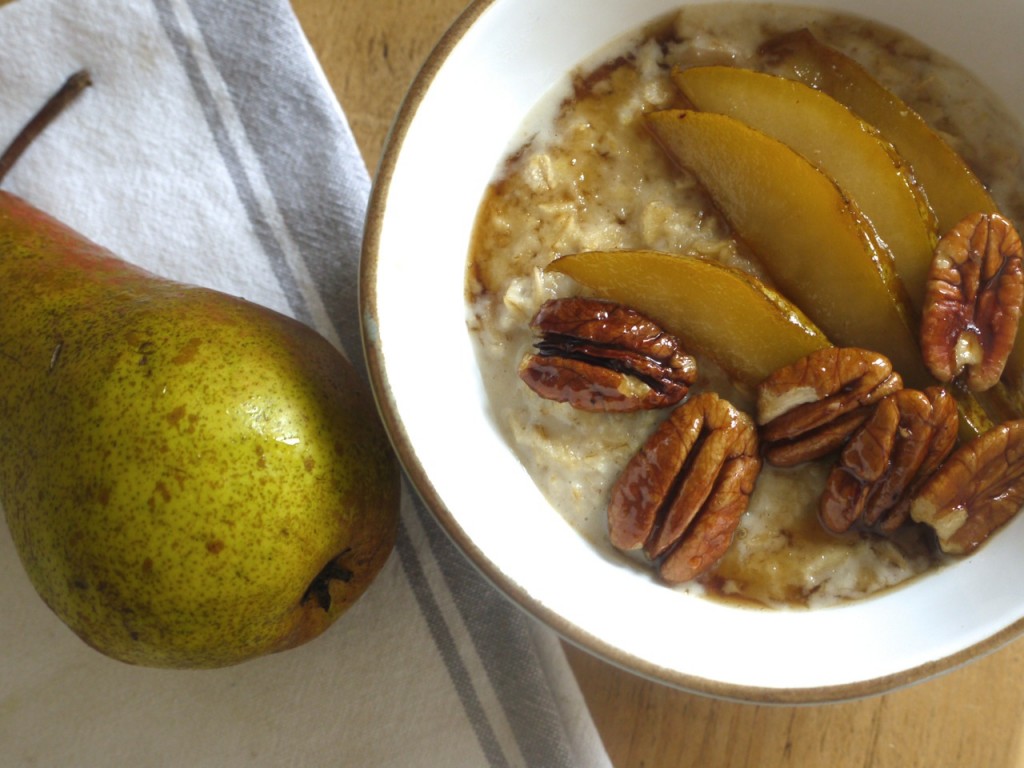 To be in with a chance of winning, simply tell me your favourite porridge topping in the comments below. For a bonus entry, post a photo of your favourite breakfast bowl on Facebook, Twitter or Instagram tagging it with #LoafBrekkie. The competition closes on Sunday 22ndNovember and I'll announce the winner on Monday 23rd.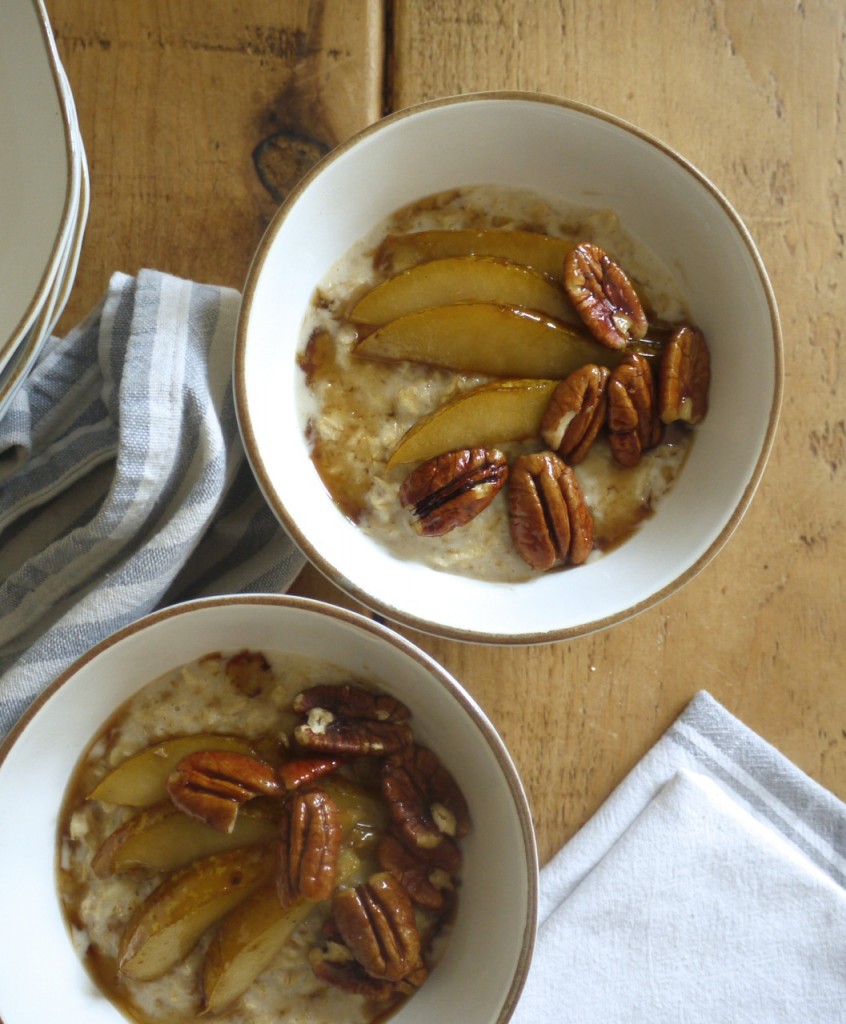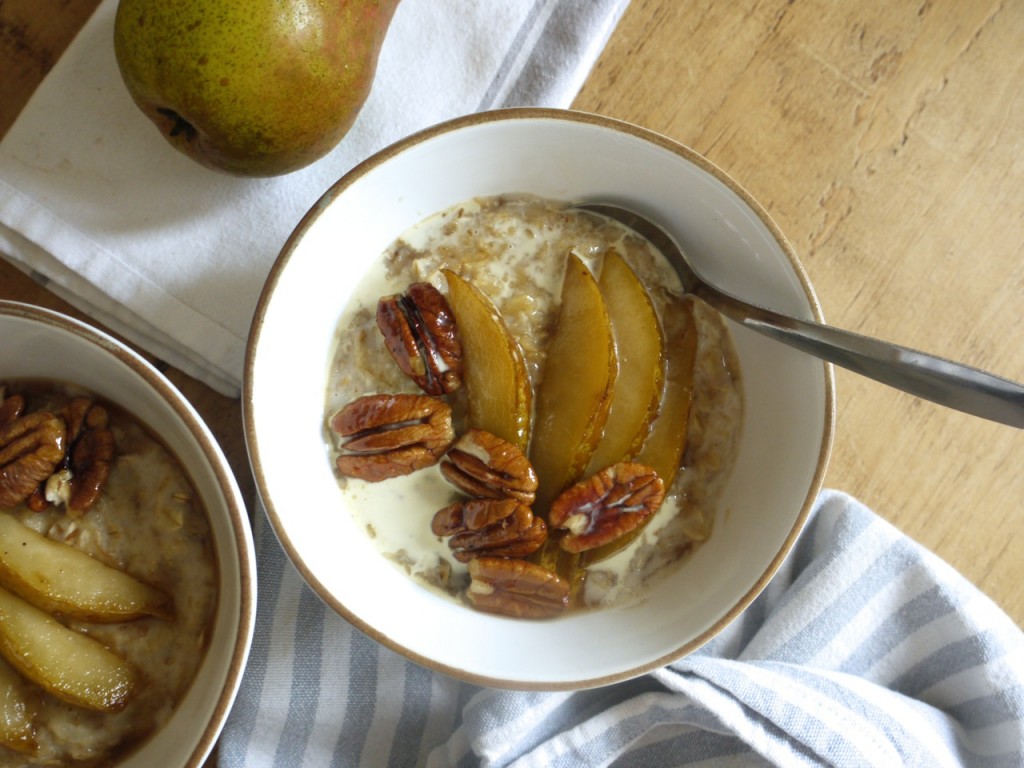 Chai Spiced Porridge with Mapled Pears & Pecans + WIN Loaf.com Ceramics
A warming, sweet and creamy breakfast bowl perfect for cold autumn mornings. Porridge is swirled through with grated pears and spice before being topped with pear slices sauteed in maple syrup. Crunchy pecans finish it off and I like to add a drizzle of double cream for extra indulgence.
Ingredients
1 large pear
1 tbsp unsalted butter
100g rolled oats
300ml whole milk
¼ tsp vanilla powder
⅛ tsp ground cinnamon
⅛ tsp ground cardamom
⅛ tsp ground ginger
⅛ tsp ground allspice
2 tbsp maple syrup
1 heaped tbsp pecan halves
2 tbsp double cream, optional
Instructions
Cut the pear in half. Coarsely grate one half and cut the other half into slices, lengthways.
In a medium saucepan, melt the butter until golden and toasty smelling. Add the oats and toss to coat for one minute. Pour in the milk and simmer, stirring regularly, until the mixture begins to thicken. Stir in the spices and grated pear then continue cooking until rich and creamy. Divide between two bowls.
In a small saucepan, gently heat the maple syrup and pear slices for 2 - 3 minutes, until the pears have softened slightly and the syrup thickened around them. Add the pecan halves for the final minute of cooking.
Divide the pear slices and pecans between your two bowls then drizzle over any sticky maple syrup left in the pan.
Serve as is, or with a trickle of cold double cream.