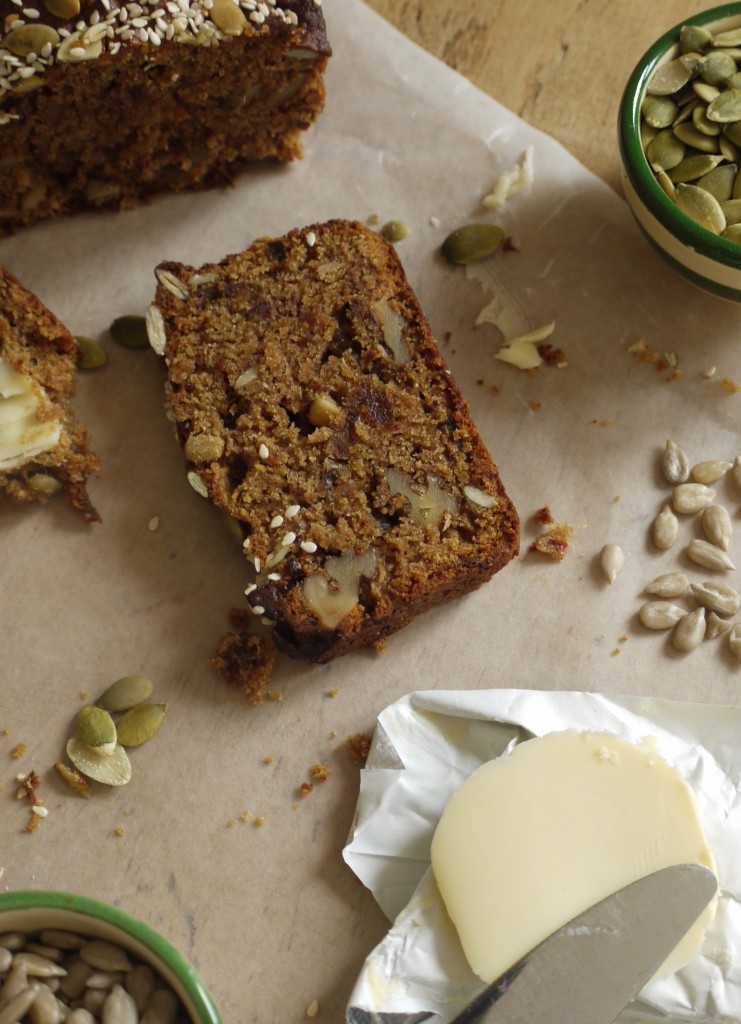 Up until the end of my third trimester of pregnancy, the only things we had in our freezer were ice, a champagne jacket, frozen blueberries and petit pois. So much of what we eat is quick to cook or relies on an abundance of fresh ingredients, it barely seemed worth the hassle to prepare, pack and label portions of any given meal, let alone the time it would take to defrost before we wanted to eat. It wasn't until the teacher at our ante-natal classes drew a twenty four hour clock portioned into hour long pieces for baby feeding, bathing and nappy changing on repeat that I realised a few pre-made meals might come in handy for the weeks after Nino arrived.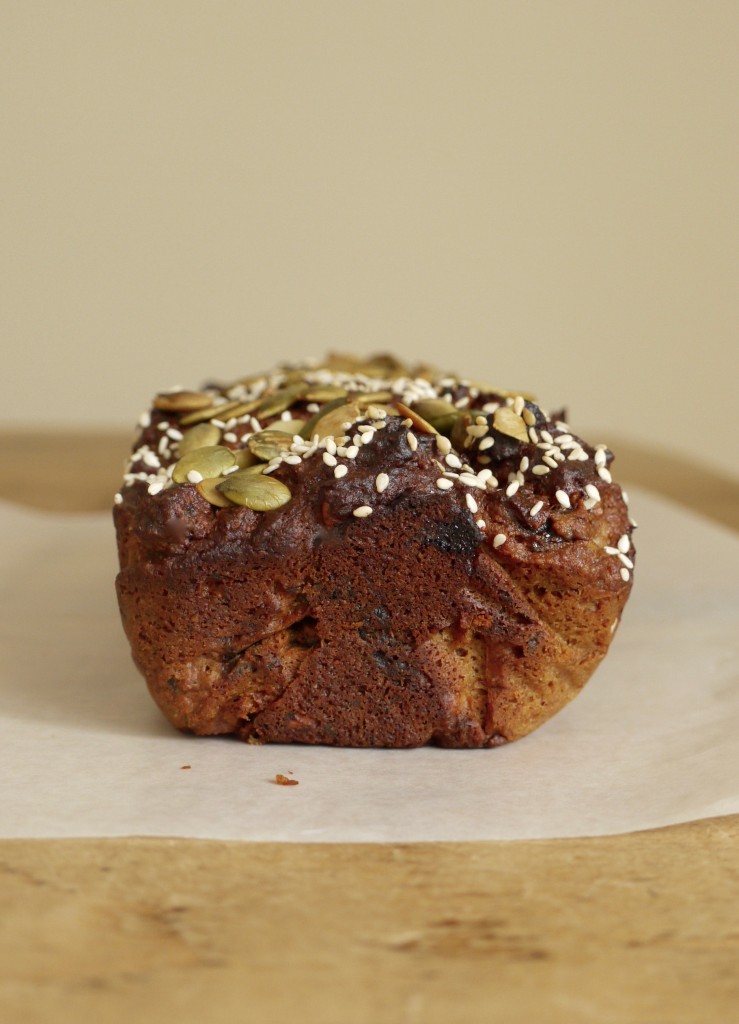 I duly spent a whole day of my maternity leave chopping, stirring, blitzing and baking the kinds of things I thought we might need in the way of easy, speedy nourishment. There was a turkey chilli and meatballs, beef bolognese, stock for soups and various marinaded skewers. I made dozens of herbed falafel and portioned up individual servings of green curry paste and pizza dough. And then, of course, my mind turned to the sweet treats I could stock up on for the inevitable inundation of friends and family wanting to visit for tea.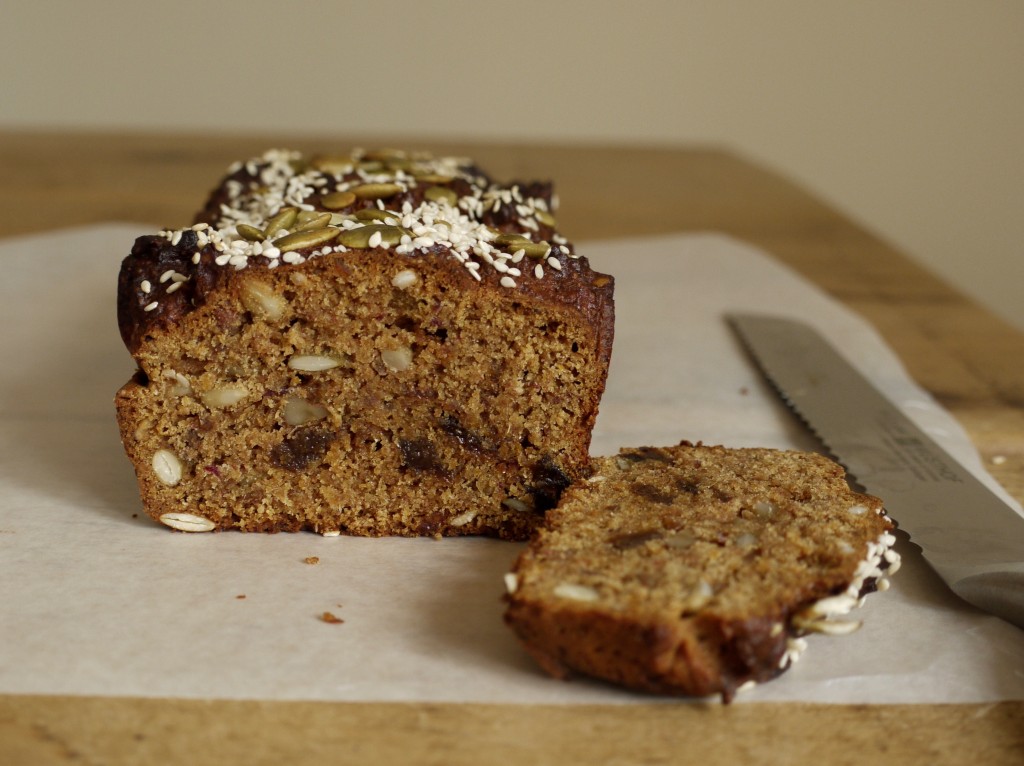 I've been developing a few recipes for the Great British Chefs website, including these hot cross blondies. Recipe testing always means excess quantities of any given treat so I packed some up as a present for my midwife team and froze the rest along with a double batch of these chocolate rye brownies and a pre-sliced loaf of chocolate freckled banana bread from my cookbook. Then finally, in the interests of including something a little more virtuous alongside all that chocolate and sugar, I baked two little loaves of Diana Henry's date, apricot and walnut loaf cake.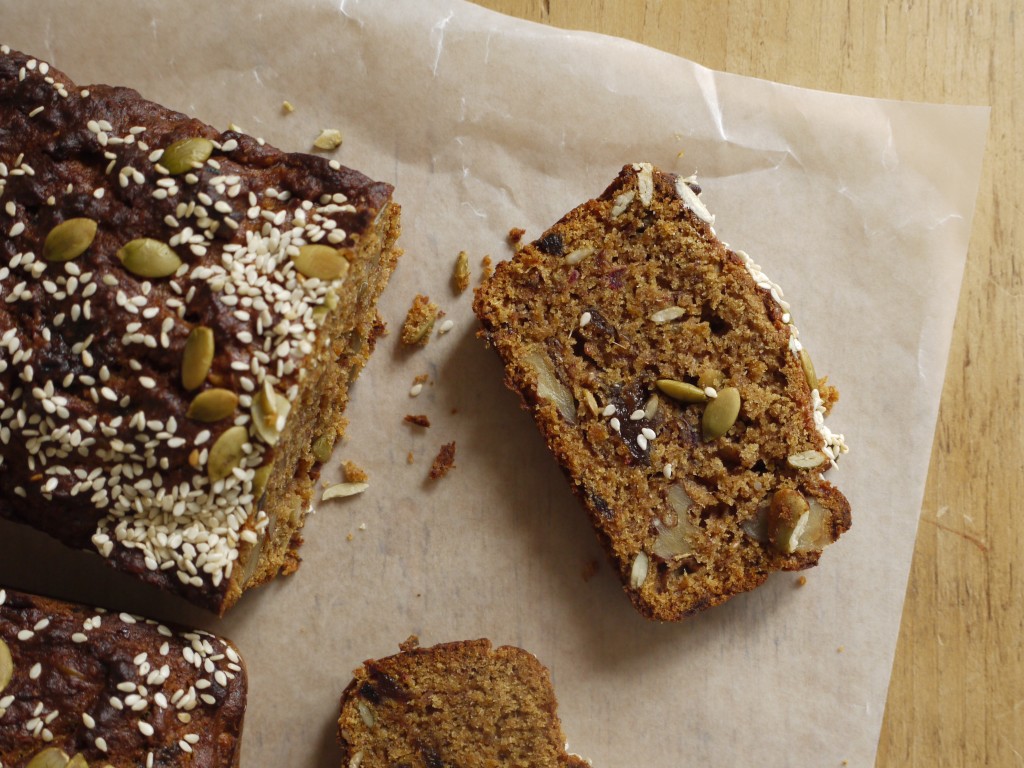 The cake comes from Diana's wonderful cookbook, A Change of Appetite, but I first bookmarked the recipe from the Food52 website. It has everything I love in baked goods – plenty of sweetness from (mostly) natural sugars, the crunch of seeds, a hearty inclusion of wholemeal flour and lots of lovely spice. Diana uses butter, which people really shouldn't be afraid of, but if you're vegan I would think that coconut oil would work here just as well. The original recipe calls for one large loaf but I baked it into two smaller tins then froze individual slices in pairs, ready to be buttered and eaten with company (or alone, in the middle of the night, while breastfeeding, which is what seems to have happened so far).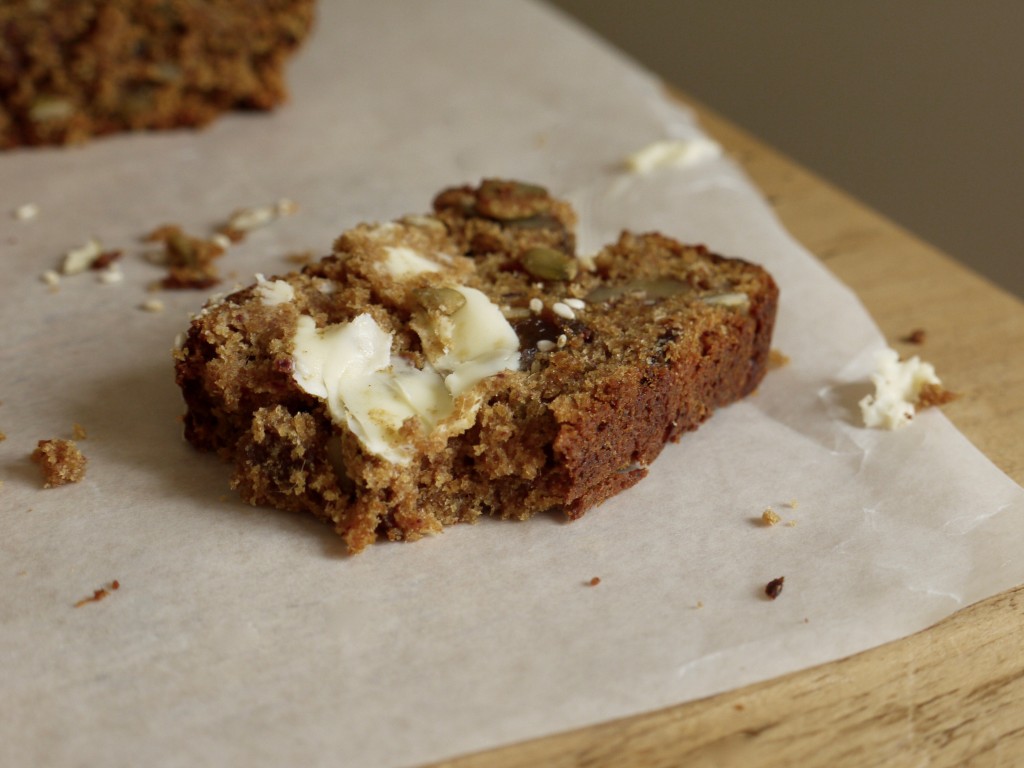 Date, Apricot & Walnut Loaf Cake
Two rich, moist little loaf cakes packed with sweet dried fruits and crunchy seeds. The recipe is barely adapted from Diana Henry's brilliant cookbook, A Change of Appetite, via Food52. If you haven't yet discovered Diana's books, they're absolute gems.
Ingredients
180g unsalted butter, melted & cooled
170g dried unsulphered apricots
8 fresh medjool dates, pitted & roughly chopped
100ml cloudy apple juice
3 tbsp water
60g light brown soft sugar
zest of one orange
1 large free range egg
1 tsp vanilla extract
200g wholemeal spelt flour
1 tsp baking powder
1 tsp ground cinnamon
pinch ground allspice
scraping nutmeg
pinch salt
50g walnut halves, roughly chopped
2 tbsp pumpkin seeds, plus extra for sprinkling
2 tbsp sunflower seeds
1 tbsp sesame seeds
Instructions
In a medium saucepan, combine the apricots, dates, juice and water. Bring to the boil then reduce to a simmer for 10 - 15 minutes, stirring occasionally, until you have a thick, almost pureed consistency. Set aside to cool.
Preheat the oven to 180 degrees C/160 C fan. Butter two 500g loaf tins and line with baking parchment.
Whisk the butter into the fruit puree, along with the sugar, orange zest, egg and vanilla extract. In a separate bowl, stir together the flour, baking powder, spices, salt, walnuts, pumpkin and sunflower seeds. Stir the wet mixture into the dry and stir until just combined.
Scrape into the prepared tins and bake for 50 - 60 minutes or until a skewer inserted in the middle comes out clean. Leave to cool in the tins for 10 minutes then transfer to a wire rack to cool completely.
Serve in thick slices, preferably spread with lots of salty butter. Will keep in an airtight container for several days.