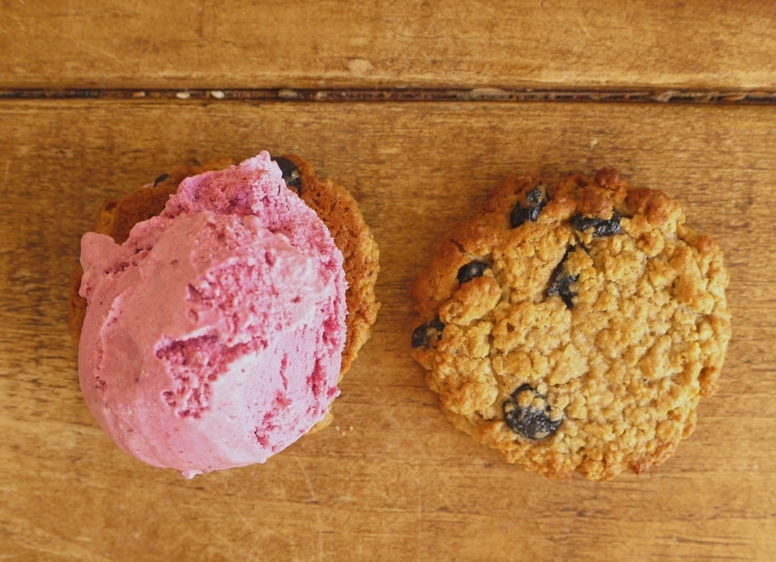 Today's is a recipe inspired by breakfast.
Breakfast is possibly my favourite meal of the day. I've described before my love of waking up after the enforced fast of a good night's sleep, deciding exactly what it is that I want to eat, pottering around preparing the ingredients then sitting down to start the day. Sharing breakfast with loved ones is ideal, but a solitary bowl of bircher muesli or slice of homemade toast can be just as enjoyable: a good meal setting you up for an even better day.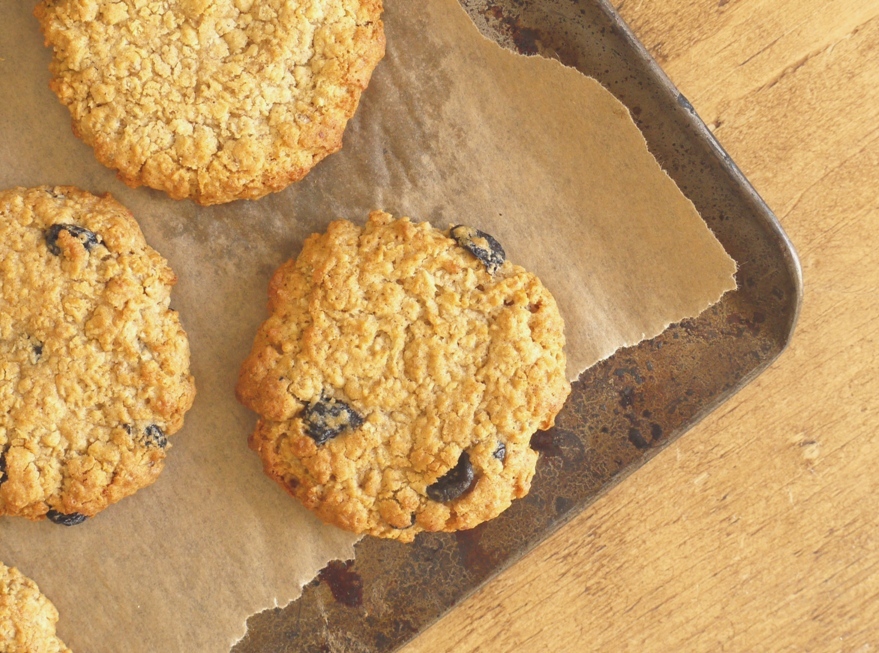 Recently there have been big campaigns for the latest convenience food: breakfast biscuits. For my American readers, I'm not talking about your soft, leavened quick breads (which I imagine make a rather lovely breakfast topped with jam or used to mop up eggs), but a hard, British biscuit (the kind of thing you might dunk in an afternoon cup of tea). They feel so completely soulless, not only in flavour and texture but in what they suggest about our twenty-first century society: that everything now needs to come in a packet, to be consumable on the go and filled full of sugar and syrup over any other more nutritious ingredient.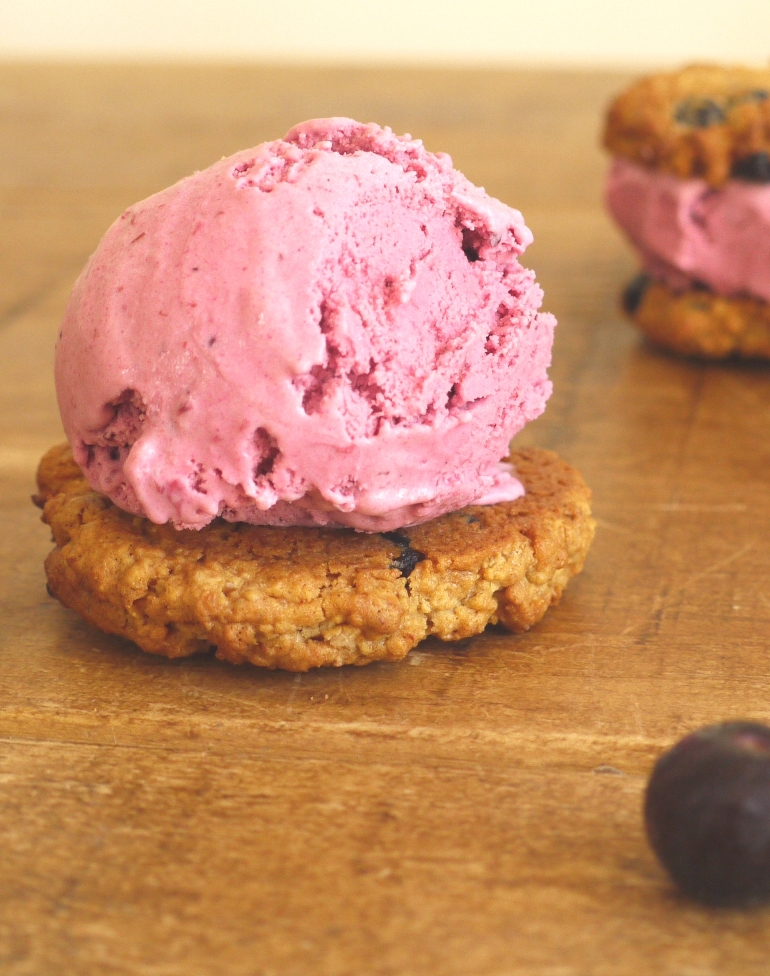 The other day, as I was eating oats and blueberries for breakfast, I had the idea that the combination might taste rather delicious as a dessert. Blueberries aren't yet in season so I rely on a stash in the freezer: sometimes they get defrosted but are often popped straight into milk or my mouth, melting like sweet little bombs of blueberry sorbet. I wanted to bake the oats into a biscuit to contrast with smooth, zingy blueberry, but rather than going down the pernicious breakfast biscuit route (sorry, I really do dislike those things) I decided to create a proper dessert.
The result is these blueberry and oatmeal ice cream sandwiches. Blueberries appear twice in this recipe: dried then folded into the cookie dough and cooked down with a scant spoon of maple syrup before being blitzed into the most beautiful purple ice (along with thick creamy yoghurt and a little double cream). The cookies stay slightly soft so you can eat them as soon as the ice cream has softened, and the whole mouthful is at once sharp and sweet, smooth, chewy and absolutely divine.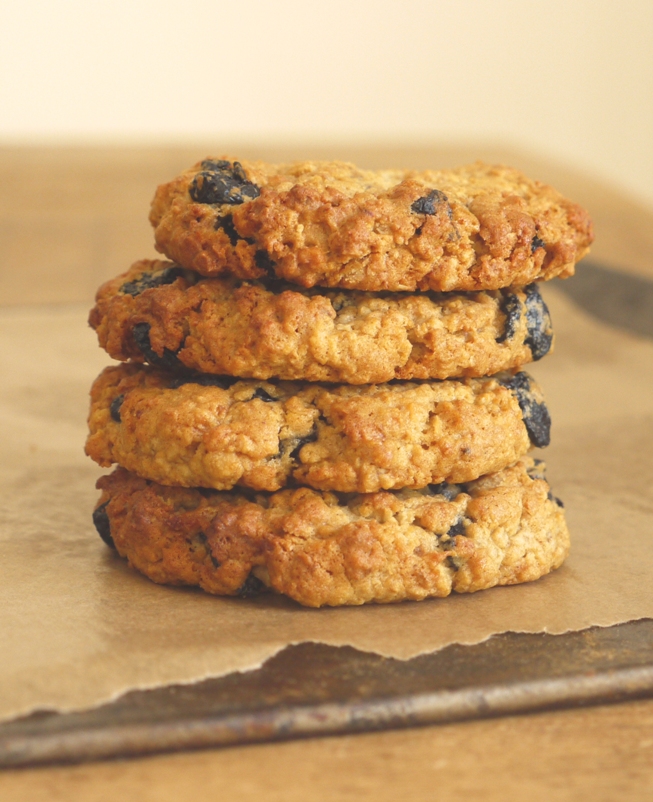 Perhaps because of the breakfast influence, this dessert isn't overly sweet. The cookies have just a little unrefined sugar and honey, the ice cream sweetened with just enough brown rice syrup to allow the flavour of the fruit to shine through. In fact I'll be as brave as to suggest that they're no less healthy than the aforementioned breakfast biscuit, and certainly lacking in any of the nasty gums, syrups and stabilizers you'll find in anything that comes out of a packet.
I'm sure one day the multinationals will find a way to convince us that eating ice cream for breakfast is healthy. Until then, enjoy these as a simple little dessert. Or sneak one out the freezer at breakfast time, I promise not to tell . . .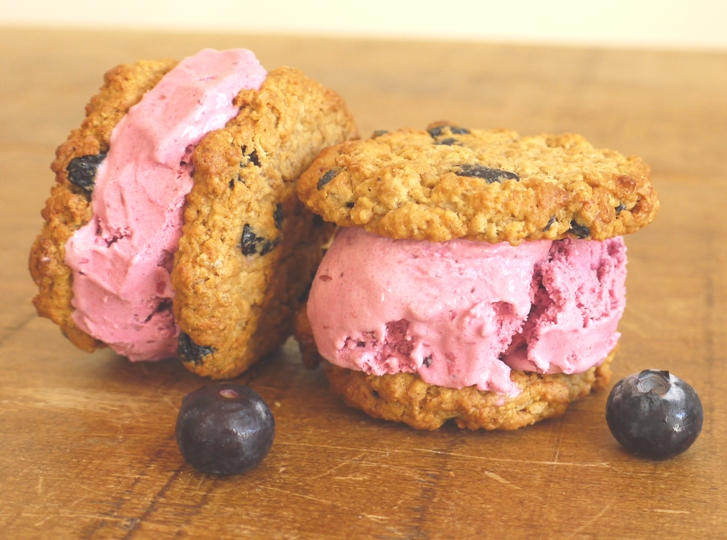 Blueberry & Oatmeal Ice Cream Sandwiches

This recipe makes about 8 ice cream sandwiches. Depending on the size of your cookies, you may be left with a few leftover cookies or a little ice cream. Hopefully you'll find that this is hardly a hardship.
Ingredients:
For the ice cream
300g blueberries (if frozen, make sure they are defrosted)
Scant tbsp maple syrup
120 ml brown rice syrup
240ml double cream
1/2 tsp vanilla extract
450ml Greek Yoghurt
For the cookies
50g butter
50g golden caster sugar
2 tsp runny honey
1 large free range egg
1 tsp cinnamon powder
50g wholemeal flour
1 tsp baking powder
80g porridge oats
50g dried blueberries
Method:
For the ice cream
In a medium sized saucepan, heat the blueberries and maple syrup. Cook for around ten minutes, stirring occasionally, until the blueberries are soft and mushy.
In a separate saucepan, heat the brown rice syrup and double cream over a medium heat until combined.
Put the cooked blueberries, cream mixture, vanilla extract and yoghurt in a blender and pulse until combined. Chill in the fridge overnight then churn in an ice cream maker according to the manufacturer's instructions. Transfer to a container and freeze until needed.
For the cookies
Preheat the oven to 180 C. Line a large baking sheet with parchment paper.
In a large bowl, cream together the butter and sugar together until soft, then beat in the honey. Add the egg and cinnamon powder and mix well.
In a separate bowl, sift together the flour and baking powder then add the oats and dried blueberries. Add to the butter mixture.
Drop heaped dessertspoonfuls of the dough onto the prepared baking sheet (it should make around 16 medium-sized cookies) and bake for 10-12 minutes or until lightly golden. They won't spread much, but if you're keen on a perfectly round shape, take the cookies out after about 5 minutes and guide into a round with a teaspoon.
Remove them from the oven – the cookies should be golden but will still slightly soft to the touch. Leave the cookies to cool for a minute then transfer to a cooling rack to completely cool.
To assemble
Remove the ice cream from the freezer and allow to soften slightly, about 10 minutes. At the same time, place a large plate in the freezer to chill.
Using an ice cream scoop, place one scoop of blueberry ice cream on the underside of one cookie and top with a second cookie. Gently press down and smooth the outer edge flat with a palette knife. Place the sandwich on the plate in the freezer. Repeat until you've used up all your cookies. After about half an hour, when the sandwiches have frozen, wrap tightly in parchment paper.
Remove from the freezer about 10 minutes before you want to eat.