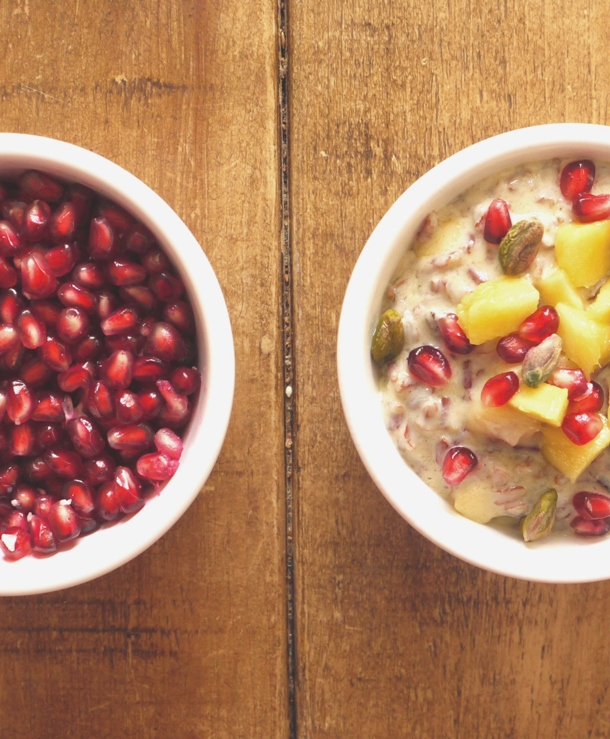 My most memorable experience of eating mango for breakfast was on a night bus in South America.
If you've never travelled by bus in a developing country, you're in for an eye-opening experience. Setting aside aspects like safety (seatbelts being pretty much unheard of) and toilet stops (this being the operative word for the glamorous task of squatting behind said bus), the most vivid memory I have of my South American journeys is the arrival the indomitable food hawkers.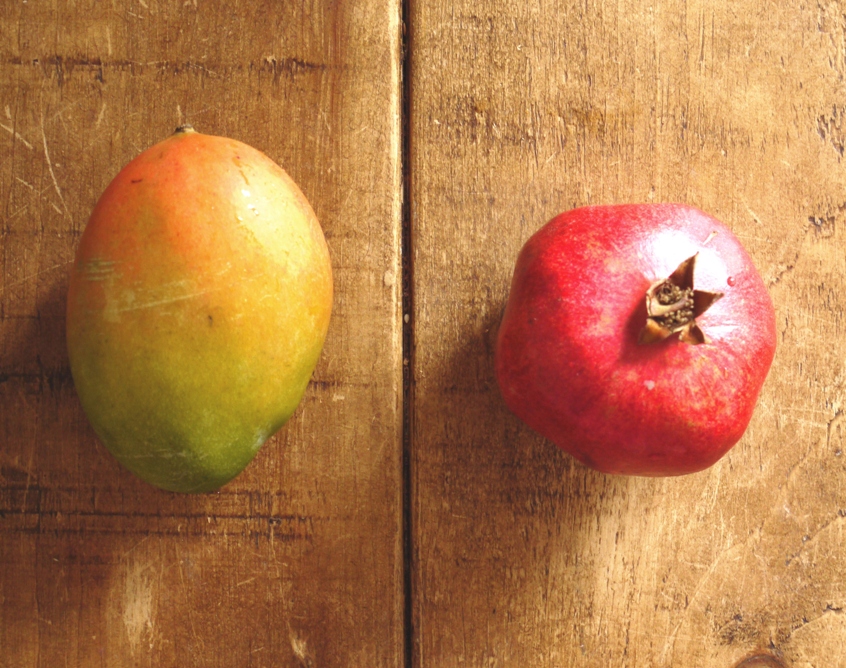 As any given bus wound its way through the mountains, pit stops would be made at the dusty villages which line the roads. As soon as the wheels ground to a halt, a variety of hawkers would swarm on board, shouting for attention and touting their wares. Great big bags of greasy homemade crisps, sticky tamales, salty white cheese on a stick and all the usual suspects in terms of chocolate and sweets would almost always make an appearance: the snacks of choice for the tired and weary traveller.
Given the heavy, salty nature of most of what was on offer, when a hawker appeared selling fresh fruit on one particularly arduous journey, I couldn't resist picking out a giant, juicy mango. Rather than being served on a stick and squeezed with lime as is sometimes the case in South America, this specimen was still intact. With  a pen knife in my pocket (originally bought for the purpose of all sorts of outdoor adventure, now consigned to the slightly less life-saving role of fruit eating implement), I decided to give it a go.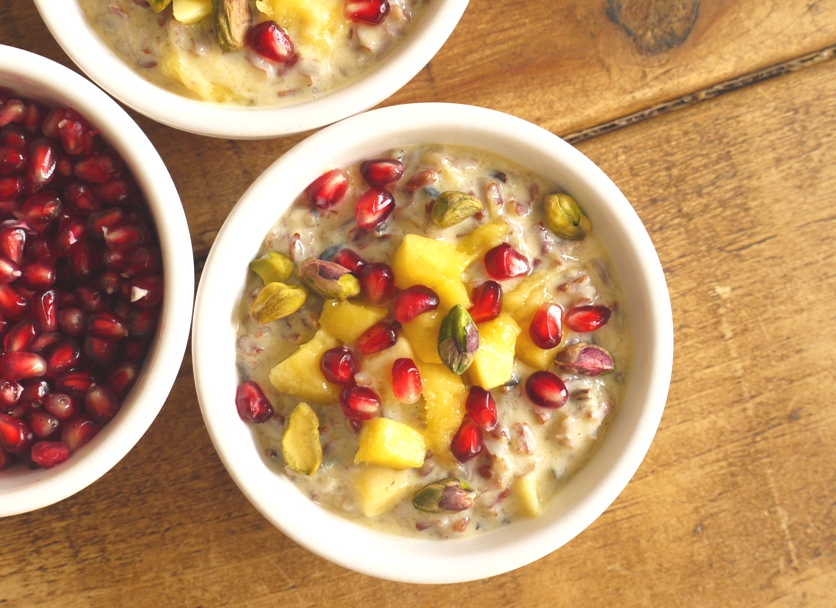 My mango provided about ten minutes of sheer eating pleasure. If you've grown up in England where the majority of mangoes are about as tasty as a turnip, the joy of eating tropical fruit that is actually ripe is unparalleled. The mango melted in my mouth, sticky juice dribbled everywhere and I couldn't have been happier . . . Until the bus took off for the longest leg of the journey and I realized it would be several hours before said sticky juice could be removed from my now slightly sickly sweet smelling face and fingers.
For a less rustic but equally enjoyable mango eating experience, I'd suggest this simple breakfast bowl. Anyone who follows me on Twitter will know my slight obsession with bircher muesli and I love experimenting with different grains. While oat, buckwheat, quinoa and rye flakes are all on regular rotation, I'd not tried anything of a completely different texture until this wild rice variation, and it's a lovely new addition.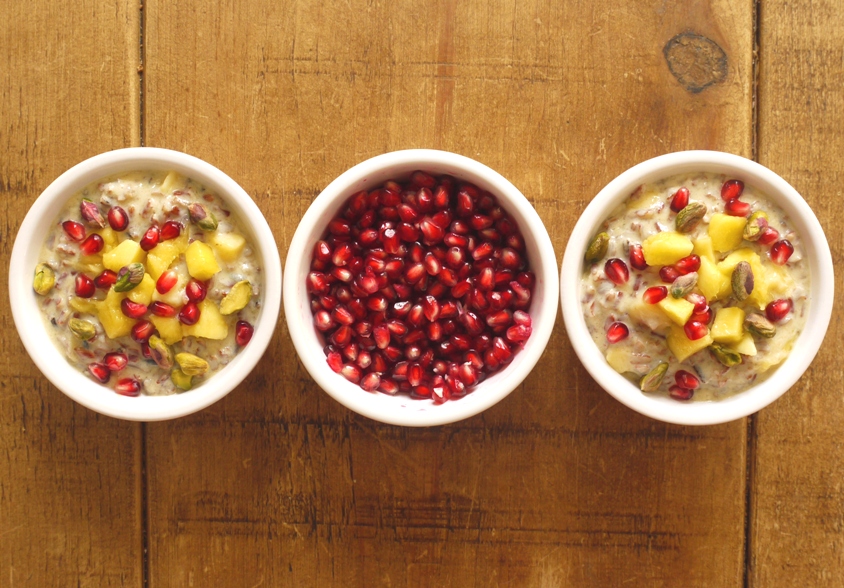 The combination of rice, coconut and mango is one that is often seen in desserts but is equally delicious for breakfast. Substitute sticky with wild rice, cut out the sugar and stir through with yoghurt and it's actually pretty nutritious too. Wild rice is a little firmer and won't go gloopy like your usual porridge oats or rice pudding, but I think the textures work well with creamy yoghurt and mango, crunchy nuts and the occasional pop from a pomegranate seed.
While this recipe is a little more involved and refined than that memorable mango eating experience so many years ago, it's every bit as in touch with fresh, fruity flavour. If you're looking for a way to inject a little sunshine into your breakfast, do give these gorgeous bowls a go. You could even let a little bit dribble down your chin for that truly authentic bus experience. If you must.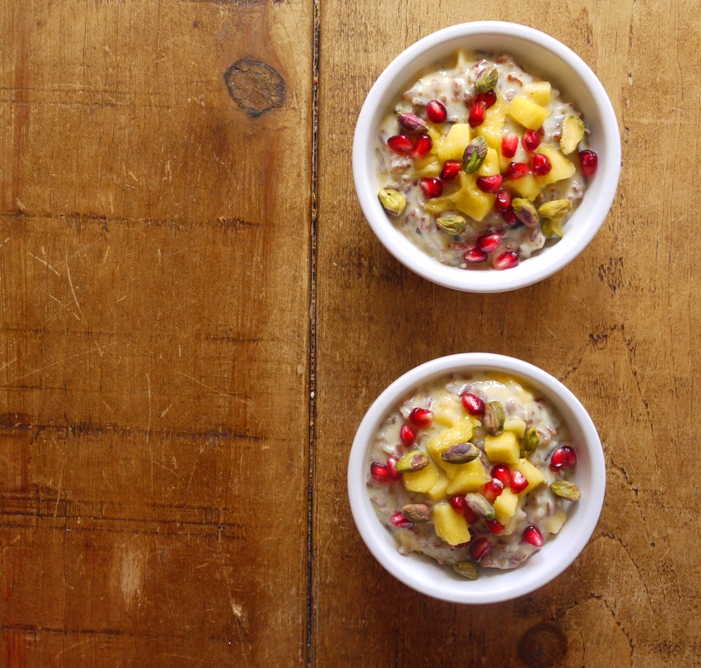 Wild Rice, Coconut & Mango Breakfast Bowls
Ingredients:
150g wild rice
400ml can coconut milk
1 cardomom pod, lightly crushed
1 star anise
2 small ripe mangoes, peeled
Zest of half a lime
300ml Greek yoghurt
Handful dessicated coconut
Handful pistachio nuts
Pomegranate seeds, to decorate
Method:
Soak the rice in cold water for at least an hour. Rinse thoroughly under cold running water then place in a pan along with the cardamom and star anise, cover with the coconut milk and 50ml water and bring to the boil. Reduce heat, cover the pan and simmer the rice for about 35 minutes minutes or just until the kernels puff open.  Uncover, fluff with a fork and simmer an additional five minutes.  Remove from the heat, drain off any excess liquid and pick out the cardamom and star anise. Set aside to cool completely.
In a blender, blitz one of the mangoes to a purée. Chop the other mango into bite-sized pieces. Stir the mango purée and pieces into your cooled rice along with the lime zest and natural yoghurt. Divide into four small bowls or containers – at this point you can serve immediately or leave in the fridge overnight.
When ready to serve, set a small pan over a medium heat and toast your dessicated coconut flakes until lightly golden. Roughly chop the pistachios. Sprinkle the dessicated coconut, pistachios and pomegranate seeds over your wild rice bowls and serve.