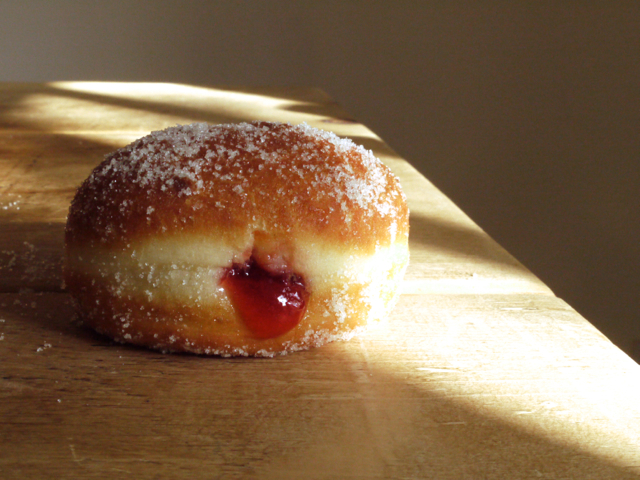 If you visit this blog on a regular basis, you'll know my kitchen works around a principle of everything in moderation. Including, as both Julia Child and Oscar Wilde once said, moderation.
After posting a recipe for baked churros with chocolate sauce a few weeks back, today I've decided to ditch my oven and jump on the full-fat band wagon with strawberry jam-filled deep-fried doughnuts.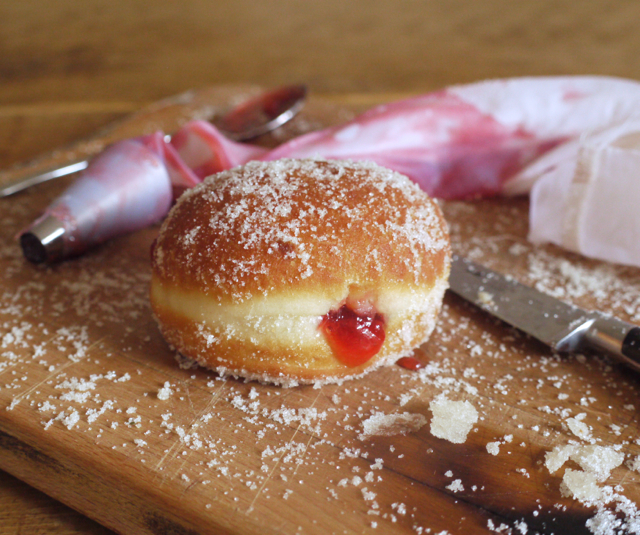 That's not to say I didn't try to make these a little healthier for you. In fact much of my Saturday was spent experimenting with doughnut dough: different flours and sweeteners, proving times and shaping techniques, time and temperature of cooking.
Bake these beauties in the oven and what you get is something soft, sweet and akin to a bun. Brush your bun with melted butter, roll it in sugar and apart from its slightly pallid colour, it starts to look a lot like a doughnut. But that texture contrast of golden crust and slight greasy sweetness is somehow lost along the way. Sometimes a girl needs a little greasy goodness in her life.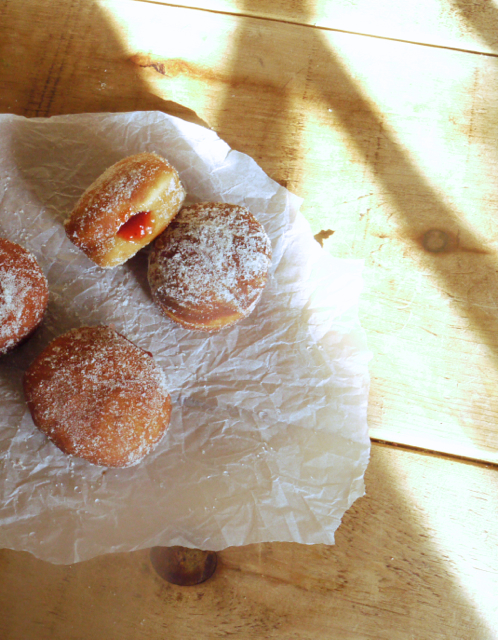 Deep-fried doughnuts are another story. They kick Krispy Kreme-style glazed ring doughnuts to the kerb in terms of sheer indulgence, freshly coated in sugar and oozing warm strawberry jam all over your fingers and chin.
Other good things to put in doughnuts include Nutella (I've already promised a batch of these to two friends), dulce de leche, homemade custard (combined with jam or on its own), pastry cream or cream i.e. anything with plenty of flavour and ooze. These doughnuts are all about the ooze.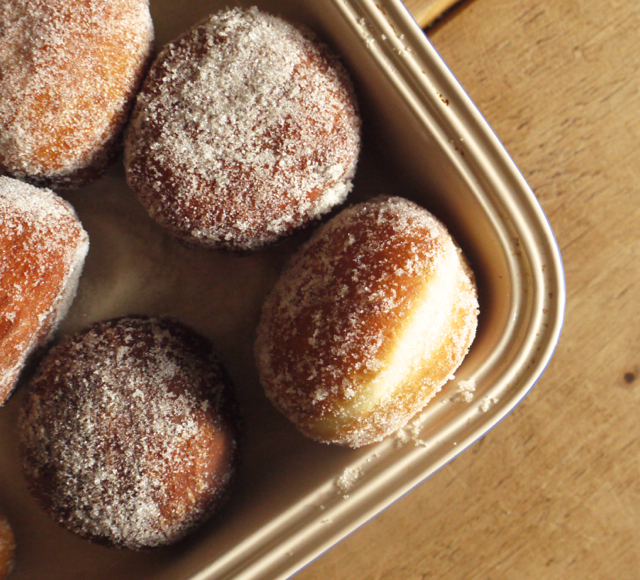 Deep frying can be a little scary because we – hopefully – don't do it every day. But after a lot of experimentation I can promise that, in this instance, it's worth it. Drink a green juice and do some yoga tomorrow: today it's all about the doughnuts.
Ps I intended to make my doughnuts heart-shaped for a certain celebration that's coming up on Friday but got overexcited experimenting in the kitchen and didn't get round to buying the all-important cutter. I think hearts would be amazing (I imagine they'd have ever-so-slightly more crispy corners?), or you can also deep-fry smaller balls of dough and use the jam/Nutella for dipping rather than stuffing it inside. If you end up making those, I'd love to see a pic.
Pps if you make the Nutella-filled version, you can add to the all round nutty deliciousness by replacing the normal butter with brown butter. It's all kinds of irresistible.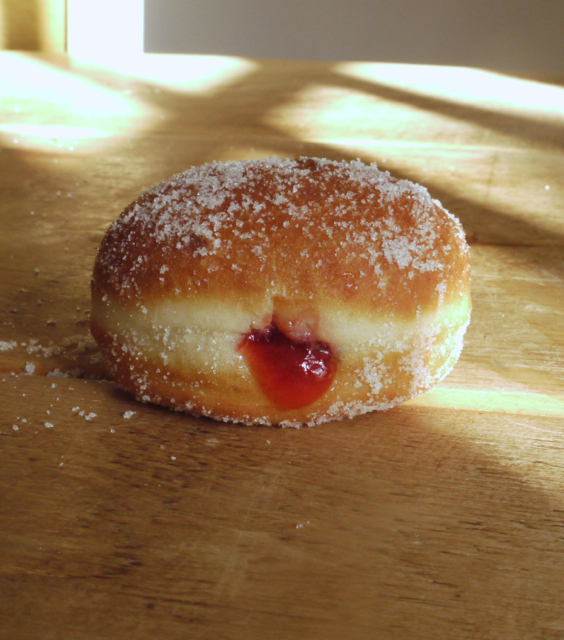 Jam Doughnuts
Deep fried, jam-filled, sugar-crusted treats, these are the doughnuts of my childhood and the ultimate grown up indulgence.
Ingredients
7g fast-action yeast
250g strong white flour
250g plain white flour
1 tsp salt
200ml whole milk
50g butter, cubed
3 tbsp runny honey
2 large free range eggs, beaten
1 tsp vanilla bean paste, orange zest or cinnamon (optional)
1.5l sunflower oil, to fry
175g golden caster sugar, for rolling
250 - 300g strawberry jam (or Nutella, dulce de leche, custard, cream etc)
Instructions
In a small glass, combine the yeast with 50ml warm water. In a large bowl, combine the flours and salt.
In a medium saucepan, combine the milk, butter and honey. Heat gently until the butter just begins to melt, then remove from the heat and allow to melt completely. The mixture should feel warm if you insert a finger, but not hot.
Stir in the beaten eggs and vanilla, orange zest or cinnamon, if using. Stir in the yeasty water. Pour this mixture into the flour and bring together to form a sticky dough. Tip onto a lightly floured work surface and knead for 10 minutes until soft and smooth. Place the dough in a lightly oiled bowl, cover with a tea towel and leave in a warm, draft-free spot for one hour or so until doubled in size.
When the dough has risen, scrape it out of the bowl onto a lightly floured work surface. Gently roll out to about 2cm thick and cut out discs of dough about 8cm in diameter. Re-roll and repeat with any scraps to use up all the dough then place the discs on a lightly oiled tray and leave to rise for a further hour.
When ready to cook the doughnuts, pour the caster sugar into a large shallow dish. Heat 1.5 litres of sunflower oil in a large, deep-sided pan. The oil should read 175 degrees C on a thermometer - if you don't have one you can check if its ready by dropping in a small scrap of dough. It should crisp up and fry in about 30 seconds.
Gently drop the discs of dough away from you into the oil and fry for 1 - 2 minutes on one side, or until golden, before flipping and frying for a further 2 minutes. Don't try to cook more than three at once or the oil will lose its heat.
Remove the cooked doughnuts from the pan using a slotted spoon. Drain on kitchen paper then roll in the sugar while still hot.
Allow the doughnuts to cool slightly, then cut a slit in the side with a sharp knife and pipe a splodge of strawberry jam into the centre, exerting pressure on the piping bag until the doughnut feels fat and full.
Best eaten warm, these doughnuts will keep in an airtight container for a couple of days.
Notes
Because I know some people will ask, it is possible to bake these doughnuts. Place the discs of dough on a baking sheet lined with parchment paper and bake for 10 - 12 minutes at 190 degrees C before brushing with melted butter and rolling in sugar. The result is slightly heavier and a lot less golden - more of a soft, sweet bun than a doughnut. An option if you're on a diet, perhaps, but one which pales in comparison to the real deal.