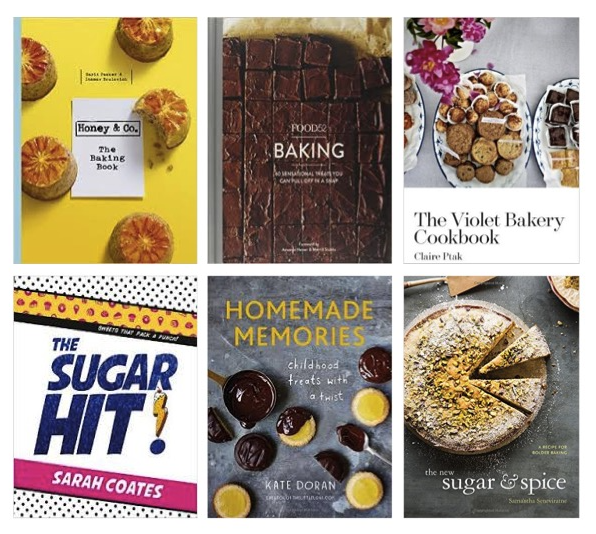 Christmas is just around the corner and there's nothing I love more than ripping open wrapping paper to discover a shiny new cookbook. There are lots of round ups out there this year, so for what it's worth, here are the books I've been loving – and will more than likely be gifting – in 2015.
Best baking cookbooks:
Honey & Co: The Baking Book | Itamar Srulovich & Sarit Packer
The food at Honey & Co gets rave reviews, and rightly so, but the course that really won my heart when I visited the restaurant was pudding. From sticky buns to savoury pastries, the Honey & Co Baking Book is covers both bases, but I'd suggest heading straight for the sweet.
Food 52 Baking | Food 52
If you like the Food 52 website – clean, clear, beautiful photography and expert advice – you'll love this baking-specific book. It's packed with generations of advice and recipes like Brown butter cupcake brownies (make these now). And don't worry about it being a US book – all measurements are in both cups and grams for all us British bakers.
The Violet Bakery Cookbook | Claire Ptak
I've raved about this gorgeous book before and posted the recipe for Claire's squidgily delicious Rye Chocolate Brownies. Claire is the queen of baking and all her tips, tricks and delicious ideas are documented in the pages of this beautiful book. 
The Sugar Hit | Sarah Coates
If ever I'm in need of cheering up, I head to Sarah's bold, bright blog for a fix of fun and plenty of sugar. Her debut cookbook is designed in the same stylized way and packed with enough sweet treats to keep you up from now until next Christmas. Salted caramel chocolate crackles and Homemade Tim Tams come highly recommended.
Homemade Memories | Kate Doran
Is it shameless to include my own cookbook in this round up? I think it would make a lovely gift 🙂 Plus there's plenty of festive fare to keep you going through the next few weeks including Peppermint Marshmallows, Irish Cream Fudge and Rosemary Sea Salt Caramels. Plus everyone needs a recipe for Homemade Caterpillar cake in their life. 
The New Sugar and Spice | Samantha Seneviratne
If you don't know Samantha's blog, Love,Cake, head over there for a drool-inducing peek then get yourself to a bookshop and buy her book. Her use of spice is brilliant, from classic combinations like chocolate and chilli to some more unusual ingredients and ideas. Plus gorgeous photography throughout.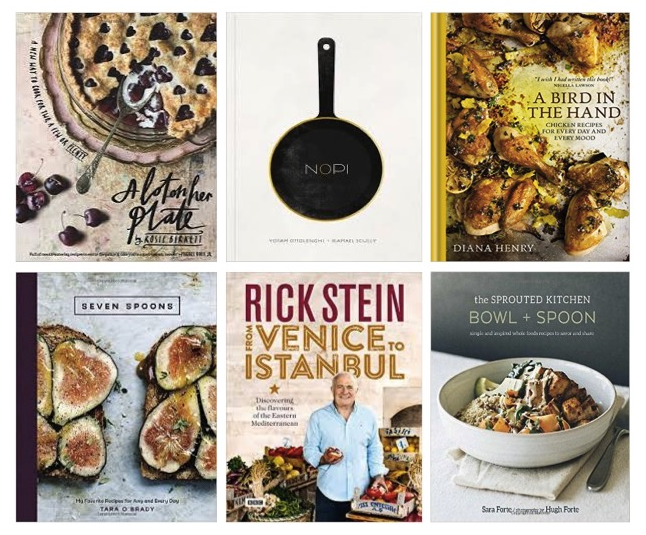 Best cookbooks for everyday suppers:
A Lot on Her Plate | Rosie Birkett
This is my stand out best buy of the year. Rosie's recipes are easy enough to make every day, exciting enough to serve at dinner parties and above all they really work. Her's is now the only octopus recipe I'll use and the rolled porchetta with crispy crackling is a stunner I've served several times for Sunday lunch. People almost always ask for the recipe when I serve her food, which has to be the highest praise.
Nopi: The Cookbook | Yottam Ottolenghi & Ramael Scully
I'm a big fan of the Ottolenghi books and this new cookbook is no exception. If you don't live in London or haven't had the pleasure of eating at Nopi in person, this book is the next best thing.
A Bird in the Hand | Diana Henry
If in doubt, make chicken. This must be the standard response to hungry weeknight dilemmas up and down the country, but Diana Henry turns what could be a boring bird into a work of art. There are salads and stews, roasts and leftovers, imaginative use of herbs and spice and enough recipes to keep you in chicken dinners until next Christmas. Highly recommended.
Seven Spoons | Tara O'Brady
Tara's book, like her blog, is visually stunning. It's the perfect combination of interesting savoury fare and imaginative sweet treats. I've posted the recipe for her Walnut Cherry Oat Butter Tart Pie but there are so many others this almost made it into the 'Best Baking Cookbook' category. Do go and check it out.
Venice to Istanbul | Rick Stein
There's something very soothing about watching Rick Stein and his boozy crew work their way through restaurants, villages and homes, eating with local people and learning their tricks of the trade. This book has some pretty classic recipes but also a fair few new-to-me ideas. The outstanding savoury sections are definitely where to head: more more enticing than a small chapter on sweets which feels a little like an afterthought.
The Sprouted Kitchen: Bowl and Spoon | Sara Forte
My husband is a meat eater through and through, but even he is convinced by the delicious veggie combinations in Sara's second cookbook. Her sauces and salads are instant classics and variations on numerous recipes in the book are on constant weeknight rotation in our house.