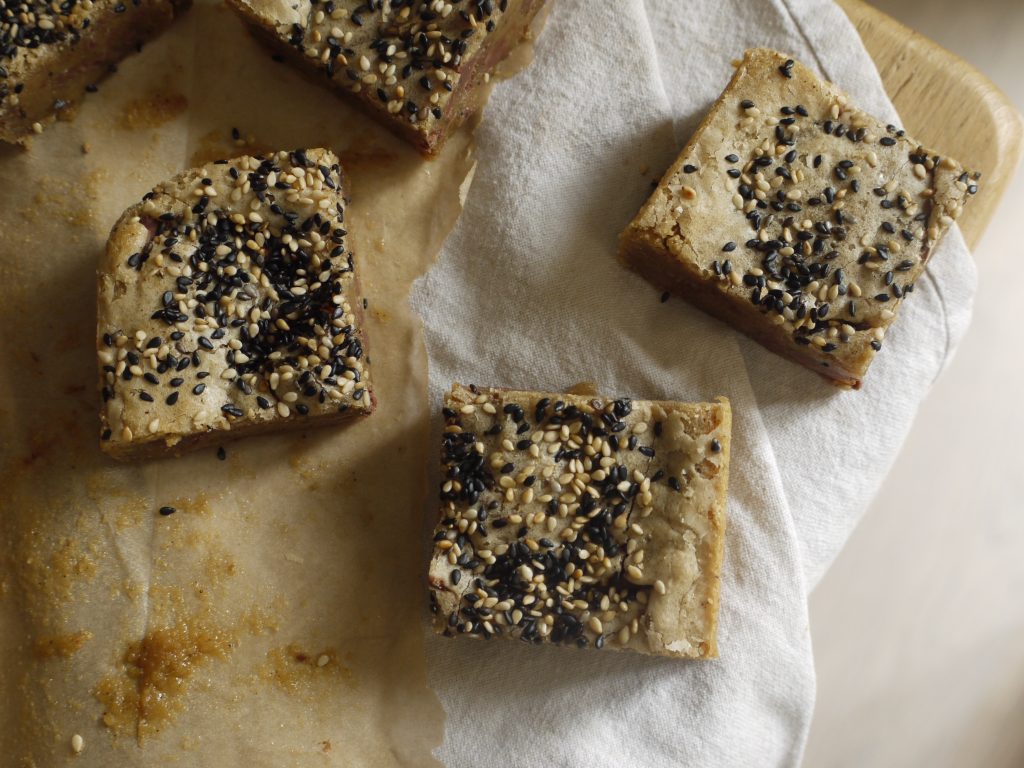 Way back, before Ottolenghi opened his first deli in Notting Hill and when the general public still thought the anchovies that Delia Smith used on her BBC cooking show were exotic, my Mum was using tahini as an ingredient. On shopping trips out we'd frequent cafes like Food for Thought and Cranks for lunch, while at home the cupboards were stocked with packets of wholesome seeds and grains. While most wound their way into savoury dishes – ours was a household decidedly lacking in childhood sweet treats – my Mum had a wonderful recipe for tahini flapjacks studded with sesame seeds and peanuts which we'd eagerly await the appearance of as an after school snack.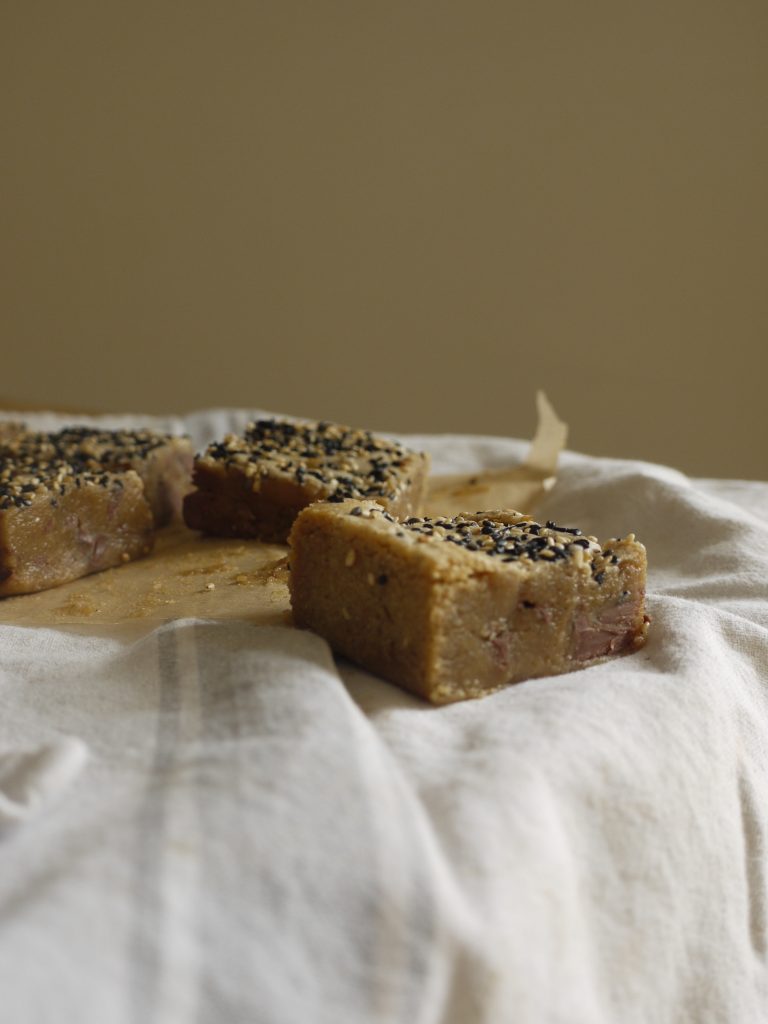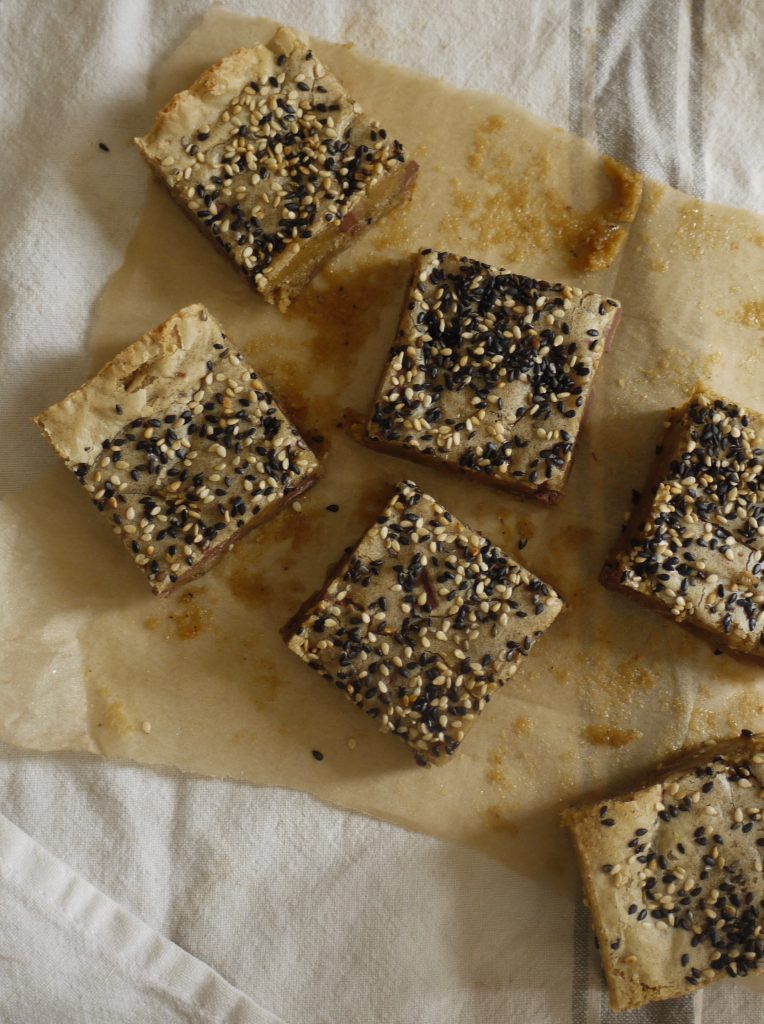 Tahini is now the trendiest ingredient on the block. Not content with being the key component in savoury dishes like hummus (I also love it in salad dressings, marinades and instead of peanut butter in satay sauce), it's cropping up in ice cream, cookies, cupcakes and more. Paired with chocolate, creamy tahini is a very fine thing, so when my husband requested that I replenish the depleted stash of frozen blondies left over from recipe testing for Great British Chefs, I decided to experiment with a chocolate tahini blondie.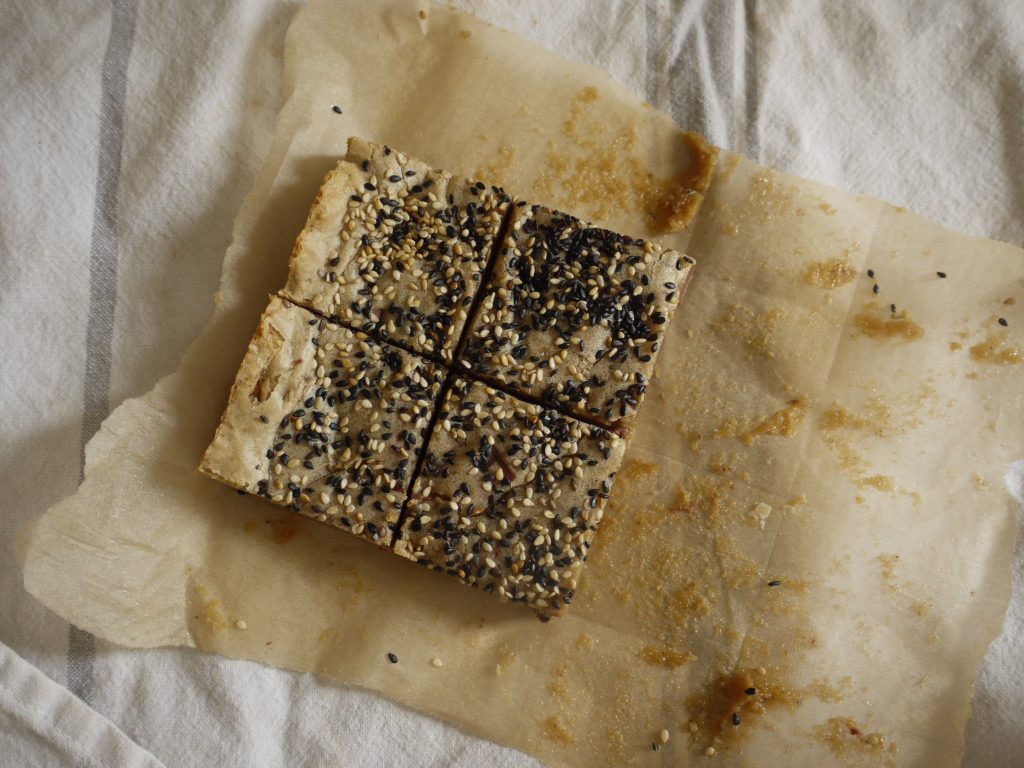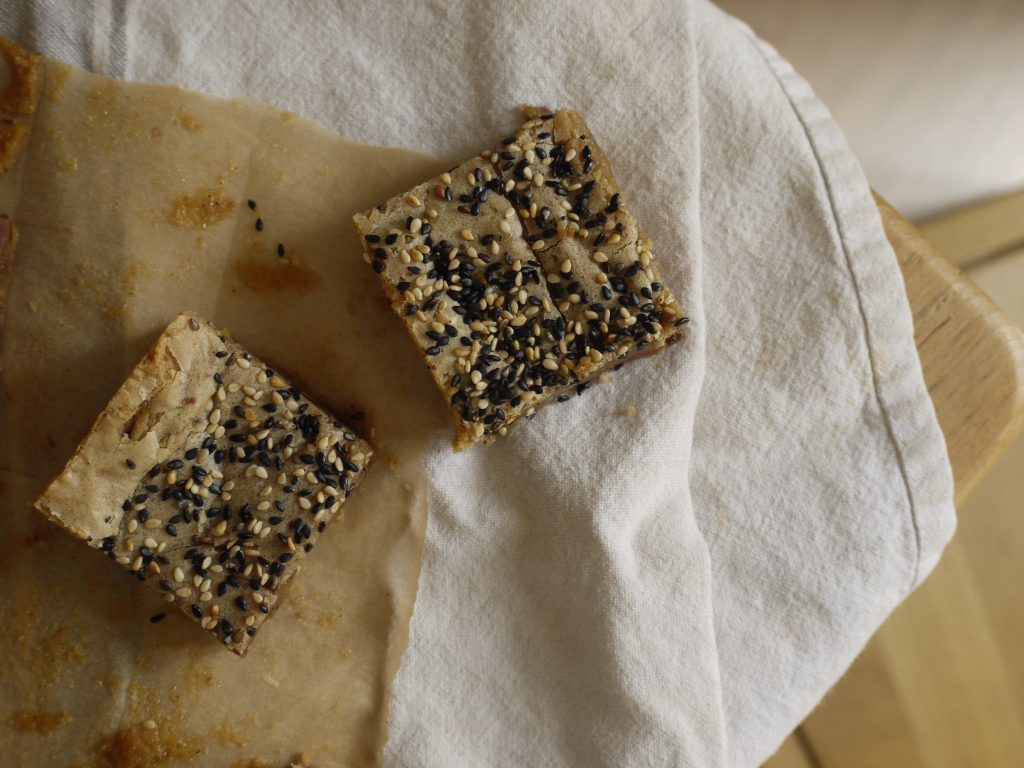 The result is a rich, nutty bake, fudge-like in texture with chunks of milk chocolate. The seeds sprinkled on top look pretty but also add crunch, amping up the sesame flavour profile and identifying the ingredients inside. I under-bake my blondies because I love that fudgy feel as the sugar sticks to your teeth; if you'd like them a little more cake-like (I'm not sure we can be friends), add 3 – 4 minutes in the oven. My top tip for slicing under-baked blondies is to chill them in the fridge for an hour once cooled – it firms everything up, allowing you to slice perfect clean edges to every square.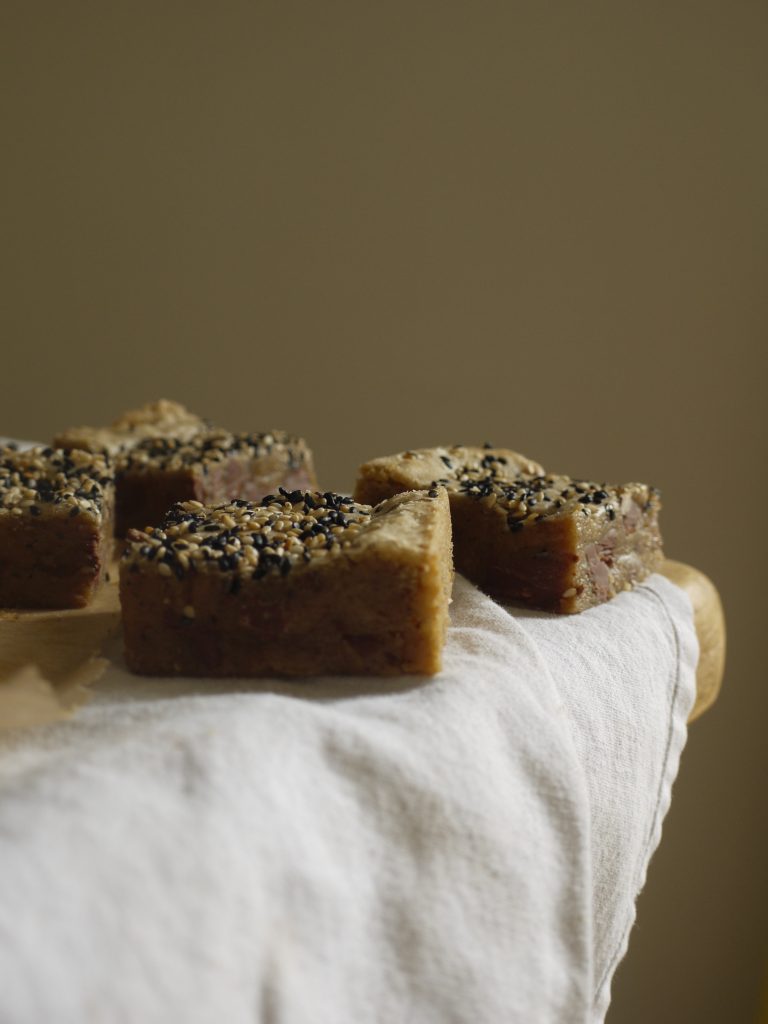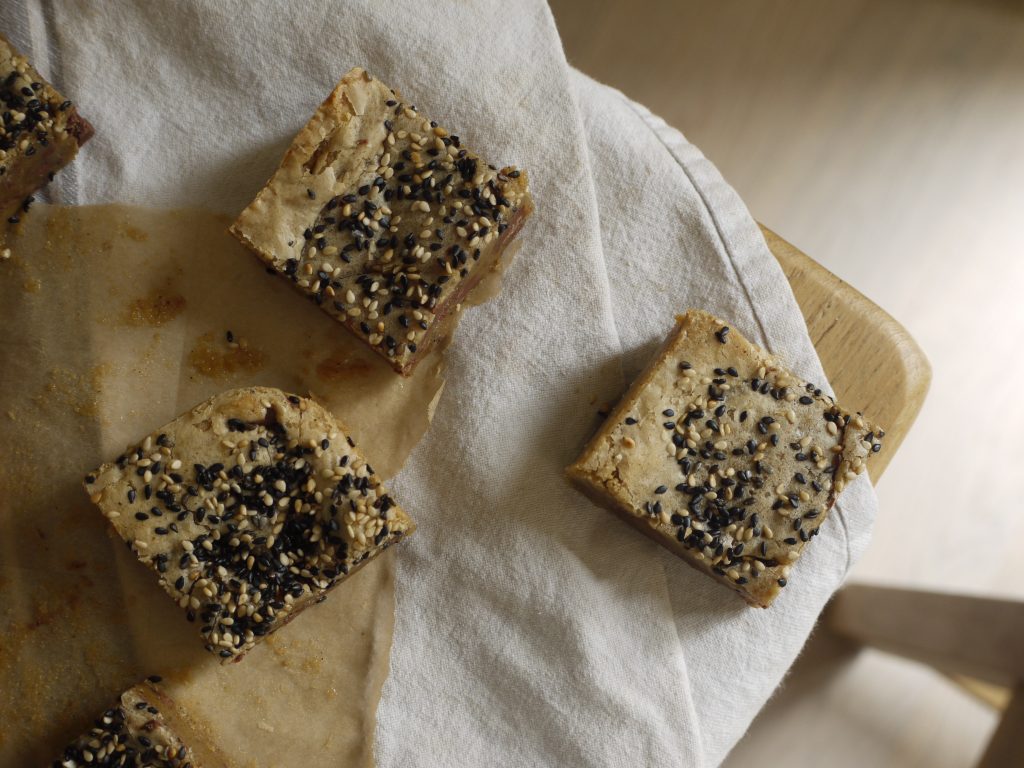 Milk Chocolate Tahini Blondies
These fudge-like blondies are rich with tahini, studded with chocolate chunks and sprinkled with sesame seeds. Serve warm slabs with a scoop of vanilla ice cream and salted caramel sauce or slice into cubes for little bites of sweet sustenance. I've used milk chocolate here as that's what I had to hand, but chunks of dark might make for a more sophisticated bar.
Ingredients
125g unsalted butter, plus extra for greasing
175g golden caster sugar
85g light brown muscovado sugar
2 large eggs
150g tahini
1 tsp vanilla extract
185g plain white flour
pinch salt
150g milk chocolate, roughly chopped
Instructions
Preheat the oven to 180 degrees C/160 C fan. Lightly grease a 20cm square baking tin with butter and line with baking parchment.
In a small saucepan, melt the butter then continue cooking until golden and nutty, Remove from the heat and allow to cool completely.
Whisk together both sugars and the eggs until pale and smooth, 2 - 3 minutes. Whisk in the cooled brown butter along with the tahini and vanilla until smooth and combined.
Fold the flour and salt into the mixture, followed by the chocolate chunks, then scrape into your prepared tin. Bake for 20 - 25 minutes until a thin crust forms but the blondie is still gooey in the middle. Remove from the oven and allow to cool completely before slicing into squares.
Will keep in an airtight container for 3 - 4 days.