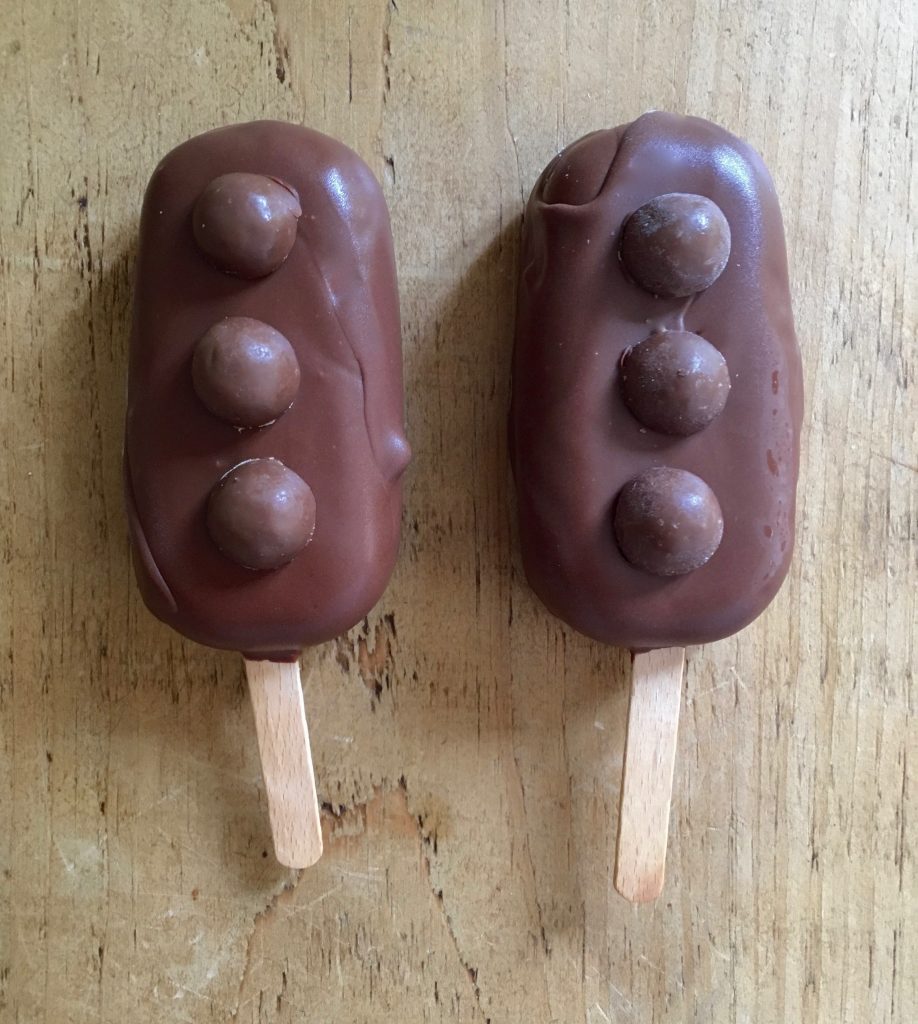 Like the Banoffee Pie I posted a few weeks back, I hadn't planned to put this recipe up on the blog, but an enthusiastic response on Instagram (my most likes ever, where did all you people come from?) led me to believe I should share the details. In fact I'm thinking of starting an Insta-recipe series (Izy does something similar) of treats I haven't had time to test multiple times or capture with anything other than my iPhone, but which I'd like to log recipe details of for a future me – and for you to try, of course.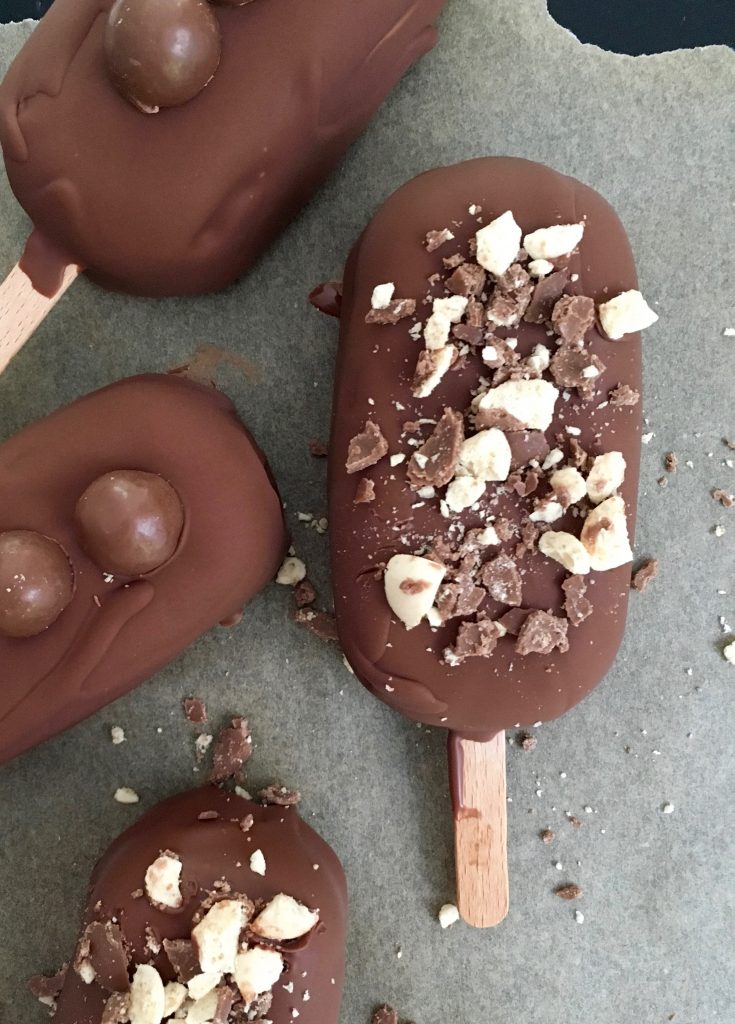 These bars are inspired by the Malted Milk Chocolate Ice Cream Balls in my cookbook, Homemade Memories: malted milk ice cream coated in chocolate, then reimagined in Magnum bar form. I use little silicone moulds from Silikomart which make them look wonderfully professional, but if you don't have any to hand you could freeze the ice cream in a square cake tin then cut into rectangles as with my Snickers Ice Cream Bars.
We ate these ice creams on Saturday after a lunch of papardelle with duck ragu from Emiko Davies' stunning new cookbook, Florentine. I'm planning to post one of her recipes soon, along with a review because the book is just brilliant, but I haven't yet decided which dish showcases her brilliance best. There are plenty more to test, but in the meantime we'll be enjoying these decidedly un-Italian, but still utterly delicious, Malteser ice cream bars
Malteser Ice Cream Bars
A frozen malted custard coated in sweet milk chocolate with crunchy Malteser pieces. The perfect nostalgic treat and far more delicious than the mass produced Malteser ice creams you can buy in the shops!
Ingredients
35g malted milk powder (I use Horlicks)
350ml whole milk
5 large egg yolks
45g soft brown sugar
300ml cream
3 tbsp malt extract
1 tsp vanilla extract
pinch salt
150g milk chocolate, melted and slightly cooled
Maltesers, halved or crushed, to decorate
Instructions
In a small bowl, whisk together the malted milk powder and 2 tablespoons of milk. In a separate bowl, whisk together the egg yolks and sugar.
Add the malt mixture to a medium saucepan along with the remaining milk, cream, malt extract, vanilla extract and salt. Heat gently until the mixture just begins to bubble round the edges then pour over the eggs and sugar, whisking to combine.
Return the whole mixture to your saucepan and cook gently until thickened - the mixture should coat the back of a spatula. Remove from the heat and pass through a fine mesh sieve then leave to cool completely at room temperature, covering with cling film to prevent a skin forming.
Chill overnight then churn according to your ice cream machine manufacturer's instructions. Once churned, divide between silicone ice cream bar moulds, insert a wooden lolly stick into each one and freeze until solid, a minimum of 2 hours.
When ready to finish the bars, line a tray with baking parchment. Remove a bar from its mould, dip in chocolate and decorate with Maltesers. Repeat until all the bars are coated, then freeze until ready to eat.
Will keep in the freezer for up to two weeks.
Notes
Adapted from the Malted Milk Chocolate Ice Cream Bars in my cookbook,
Homemade Memories
.