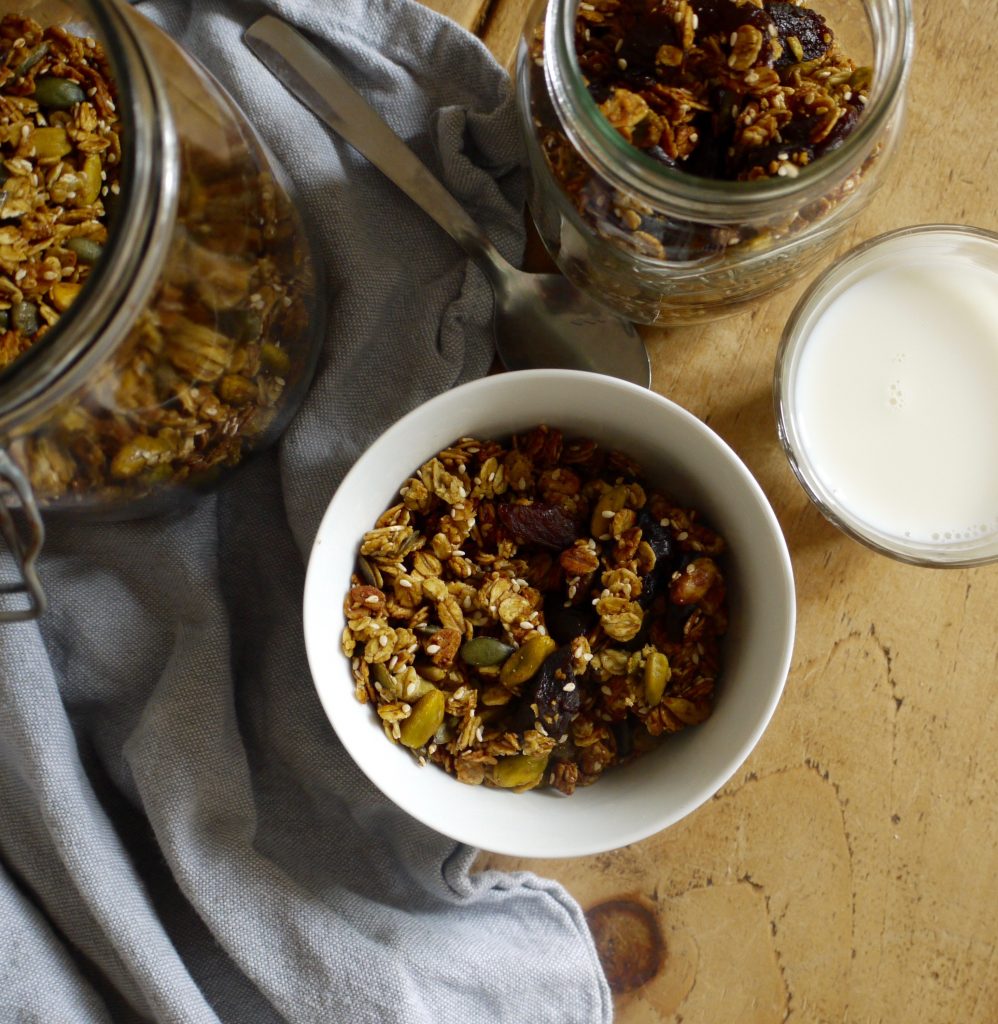 One night last week I rocked our baby boy to sleep singing 'Twinkle twinkle little star' on an infinite loop, standing next to the tumble dryer because its continuous grumble was the only thing (besides my twinkly twinkles) that seemed to soothe his tired cries. We might have got Nino out of hospital, but that doesn't mean we're not now faced with all the usual problems that being the parent of a brand new baby brings. And as any tired parent knows, when you're sleeping less and singing (bouncing, shhh-ing, swinging . . . you name it) more, an energy boosting breakfast you can quickly sling into a bowl one-handed becomes a very important thing.
While I was pregnant, breakfast was all about big bowls of steaming porridge with plenty of toppings: fresh or stewed fruit, nut butters or tahini, walnuts, pumpkin and sunflower seeds for crunch. These days I'd rather spend the minutes my porridge would take to make away from the stove and snuggling a small human. Bircher muesli and smoothies are simple solutions, but when I'm too sleepy or short on time to even stir and blend, a handful of homemade granola (with a splash of milk or spoonful of yoghurt if said small human will allow) makes for a handsome speedy breakfast.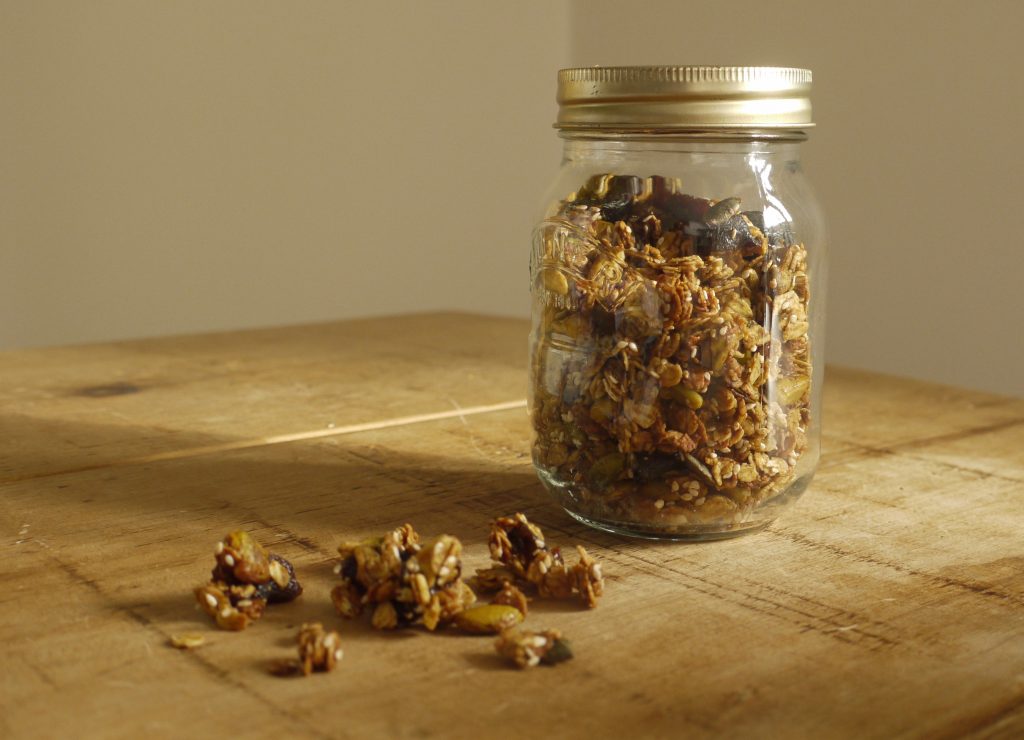 Granola is one of those pantry staples I make slightly differently each time, using up odds and ends from open packets of nuts, flaked grains and fruit. Olive or coconut oil are my go-to fats, but sometimes I'll add tahini or peanut butter which got me thinking that the half eaten pot of green pistachio paste lurking at the back of my cupboard might go to good use in my next breakfast batch. Honey and pistachios are a match made in heaven so I added a good squeeze plus squidgy unsulphered apricots (the brown kind, no chemicals) for their caramel chew. The result is a delightfully crisp granola, rich with nuts and seeds plus a mellow sweetness that's perfect with cold milk or greek yoghurt and a side of baby snuggles.
Pistachio & Apricot Granola
Inject some green into your morning routine with this pistachio and apricot granola, made with vibrant pistachios and paste, unsulphered apricots and olive oil. Using honey as a sweetener makes this recipe refined sugar free, while pumpkin and sesame seeds add flavour and crunch.
Ingredients
225g rolled oats
90g pistachios
30g sesame seeds
30g pumpkin seeds
½ tsp vanilla extract
½ tsp ground cardamom
pinch salt
2 tbsp pistachio paste
1 tbsp olive oil
4 tbsp runny honey
125g dried apricots, roughly chopped
Instructions
Preheat the oven to 170 degrees C/150 C fan and line a large rimmed baking tray with parchment paper.
In a medium bowl, stir together the oats, pistachios, sesame and pumpkin seeds, spices and salt until well combined.
In a small saucepan, combine the pistachio paste, olive oil and honey over a gentle heat, stirring until smooth and combined (2 – 3 minutes).
Pour the liquid over the dry ingredients and stir until every flake and seed is coated and shiny. Spread the mixture in an even layer over your prepared tray and bake for 25 – 30 minutes, stirring every 10 minutes or so, until golden. Remove from the oven and stir in the apricots: the granola will crisp up as it cools.
Transfer to an airtight container or jar. The granola will keep for 3 – 4 weeks.