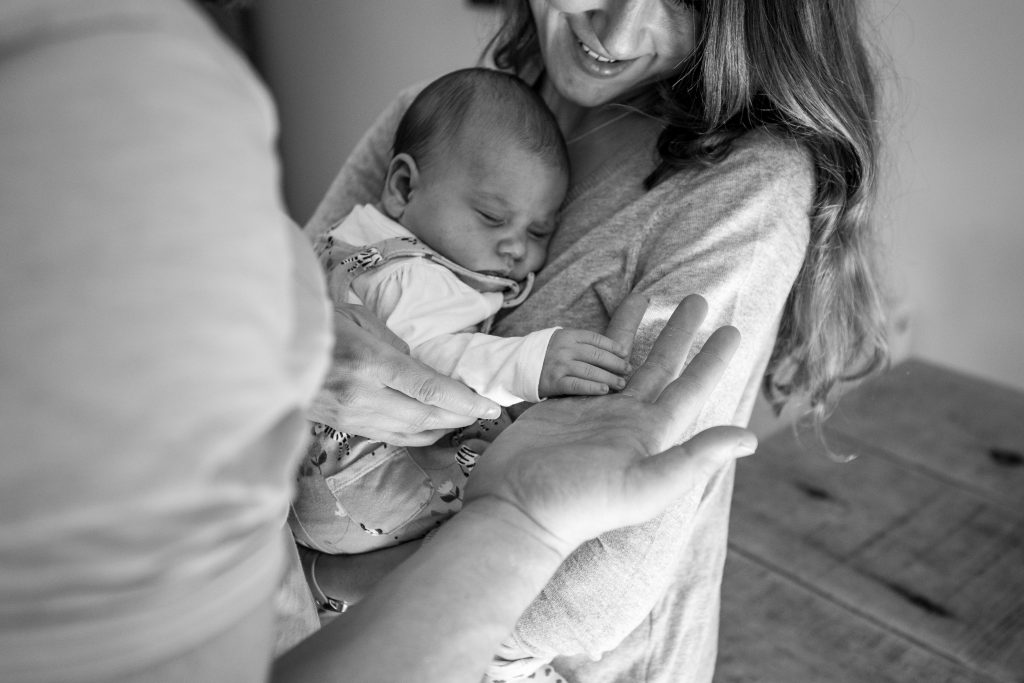 Blogging is a funny thing. In the five plus years since I first pressed publish, I've built up a community of not just contacts but friends, sharing life-changing events like getting engaged and married, writing a cookbook and getting pregnant. It's a deeply personal place, yet simultaneously accessible to any stranger, which is why I had to think hard about how much of Nino's story to share in this space. But after some deliberation I realised that it's too important not to tell; for me as a journal and catharsis of sorts, for Nino when he's older to see how far he's come, for loved ones to understand what we've been through, and even for those strangers to raise awareness of the rare congenital heart conditions that can happen in any pregnancy.  
Our baby boy was diagnosed with Transposition of the Great Arteries and a small VSD at our routine 20 week antenatal scan. The two main blood vessels leaving his heart had developed the wrong way round (something that occurs at around 7 weeks gestation, doctors don't know why this happens but it's random rather than inherited), meaning blood flowing to the lungs to pick up oxygen flowed back into his heart rather than round his body and blood flowing round his body was unable to reach his lungs to pick up oxygen. All well and good while he was snuggled in my womb with the placenta providing oxygen, but we were told that as soon as he was born, Nino would need an arterial switch operation in order to survive.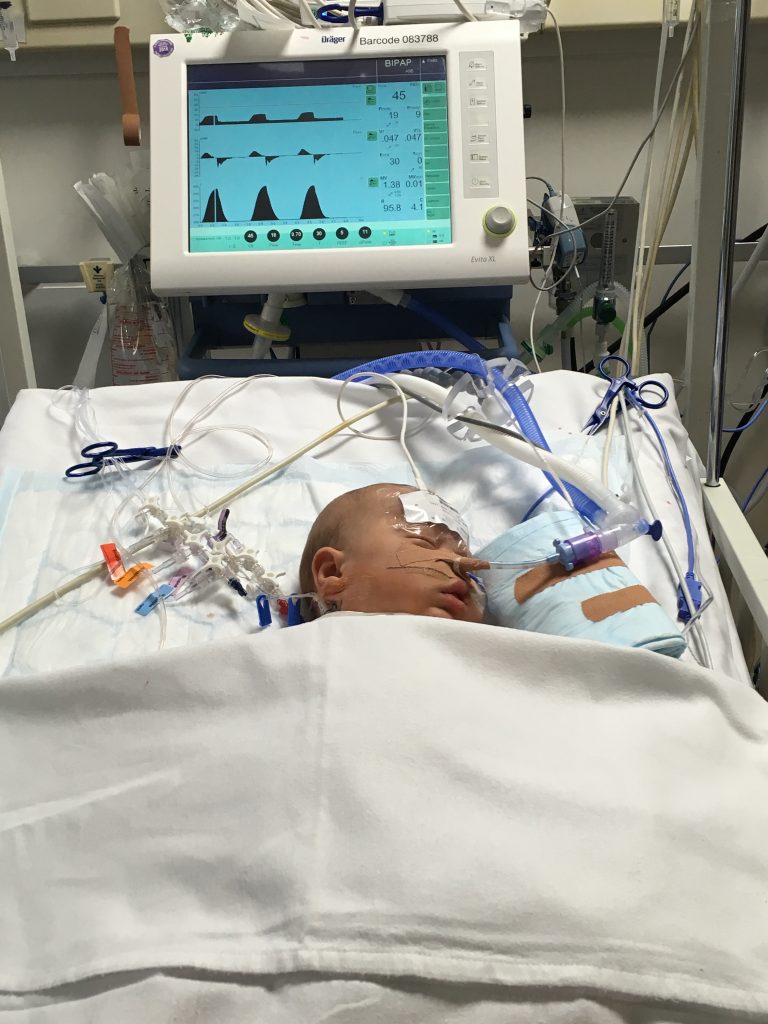 Having prepared ourselves for immediate surgery, it was both exciting and terrifying to discover we could take him home for a few weeks first. Nino's additional small VSD, or hole, allowed enough oxygen to fuel his tiny newborn body for those few early weeks and the doctors wanted to give us the chance to get him bigger and stronger because of an additional complication: an intramural coronary artery growing into the aorta which would have to be moved as part of the switch procedure. I won't go into too much detail, but for perspective on how intricate this surgery would be, imagine extracting a thread of hair woven into a strand of spaghetti. Incredible, scary and sobering stuff.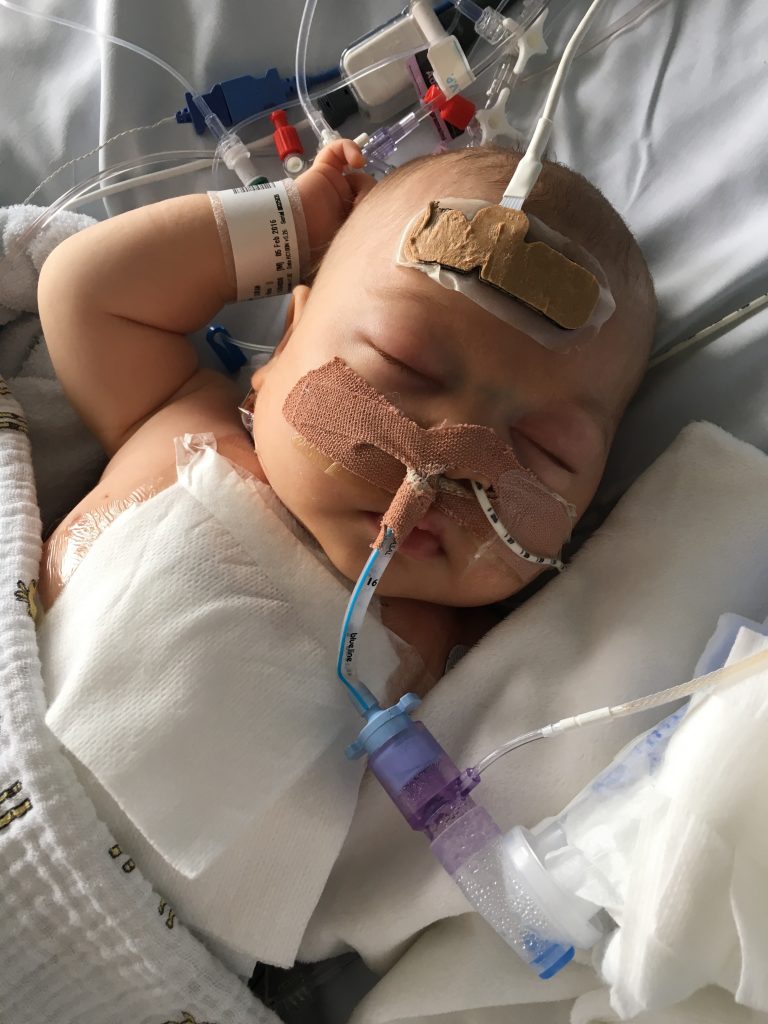 On Tuesday 12th April we were admitted to the children's ward of Royal Brompton Hospital prior to Nino's surgery on 13th. We snuggled all night, Nino blissfully unaware of what was about to happen, me keen to top our greedy boy up with enough milk to keep him happy before his nil by mouth curfew of 4am. At 6am we bathed him in the bright red antibacterial wash required pre-surgery then dressed him in a hospital gown so tiny it made me want to weep. After meeting the anaesthetist and signing some hideous consent forms, we headed down to theatre. We were greeted by huge rooms, bright lights and what felt like hundreds of doctors in scrubs and masks before being admitted into the ante-chamber where Nino would be put to sleep. Minutes later we kissed our baby boy goodbye and handed him over to the Brompton team.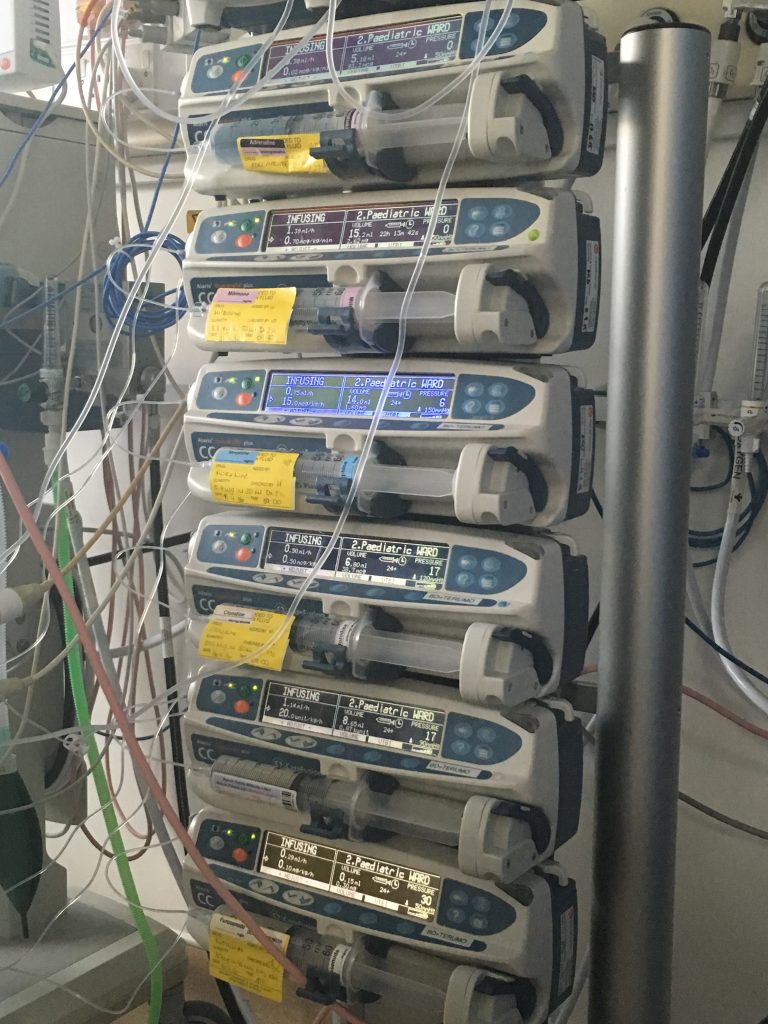 Ten hours later they called us back. I can't quite describe how those ten hours passed, what we talked about and where we went; suffice to say they were long and helpless and hard. When Nino returned to intensive care his chest was still open to allow for post-operative swelling, cannulas in his neck and thigh, dozens of different drugs flowing into his body and drains flowing out to remove the excess fluid. Horrifying as it is to see your baby surrounded by so much equipment, knowing it is all there to keep him alive helped us come to terms with it hugely. The nurses had cut a heart-shaped hole in the gauze over Nino's open chest, beneath which we could see in to his re-plumbed heart, and rather than feeling squeamish, I couldn't take my eyes away – there was something simply breathtaking about being able to see the pure physical force of our little boy's brave beating heart.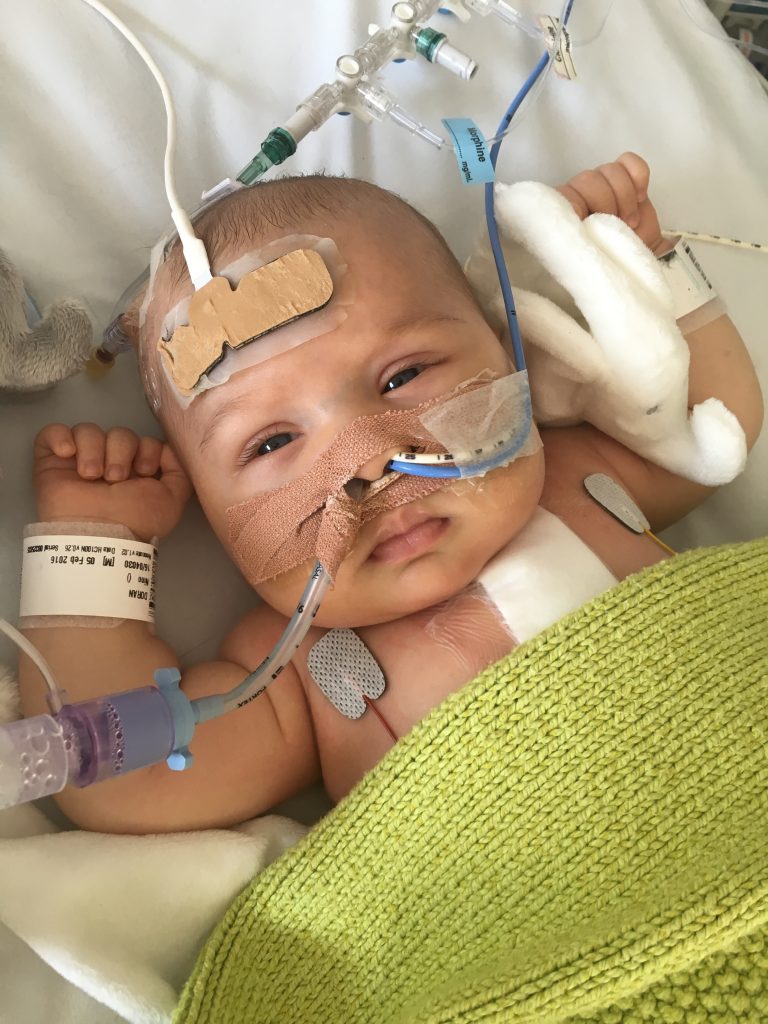 We spent ten days in total in the hospital, a week in intensive care and a couple of days on the children's ward re-establishing feeding and some sense of normality (as much as that's possible in a room with five other screaming newborns attached to monitors). When we weren't glued to his bedside, Luke and I slept in accommodation a few minutes walk from the hospital while our mums ferried in clean clothes and home cooked meals. The team had told us to expect to be in hospital for around three weeks, so the speed of Nino's recovery surprised us all. Less than twenty four hours after surgery, chest open and multiple drugs (including morphine) still coursing through his body, our brilliant boy was trying to wake himself up and root for food, that hungry survival instinct and lust for life evident in every wriggle.
I want to take a moment to sing the praises of the NHS. For all its minor flaws, the way care is pulled together round something serious like Nino's heart condition  has been second to none. This is a system who spotted the irregularity in his heart when it was smaller than my thumbnail, who assigned us a specialist cardiac nurse from that moment onwards and who sent us for prenatal scans with one of the consultants who delivered the Royal baby (!). It's the system who helped me through labour with a specialist team on hand to transfer Nino between hospitals as soon as he was born. And the system which provided countless machines and drugs, as well as staffing the doctors, nurses and world-renowned surgeon who worked twenty four hours a day, for over a week, to save our little boy's life. In another country, this level of care could have bankrupted us or worse. We really are exceptionally lucky.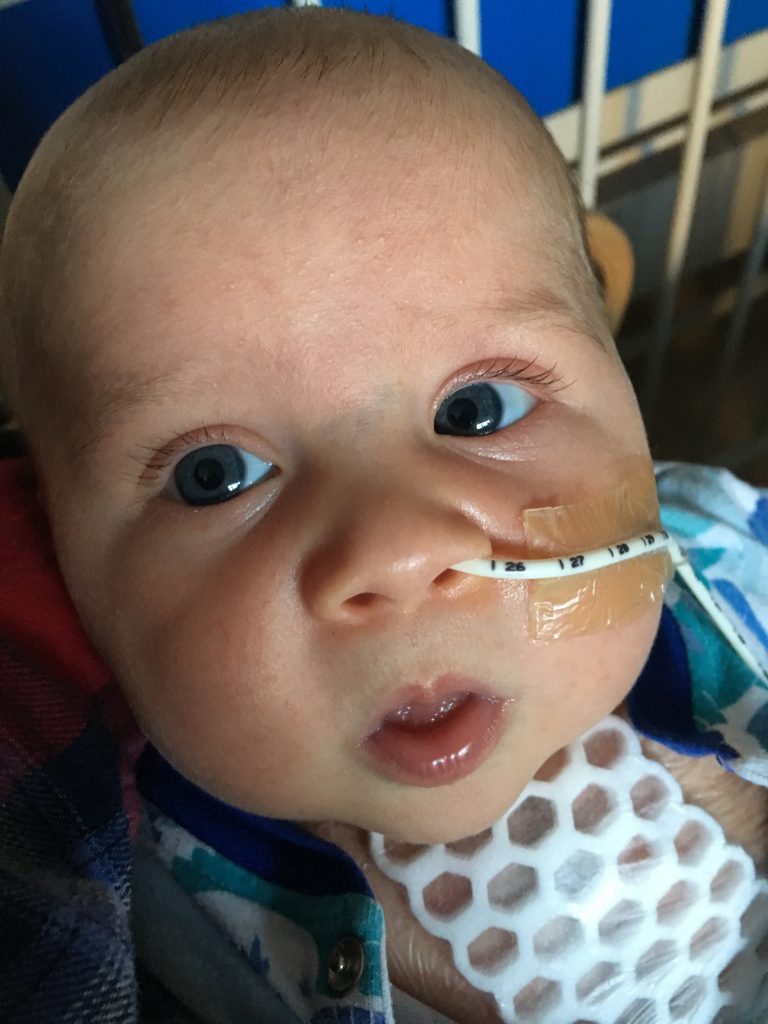 So now Nino is home and slowly settling back into daily life. There are drugs to be administered which he doesn't like the taste of, a wound to take care of and routines to re-establish. We've missed his immunisations so have those to catch up on and he's not yet out of the woods in terms of knowing whether the switch has worked perfectly, or if he might need further surgery. Only future appointments, scans and time will tell, but considering his chest was cracked open and his heart rewired just three weeks ago, our little man is working nothing short of a miracle. As I write this he's sprawled out on his activity mat, smiling, chatting and batting at a furry owl and kicking his legs with the strength of a boy who was born to be a brave, strong fighter.
Next week I'll be back with a recipe, and then it won't be long before we start thinking about introducing solids to Nino's diet. I'd love any tips from foodie mums out there – how early did you start? Did you begin with purees and mush or wait for baby-led weaning? And once I've got the hang of things would you like to hear about my experiments here? There's so much information out there I'm at a slight loss where to begin, but I do know it's going to be a learning process, exciting and fun, difficult at times and very messy. A little bit like life, really.