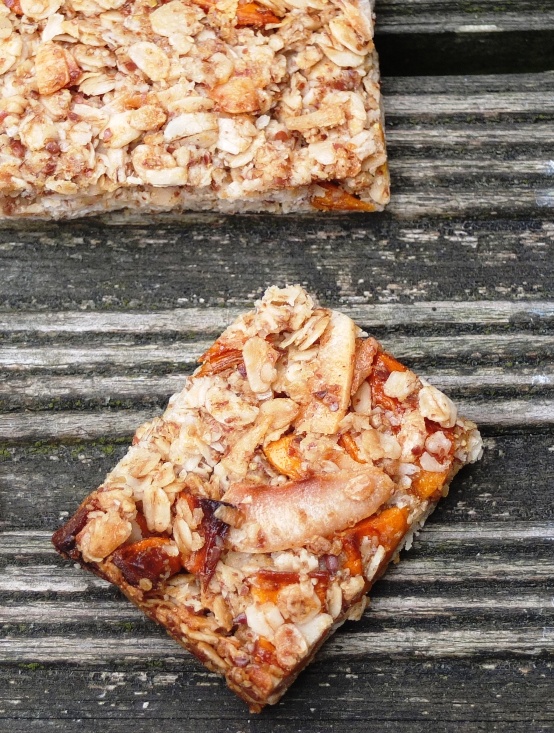 A whole week has passed since we arrived back from our honeymoon in Bali and I'm slowly coming back to reality. Some might suggest it's a time for the post-wedding blues but sitting at a desk, daily commute and grizzly grey weather aside (granted, that's a fairly large aside), reality is pretty damn good when you find yourself married to your best friend and favourite person in the whole wide world.
So much has happened in the last couple of weeks that I'm never going to fit it into one post. There's the wedding day itself, the food, my thoughts and photos (which we'll be getting at the beginning of October, I promise to share a few). There's also two weeks' worth of adventure on an island thousands of miles away, more photos and a catalogue of delicious meals consumed and new flavour combinations to experiment with.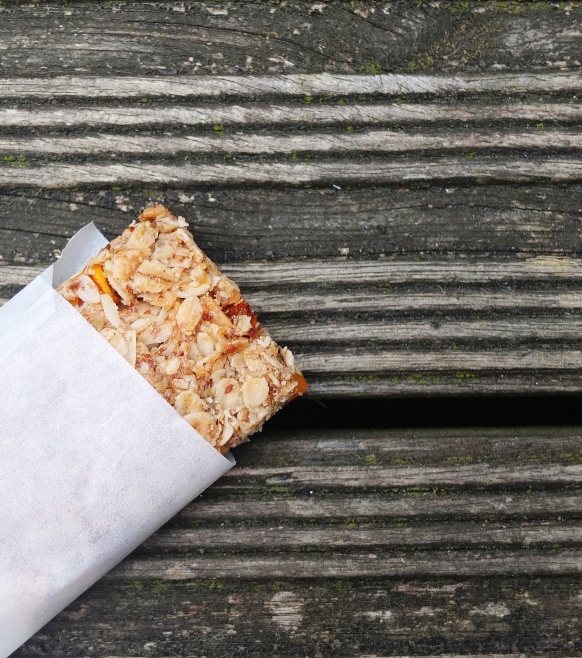 All of which means I'm starting back in this space with something very simple.
Going to Bali was an incredible experience – the people, the scenery, the food, the flavours and that big ball of orange energy in the sky that just makes everything better. The only down side? Nearly twenty hours of travelling on cramped, air-conditioned planes and an eight hour time difference to confuse matters even further.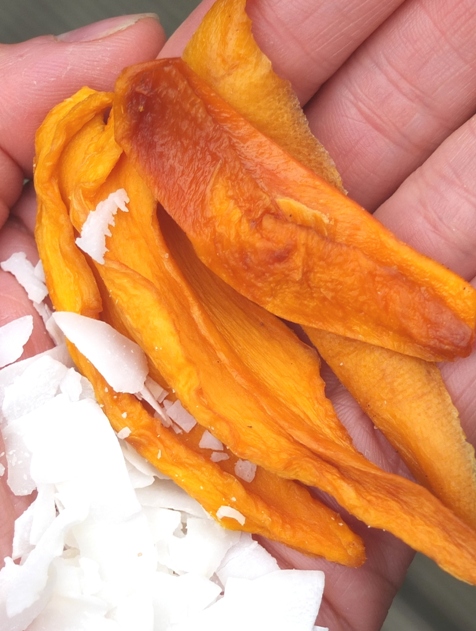 Plane food is a pet hate of mine. If travelling short distances I tend to eat well before and after, ignoring what's on offer in the air or packing just a few snacks. I had every intention of making some more substantial meals for Carnivorous Husband and I to take to Bali, but after 48 hours of wedding partying I simply didn't have the energy to do it.
Twenty hours of mushy vegetables, unidentifiable meat, cardboard rolls and endless offers of chocolate and crisps later, the pair of us made a pact never to eat plane food again. On our return journey we asked our hotel to make up a delicious picnic for our evening meal then braved it through without any more to eat until we walked through the door of our flat. Not entirely advisable but the contented feeling as we tucked into silky homemade scrambled eggs with leeks and spinach, smoked salmon and hot buttered toast was a million miles from the uncomfortable bloat of anything we'd have eaten on the airplane.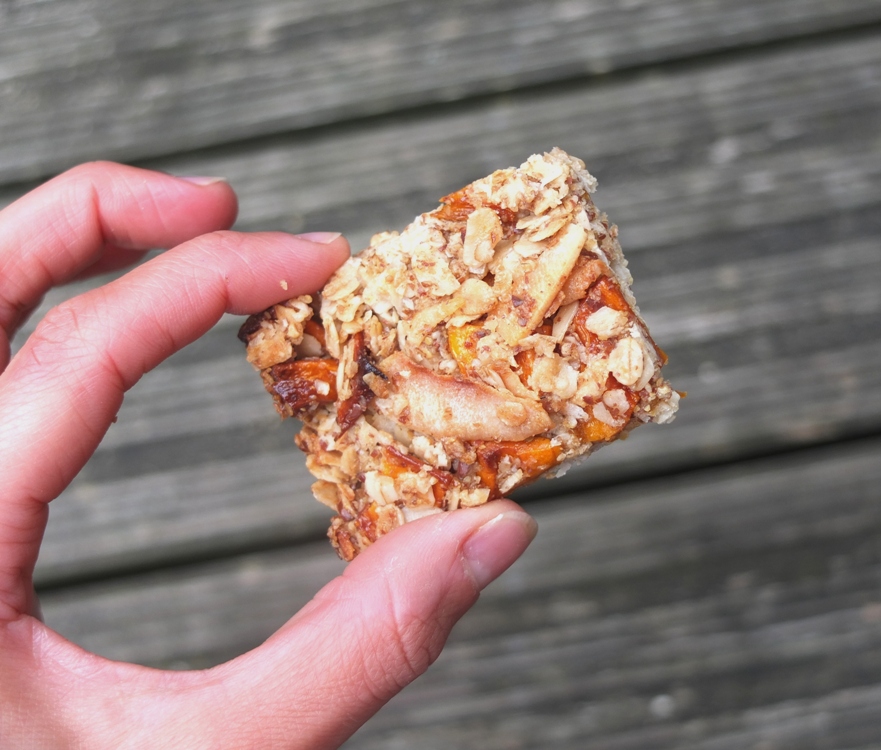 Next time we're travelling, I might just take some of these. The kind of treat you can eat for breakfast, a mid-morning snack, afternoon tea or dress up for dessert, these anytime sunshine bars are the perfect jet-lag food and travel well. The ingredients are inspired by what we enjoyed fresh in Bali – mango and coconut – but you could substitute dates and raisins, dried apple, papaya or apricot and pretty much any kind of nut. Just try to find fruit that's been dried without any additional sugar – it's a little chewier but, I think, more delicious.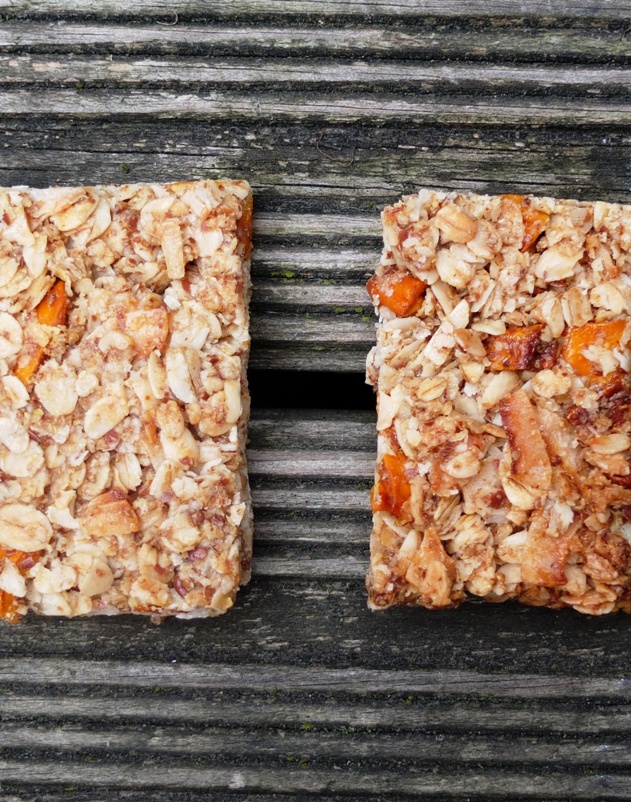 Anytime Sunshine Bars (adapted from Gwyneth Paltrow's It's All Good)
(makes about 16 small bars)
Ingredients:
145g rolled oats
25g ground flaxseeds
Pinch sea salt
45ml coconut oil, melted
70ml maple syrup
2 tbsp brown rice syrup
40g unsweetened dried coconut (flakes rather than dessicated, if possible)
50g unsweetened dried mango, chopped
Method:
Preheat the oven to 175 degrees C. Line a 20cm square tin with parchment paper.
In a large bowl, combine all the ingredients thoroughly. Pour into the prepared tin, pack down the mixture with a spatula and bake for 25 – 30 minutes or until golden brown and firm to the touch.
Cut into bars while still warm then allow to cool before serving. Perfect eaten any time, anywhere: preferably on a beach in Bali.