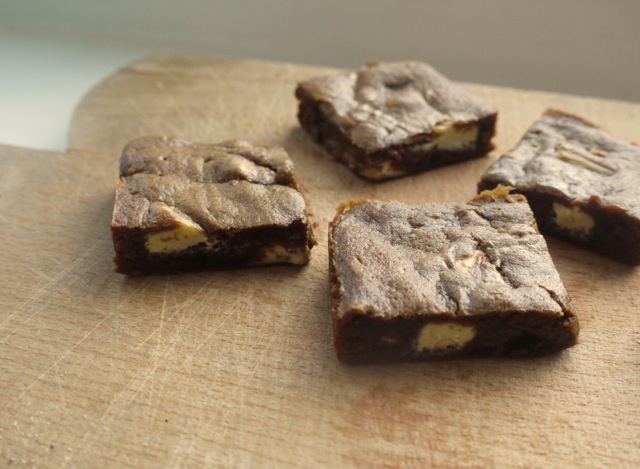 In a previous post about blondies I brought up the age old debate about blonde vs. brunette. Blondes, they say, have more fun but in the edible stakes, brownies definitely have the upper hand. There are far more recipes for brownies than blondies on this blog, and if you cast your net wider to google, a 'brownie' search returns 45 million results; blondies fewer than 2. But what about that elusive third category, the much-maligned, often forgotten but every bit as delicious ginger?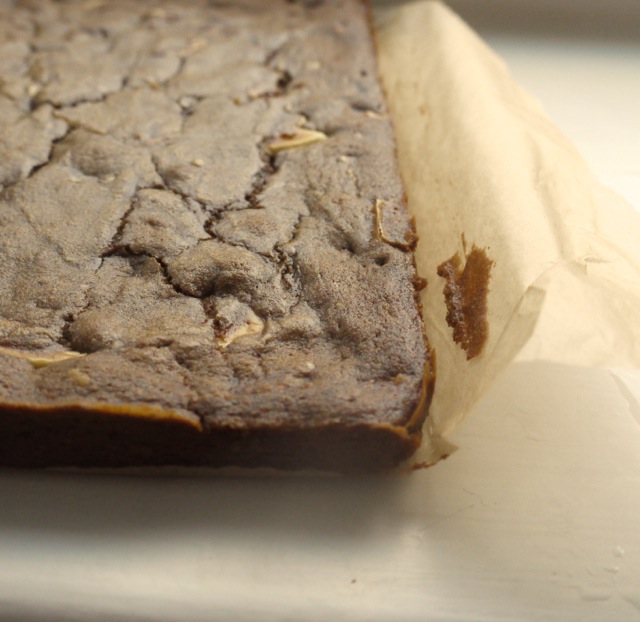 December is the time to bake with winter spices. I've been adding cinnamon, ginger and nutmeg to almost everything these past few weeks and wanted to share a recipe that celebrates their warmth. There's a pretty delicious recipe for gingerbread biscuits we've been eating on repeat, but I'm shamelessly saving it for my cookbook. Luckily being unable to post it meant I've been a little more creative in the kitchen and these gingerbread blondies are the result.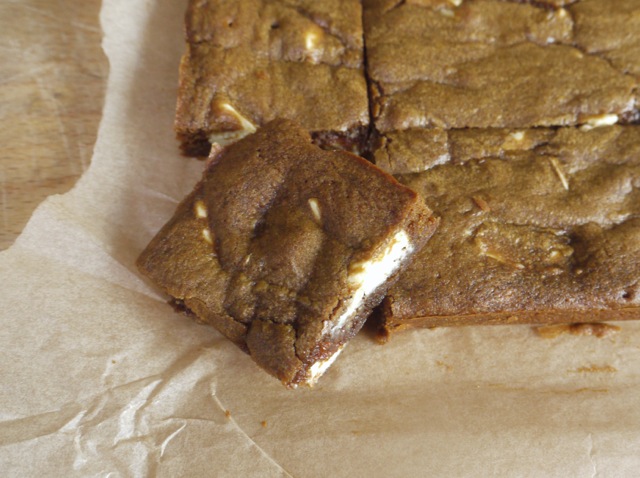 Making a brownie without chocolate (or dark chocolate, at least) is always going to be a rich affair. It's a delicate balance between butter, sugar and just enough flour to hold the whole thing together with a taste and texture not a million miles from fudge. Sometimes I like to counteract that sweetness with sharp dried cranberries or salty roasted nuts, but in the spirit of all things festive, here I've added creamy white chocolate chunks to amp up the indulgence. A generous pinch of warming winter spices and a spoonful of molasses gives all the gingerbread flavour you need in an altogether more indulgent mouthful. Perfect served warm with ice cream or packed in a lunchbox for a mid-morning pick me up once the Christmas party season is in full swing.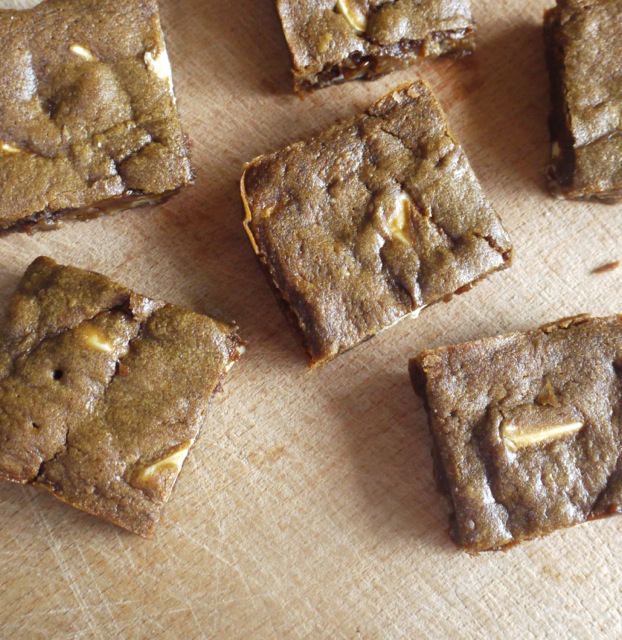 Gingebread Blondies with White Chocolate Chunks
Chewy, gooey blondies with packed with warming winter spices and chunks of creamy white chocolate. A bar to rival the very best brownie.
Ingredients
125g unsalted butter, melted and cooled
160g plain white flour
¾ tsp ground ginger
¾ tsp ground cinnamon
¼ tsp baking powder
pinch ground cloves
pinch ground nutmeg
pinch salt
180g light brown sugar
1 medium egg + 1 medium egg yolk
2 tbsp molasses (syrup)
seeds from one vanilla pod, scraped
150g white chocolate, coarsely chopped into chunks
Instructions
Preheat the oven to 180 degrees C/Gas mark 4. Grease a baking tin approx. 20 x 30cm with butter and line with baking parchment.
In a medium bowl, sift together the flour, spices, baking powder and salt.
In a separate bowl, whisk together the sugar and egg until smooth and creamy. Whisk in the molasses followed by the cooled melted butter. Continue whisking 2 - 3 minutes until pale and thick.
Fold in the flour mixture, followed by the white chocolate chunks, then spoon into your prepared tin, spreading flat with a spatula. The mixture will be fairly thick - stickier than cookie dough but definitely too thick to pour.
Bake for 20 - 25 minutes until set around the edges and a skewer inserted in the middle comes out slightly gooey. Remove from the oven and leave to cool completely in the tin before slicing into squidgy squares.