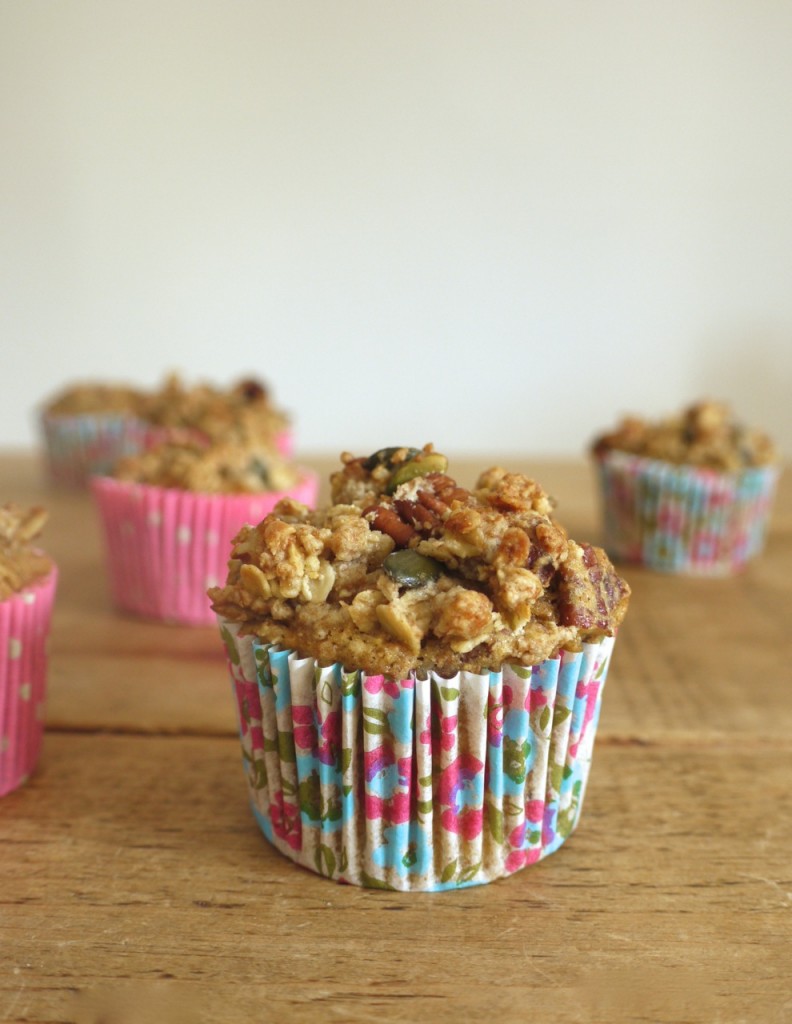 I'm not much of a breakfast muffin person – it's hard to sway me from my standard fare of toast with avocado or eggs, bircher muesli or, as the autumn draws in, a bowl of creamy porridge with yoghurt and fruit – but if you are, these muffins would be just perfect. I've been eating them at tea time or after dinner, the buttery crumble topping giving them just enough decadence to stand in for dessert. Essentially I'm saying this is an all day sort of a muffin, a necessary addition to your baking knowledge whatever the hour you decide to indulge.
The recipe is barely adapted from Ottolenghi's first cookbook. Ottolenghi is credited with introducing a large proportion of the population to sumac and z'atar, lustrous salads dressed with pomegranate molasses and placing vegetables front and foremost in a dish, but people often forget that he worked first as a pastry chef at Baker and Spice. The cakes and pastries from Ottolenghi's shops are sublime, and if you own the books you can recreate them in all their splendid glory. These little muffins might not have their frills of their cupcake friends, but anything they lack in superficial beauty, they more than make up for in substance.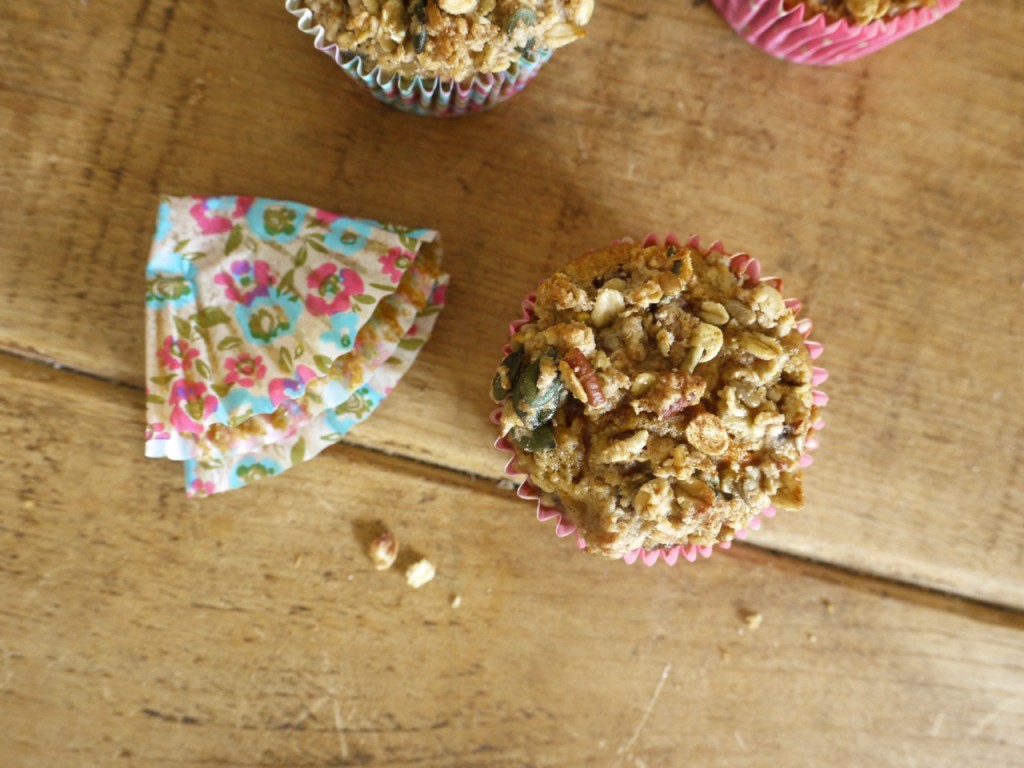 The ingredients here are the kind you'll likely find in your fridge –  butter, an apple, a spare carrot – and cupboards (don't we all have those open packets of coconut, sultanas and spice just begging to be used up in a recipe more delicious than the sum of its parts?). I've tweaked the original muffins ever so slightly, halving the quantity because there are only so many treats two people can eat, subbing in spelt flour because it's what I had to hand and replacing some of the caster with brown sugar for an even moister crumb.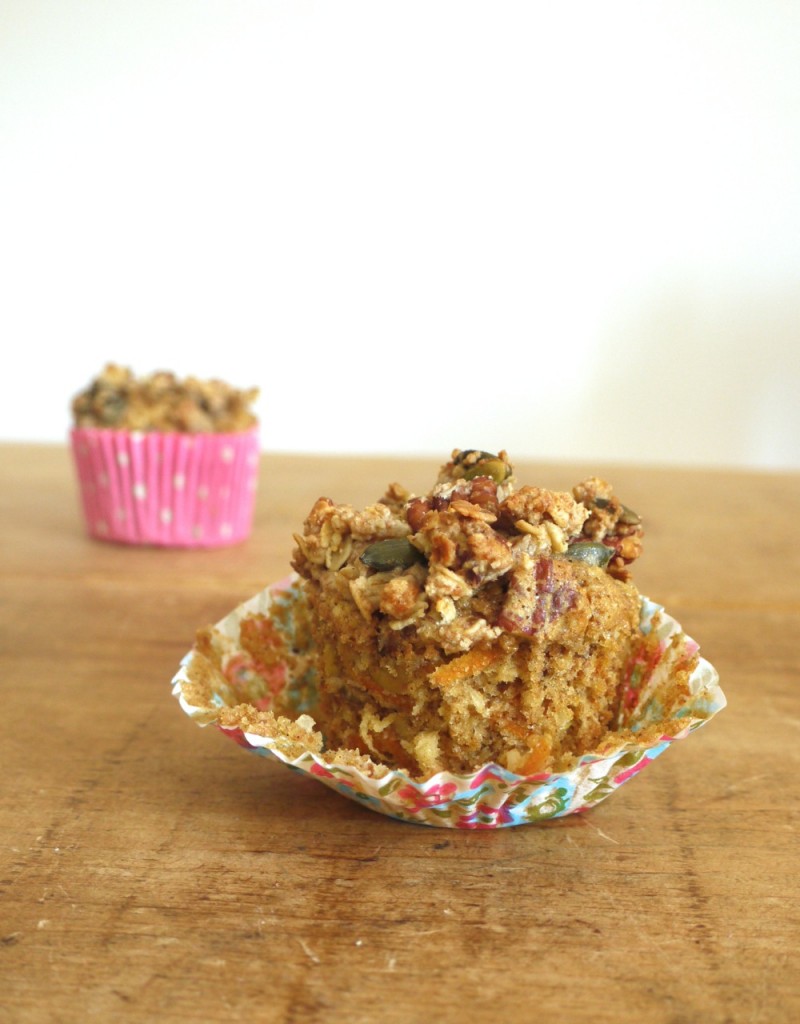 If you're wondering whether to bother with the crumble topping, you must. The buttery nuggets of oat, nut and seed go crispy in the oven, providing the perfect texture contrast with the moist muffin beneath. It's indulgent enough to feel like a properly satisfying treat while packed with enough goodness (oats! pecans! pumpkin seeds!) to leave these just inside the 'wholesome' bracket. The crumble would also make a lovely topping for a fruity pudding now that autumn is starting to draw in.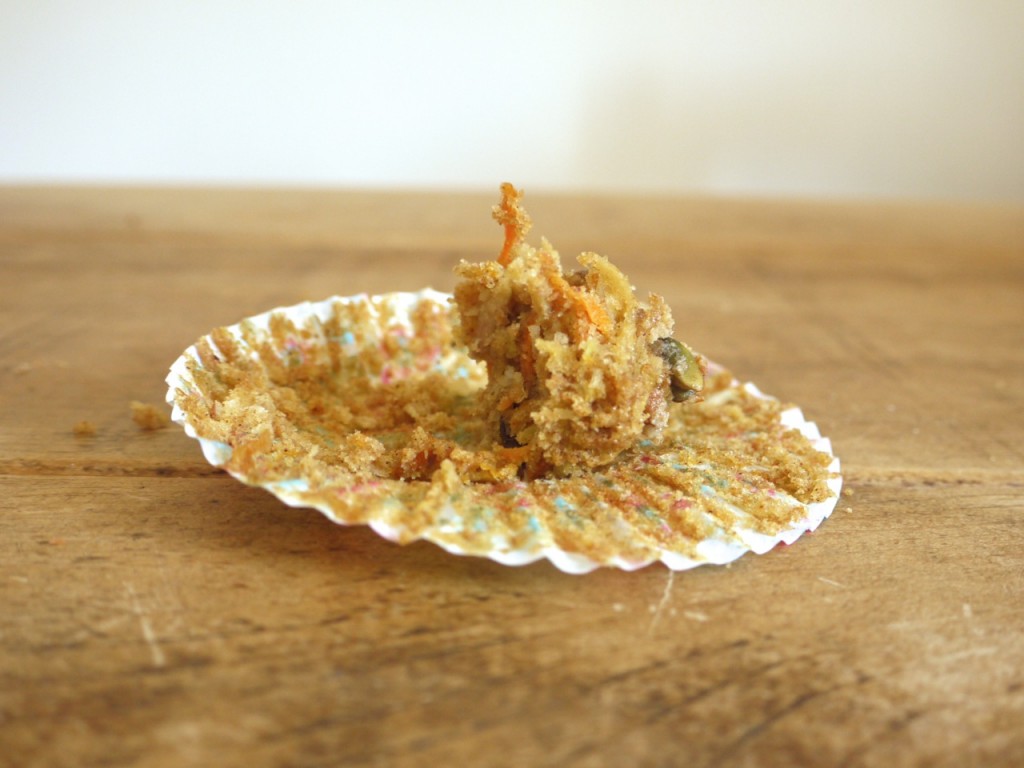 Carrot, Apple + Pecan Crumble Muffins
Beautifully moist muffins so wholesome you could eat them for breakfast, packed flavour and spice. The crumble topping is what really makes these - buttery, slightly sweet and crunchy in contrast to the sultana studded filling.
Ingredients
For the topping
25g wholemeal or wholemeal spelt flour
15g cold butter, cubed
1 heaped tsp light brown muscovado sugar
2 tbsp oats
1 tsp pecan halves, roughly chopped
1 tsp sunflower seeds
1 tsp pumpkin seeds
1 tsp honey
1 tsp water
For the muffin mix
100g wholemeal spelt flour
50g white spelt flour
1 tsp baking powder
1 tsp ground cinnamon
pinch salt
80ml groundnut oil
2 large eggs
75g light brown muscovado sugar
45g caster sugar
1 medium carrot, coarsely grated
1 small apple, skin on, coarsely grated
1 tsp vanilla extract
50g pecan halves, roughly chopped
50g sultanas
25g unsweetened dessicated coconut
Instructions
Preheat the oven to 170 degrees C and line an 8-hole muffin tin with paper cases.
In a small bowl, combine the flour, butter and sugar, rubbing with your fingertips to create a crumbly mixture. Stir in the oats, nuts and seeds followed by the honey and water. Stir to combine into a wet, slightly sandy mix. Set aside.
In a large bowl, sift together the flours, baking powder, cinnamon and salt, tipping any bran left in the sieve back into the bowl.
In a separate bowl, whisk together the oil, eggs and sugars. Whisk in the carrot, apple and vanilla extract then fold in the pecans, sultanas and coconut. Fold in the flour mixture, making sure not to overmix - a slightly lumpy batter is fine.
Divide your batter between the paper cases then scatter the crumbly topping on top. Bake for 22 - 25 minutes or until the topping is crisp and a skewer inserted into the centre comes out clean.
Remove the muffins from the oven and leave to cool in the tin for 5 minutes before transferring to a wire rack to cool completely.
The muffins are delicious warm but taste even better after a couple of hours once the flavours have started to meld. Will keep in an airtight container for 2 - 3 days.