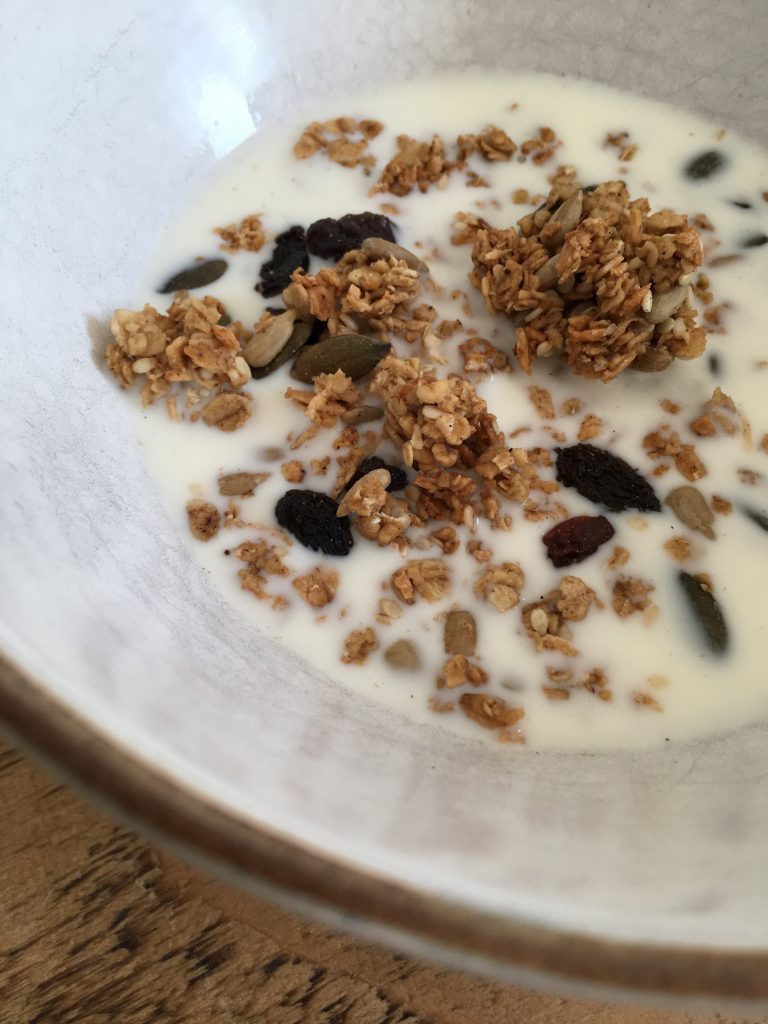 Sometimes it's hard to tell the difference between a rut and a routine. Weekday toast or oats plus topping on repeat. Saturday pancakes. Sunday brunch. Meals which comfortably turn from favourites to familiar but run the risk of crossing that extra line towards boring.
In the interest of mixing things up, I made a big batch of granola for the first time in forever. It's great for breakfast but also serves for snacking purposes. Luke swears by it as an after dinner mid-week treat. It's as good on oats as ice cream and can adapt to infinite variations depending on what you have to hand.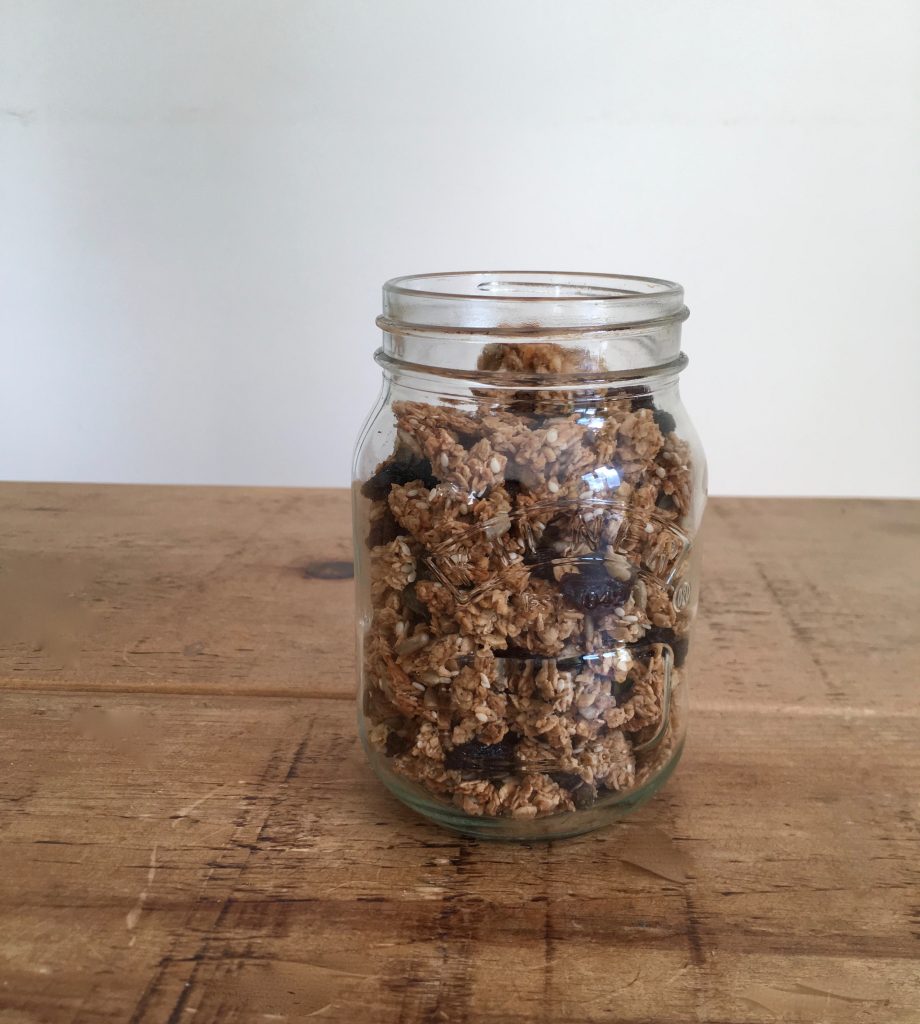 Every time I make granola I tinker with the recipe slightly, using honey instead of maple, different types of fat (usually oils but butter and sugar, if you're heading in the dessert direction, is pretty damn fabulous), fruit, nuts and seeds. This time round, an egg.
Yep, an egg. Add a lightly whipped egg white to your granola and you get those lovely, biscuity clusters so many granola aficionados adore. You could probably add more syrup and oil and achieve a similar result, but I love a kitchen experiment and had seen various recipes around the web which swear by this technique. And I'm happy enough with the results to suggest you try it too.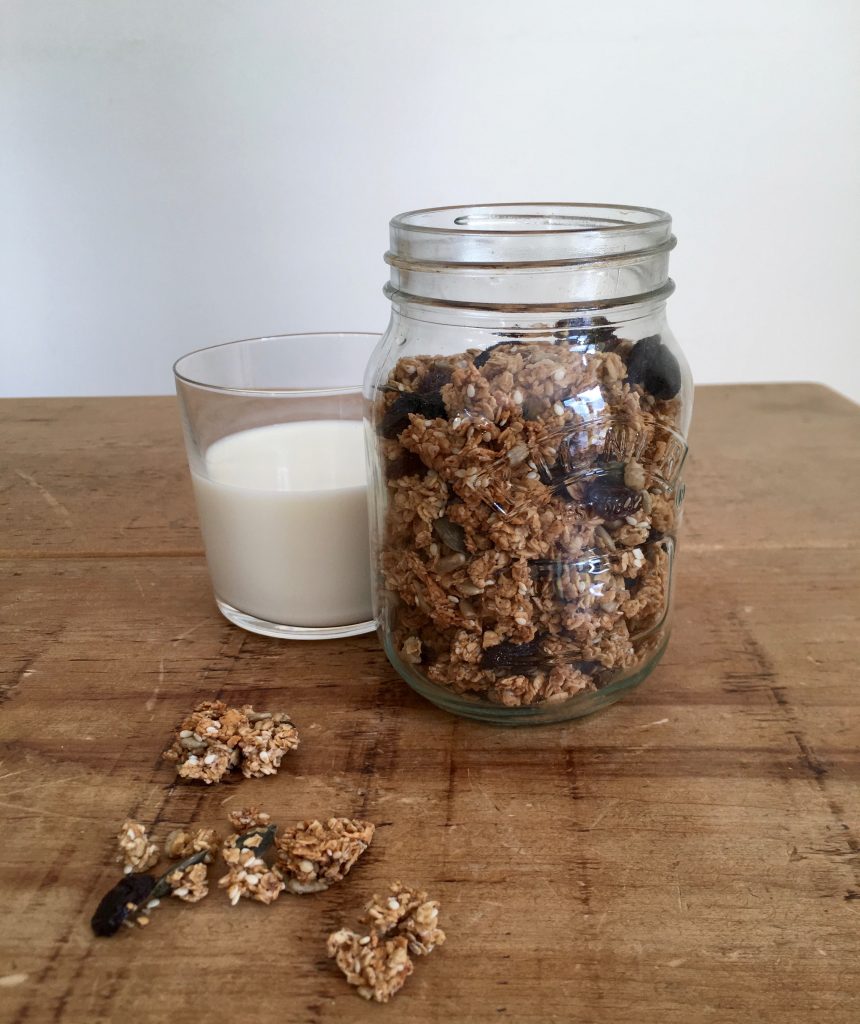 Sweet coconut oil and maple, three types of seeds for crunch and clusters so big and crisp you won't find yourself sifting through the rest of the batch to find them. I added big handfuls of juicy flame raisins because we're big on dried fruit in this household (offer Nino a dried apricot or date and he's anyone's) but leave it fruitless if you prefer to add fresh to your morning bowl. Or stir in a handful of dark chocolate chunks as the recipe below suggests if you're more in the market for snack food. Either way, this granola is anything but boring.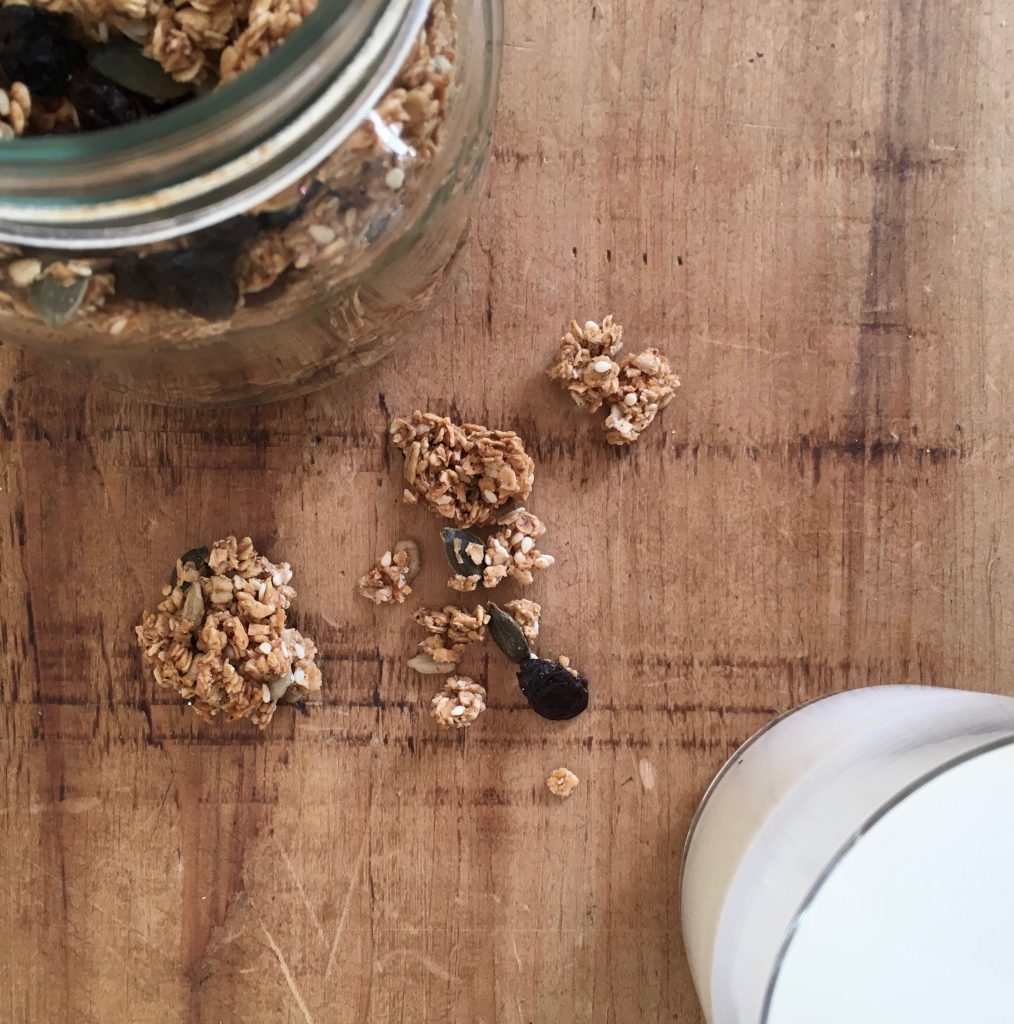 Seedy Coconut Granola Clusters
Sweet, seedy granola with extra crisp clusters. Perfect served with ice cold milk or for snacking - I like to set aside a breakfast stash then add a handful of coarsely chopped dark chocolate to a portion for mid-afternoon pick-me-ups. The egg white helps create those beautiful big clusters without the need for additional sugar or fat.
Ingredients
2 tbsp coconut oil
7 tbsp maple syrup
½ tsp vanilla powder
½ tsp ground cinnamon
pinch salt
275g rolled oats
50g pumpkin seeds
50g sunflower seeds
25g sesame seeds
25g dessicated coconut
1 large egg white, lightly beaten
Instructions
Preheat the oven to 170 degrees C/150 C fan. Line a large baking tray with parchment paper.
In a large bowl, stir together the oil, maple syrup, spices and salt. Add the oats, seeds and coconut, stirring until combined, then fold in the beaten egg white.
Spread the mixture evenly over your prepared tray and bake for 45 minutes to 1 hour, stirring every 15 - 20 minutes (less if you want bigger clumps, just keep an eye to make sure it doesn't catch and burn). Remove from the oven, stir in the raisins then allow to cool completely on the tray.
Transfer to an airtight container, where granola will keep for a couple of weeks. Perfect served with ice cold milk or yoghurt for breakfast, or eaten by the handful for a snack.